The capital and largest city of Portugal. A diverse and cosmopolitan city, you can't go wrong spending the weekend here.
We were in Lisbon in May. The best time to visit Lisbon is either from March-May or September-October, because the weather is still warm, hotel rates are cheaper and there are fewer crowds.
I found the following blog posts: Almost Ginger, Where goes Rose? and Global Castaway helpful for planning my trip. They are well worth the read.
Here's my lazy way of seeing one of my favourite cities. I say lazy because I booked a fair few tours through GetYourGuide.com.
Day 1: Flying to Lisbon and Food Tour
I flew from London Stansted to Lisbon with RyanAir. My flights cost £100 (including return and 1 cabin luggage). It takes about 3 hours from London to Lisbon.
Once we landed in the airport, we had to go through customs. This can take 1–2 hours to pass through.
From the airport, we took a taxi to our hotel. The taxi didn't cost much but the wait for one was long.
Accommodation
I stayed at Loving Chiado. The central location in Chiado means you have everything you need. It meant we walked to most places. If you choose to stay elsewhere, consider getting a Lisbon Pass to use the public transport. Please note, the apartment is located on a steep incline making it not suitable for those with accessibility needs.
For our first stop, we went to Rossio Square. The highlight was seeing the jacaranda.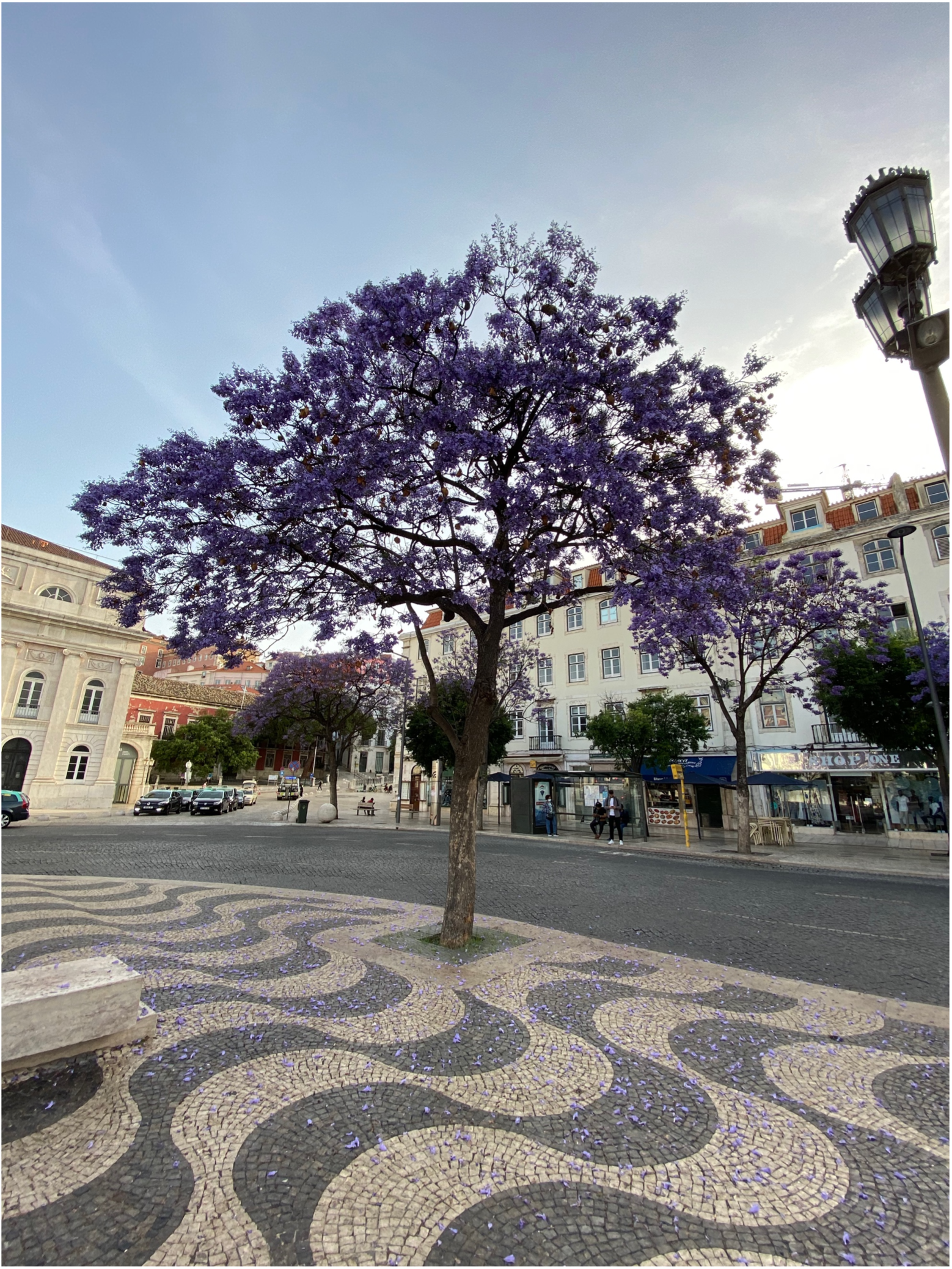 Jacaranda - a beautiful purple leafed tree.
After settling in, it was time for our first adventure: Food and Wine Walking Tour. The highlight was trying Portuguese Bifana (pork meat sandwich), green wine and a Portuguese Cherry Brandy (Ginjinha). The advantage of a tour like this is that we got to see a bit of the city and eat where the locals eat.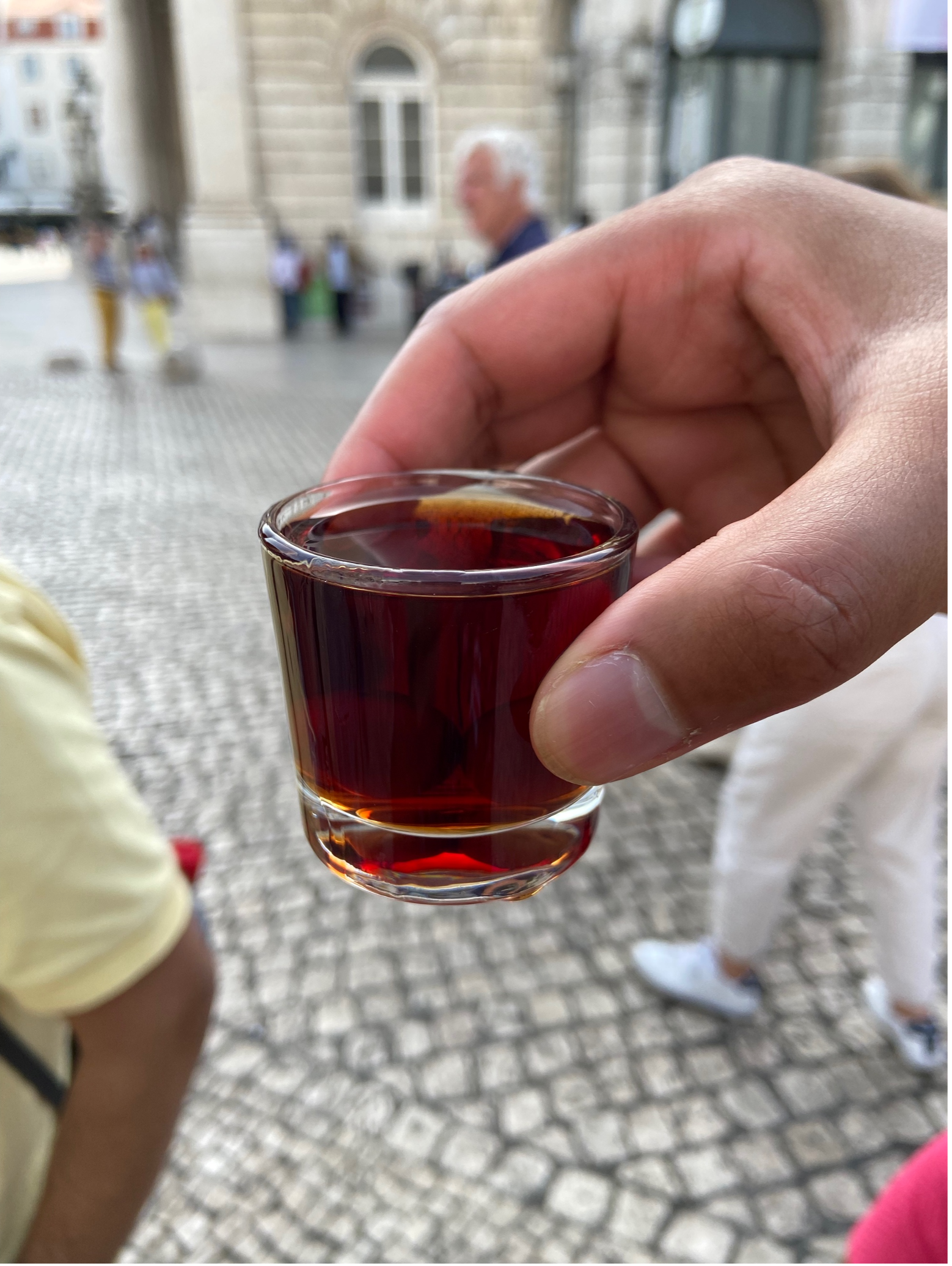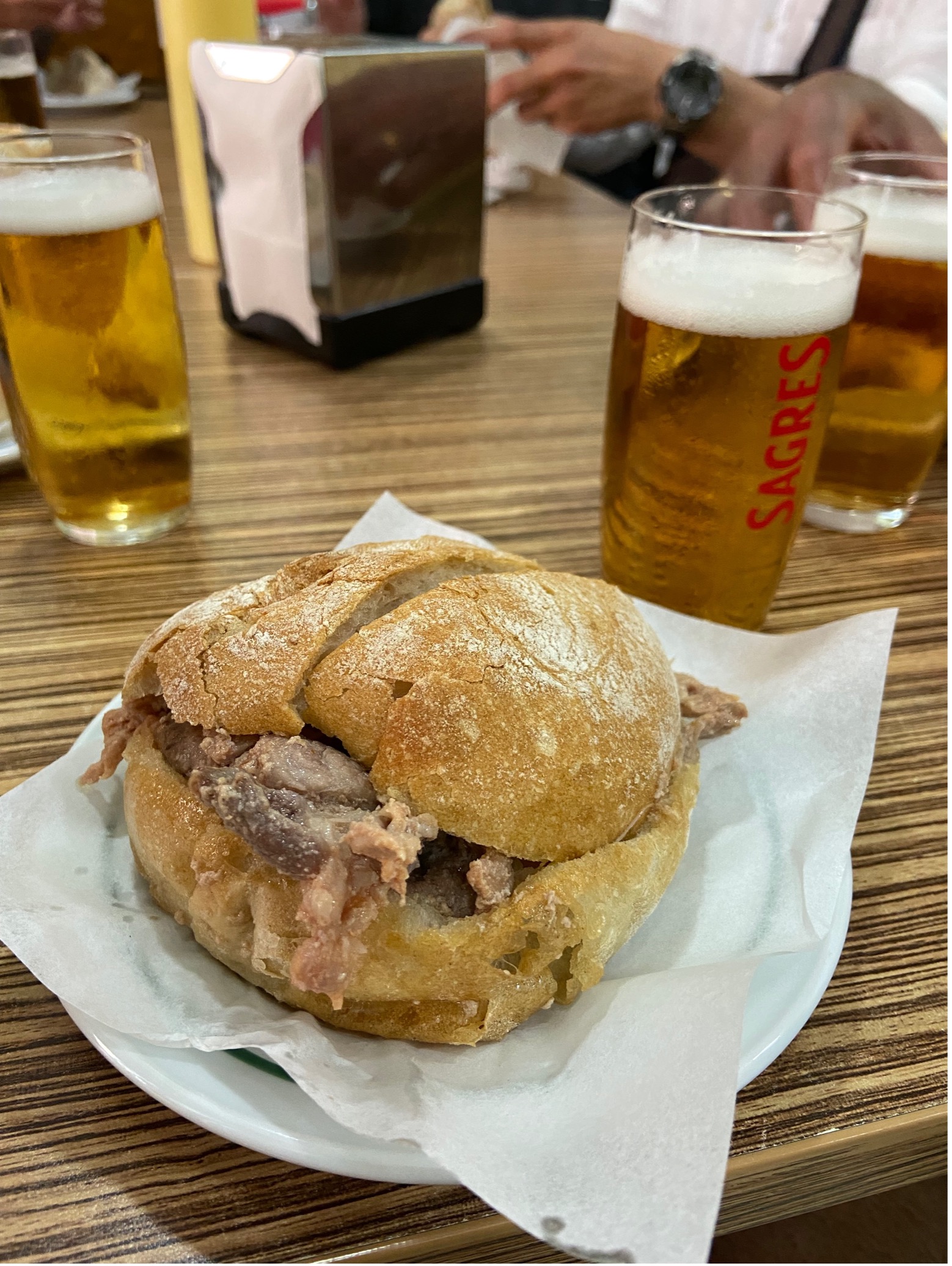 Food from the walking tour.
Day 2: Pena Palace, Sintra, Cabo da Roca, & Cascais Daytrip
I didn't want the hassle of booking trains, so I booked a day tour. The advantage of this approach is that you have a local explaining the history behind these places. The air conditioned coach helps too…
We started the day bright and early by visiting Pena Palace. A magical palace filled with an assortment of colours. It's well worth visiting but by midday there's a lot of people. If you don't have a ticket, I wouldn't bother coming later in the day as it will take hours for you to go inside.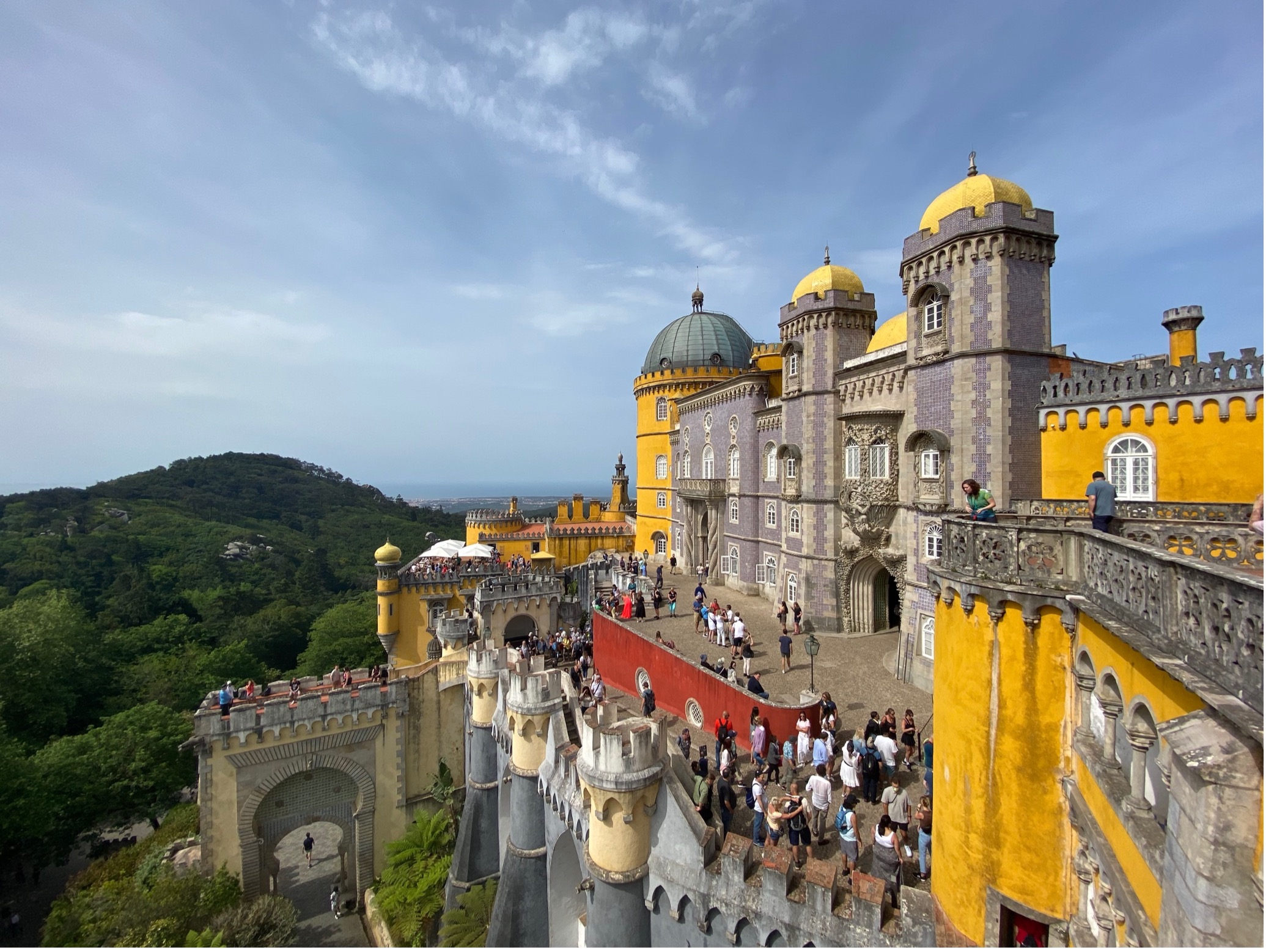 Pena palace from high up.
For lunch, we explored Sintra. Here I found this incredible vegan restaurant, A Praça - Sintra, run by a delightful family. All vegetables are produced in the local area. And for about €12, we got a three course meal. Incredible value!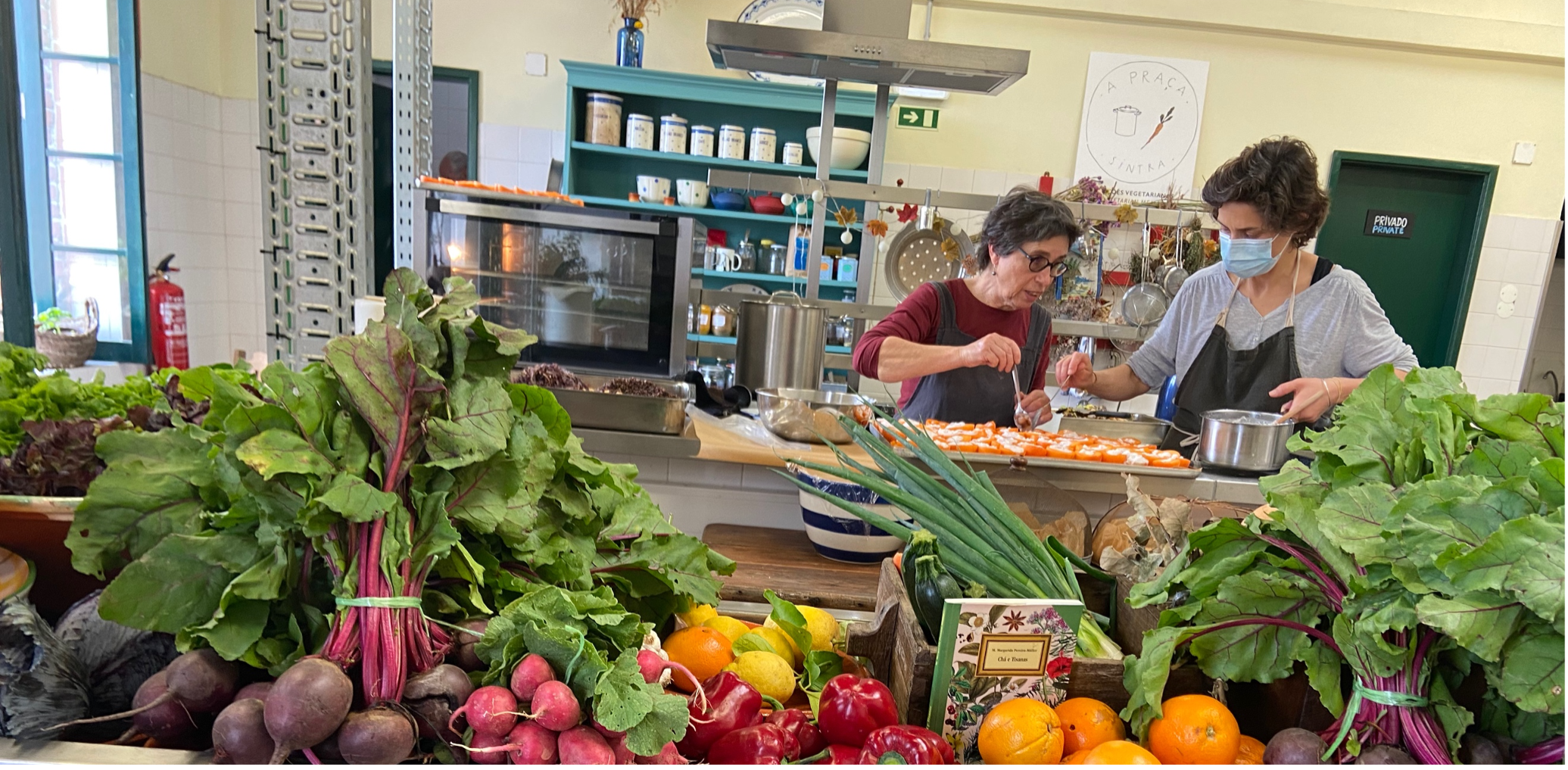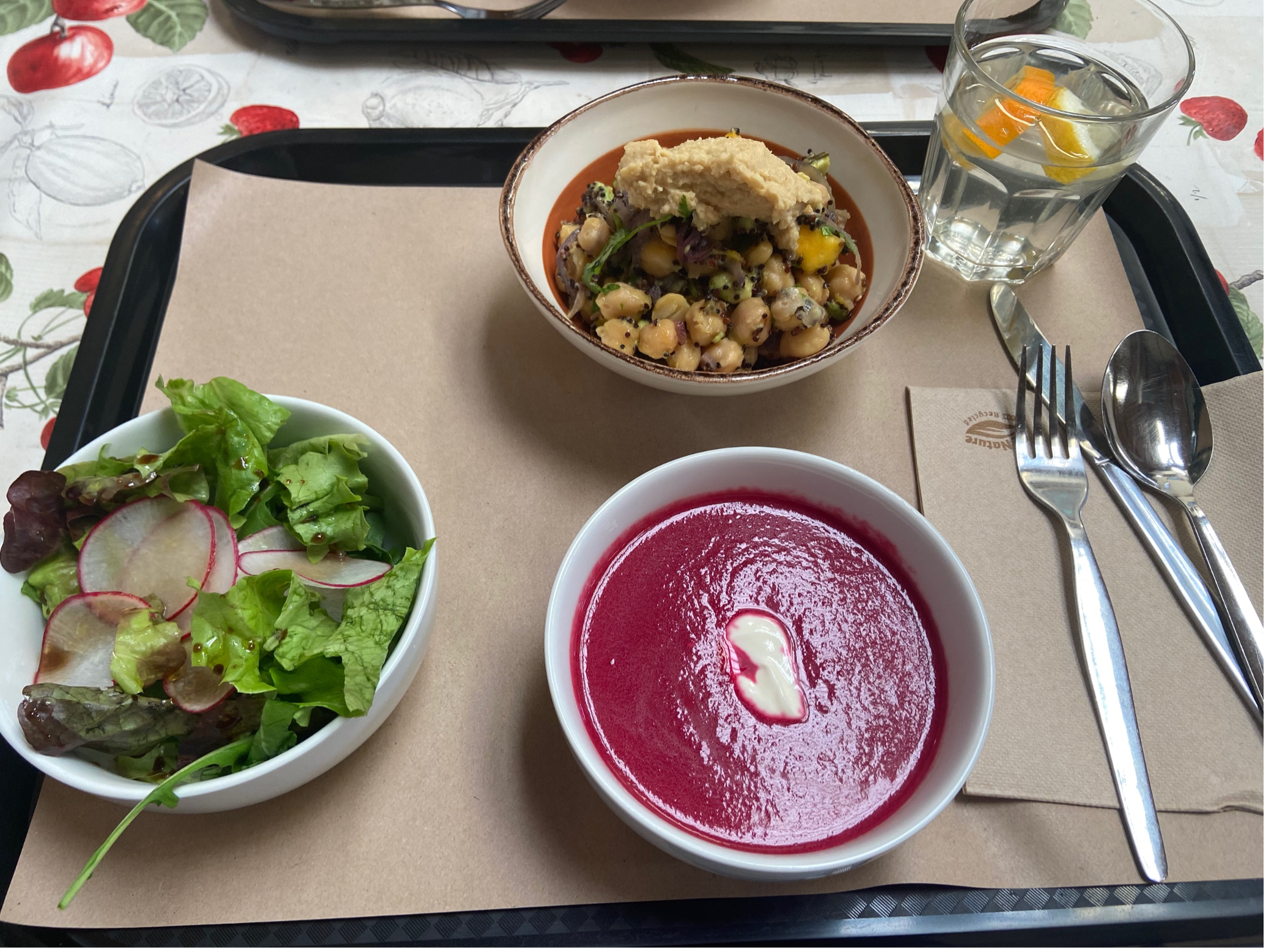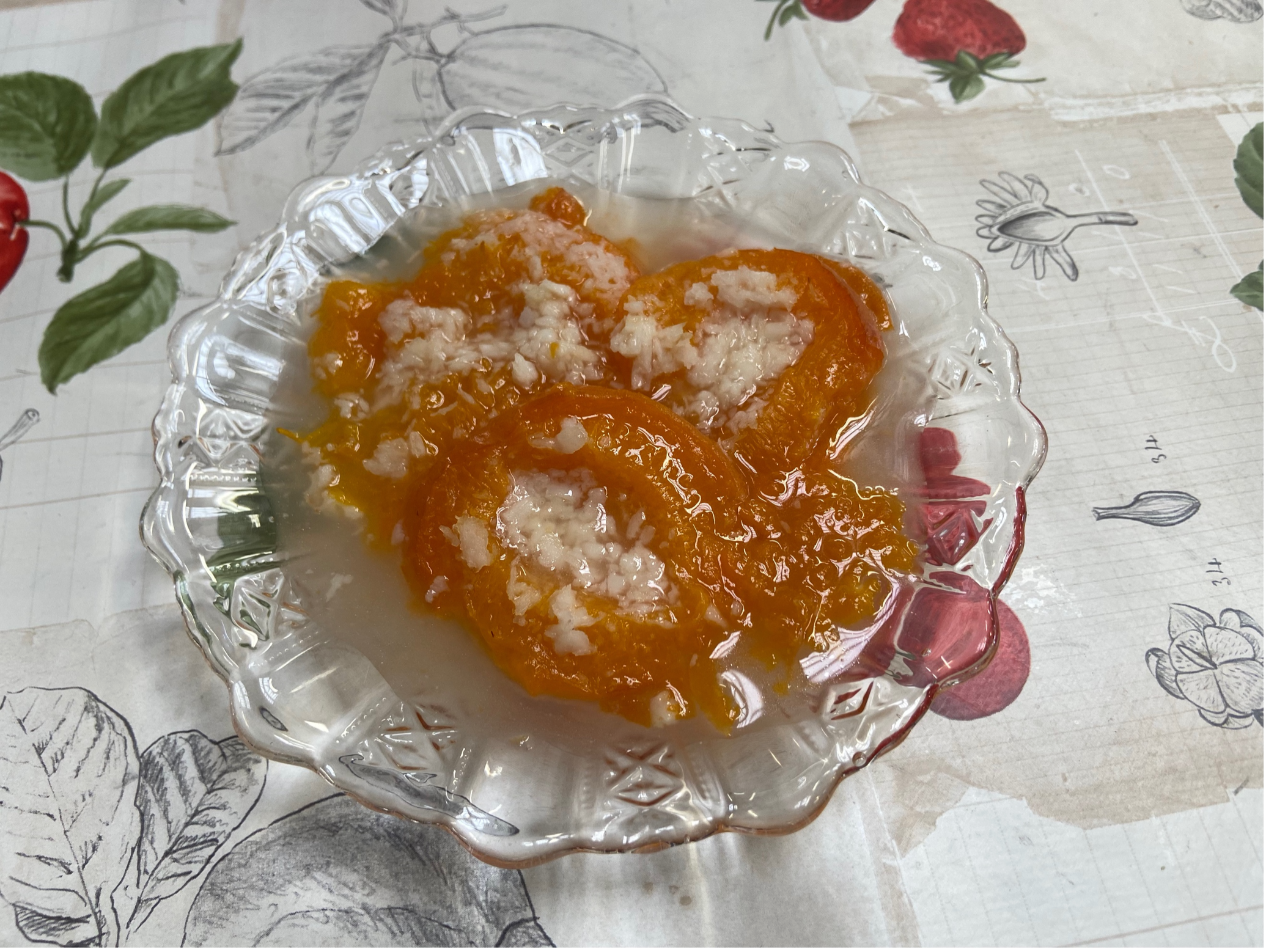 Food from A Praça - Sintra.
The tour takes you to Cabo da Roca. Here you can see panoramic views of the sea.
Afterwards, we visited Cascais. A playground for the rich. It's pricey but the beaches are divine.
In the evening, we ate the famous Peri Peri chicken. For UK folk, it is different from Nando's. The sauce for one thing is thinner, and the chicken drier. But make no mistake, the taste is still brilliant.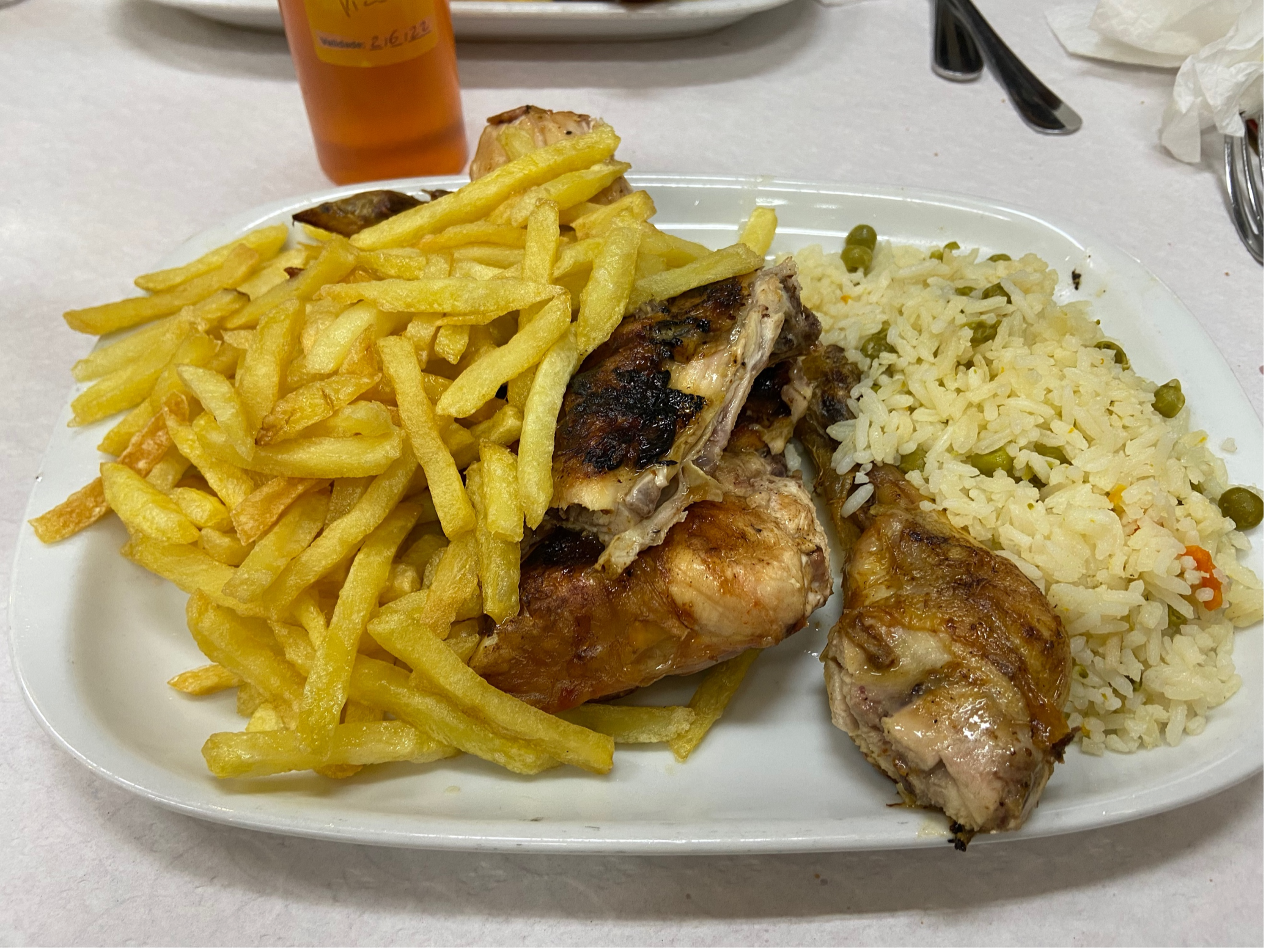 Peri Peri chicken, chips and rice.
Day 3: Alfama, Lisbon Cathedral, Feira Da Ladra, Chiado
Alfama is one of Lisbon's oldest areas. Walk its many cobbled streets and delight in its architecture.
Start the morning right, and have a pastéis de Nata (Portuguese egg custard tarts). Manteigaria was recommended to me as the place to go.
We took a lazy stroll through the city and made our way to Feira da Ladra. This is a huge antique market. It's a fun place to spend a few hours.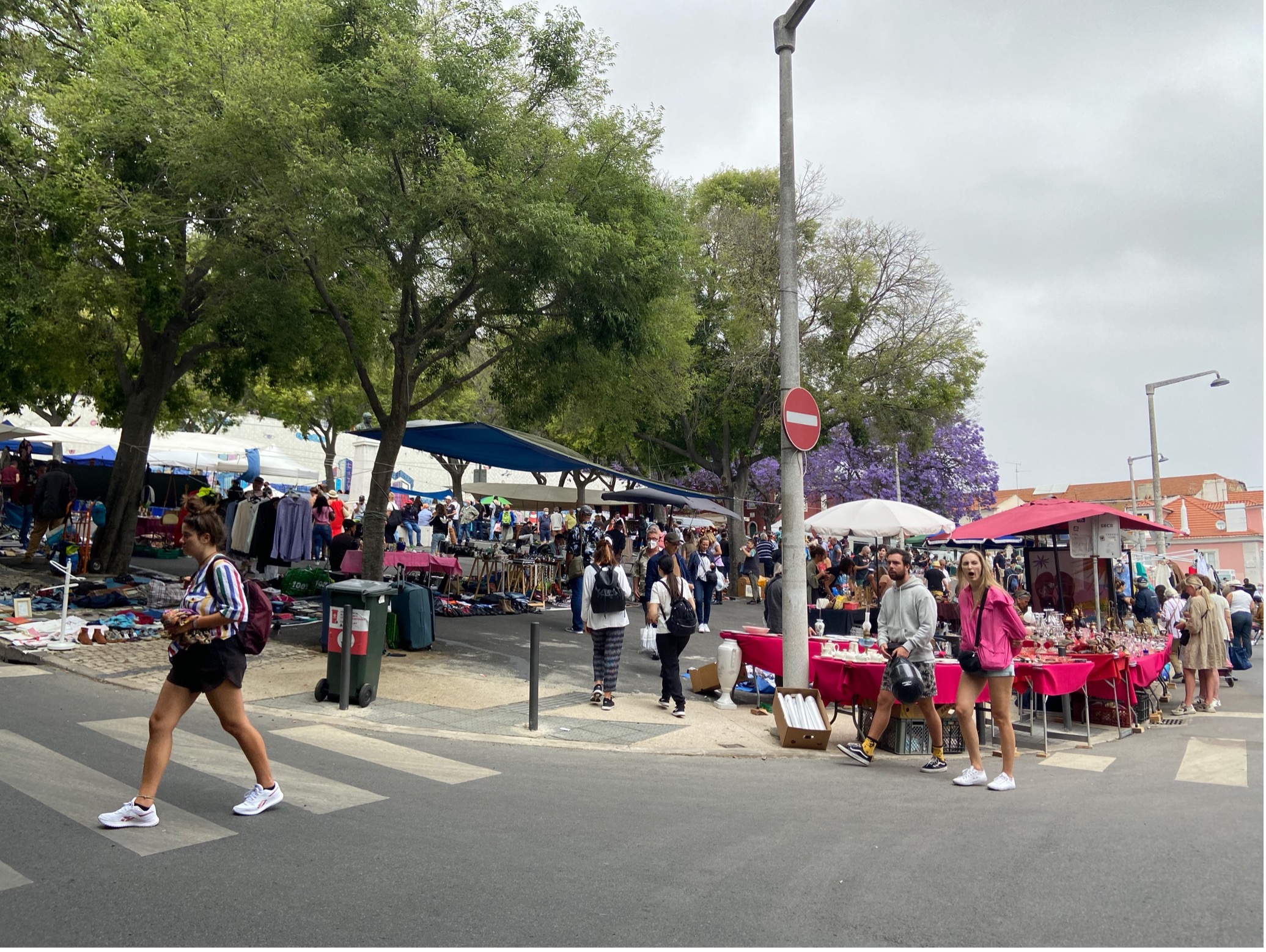 I loved this market. I recommend visiting.
For lunch we went to the famous Time Out market. The place is usually packed to the brim. I recommend trying as many food stalls as you can!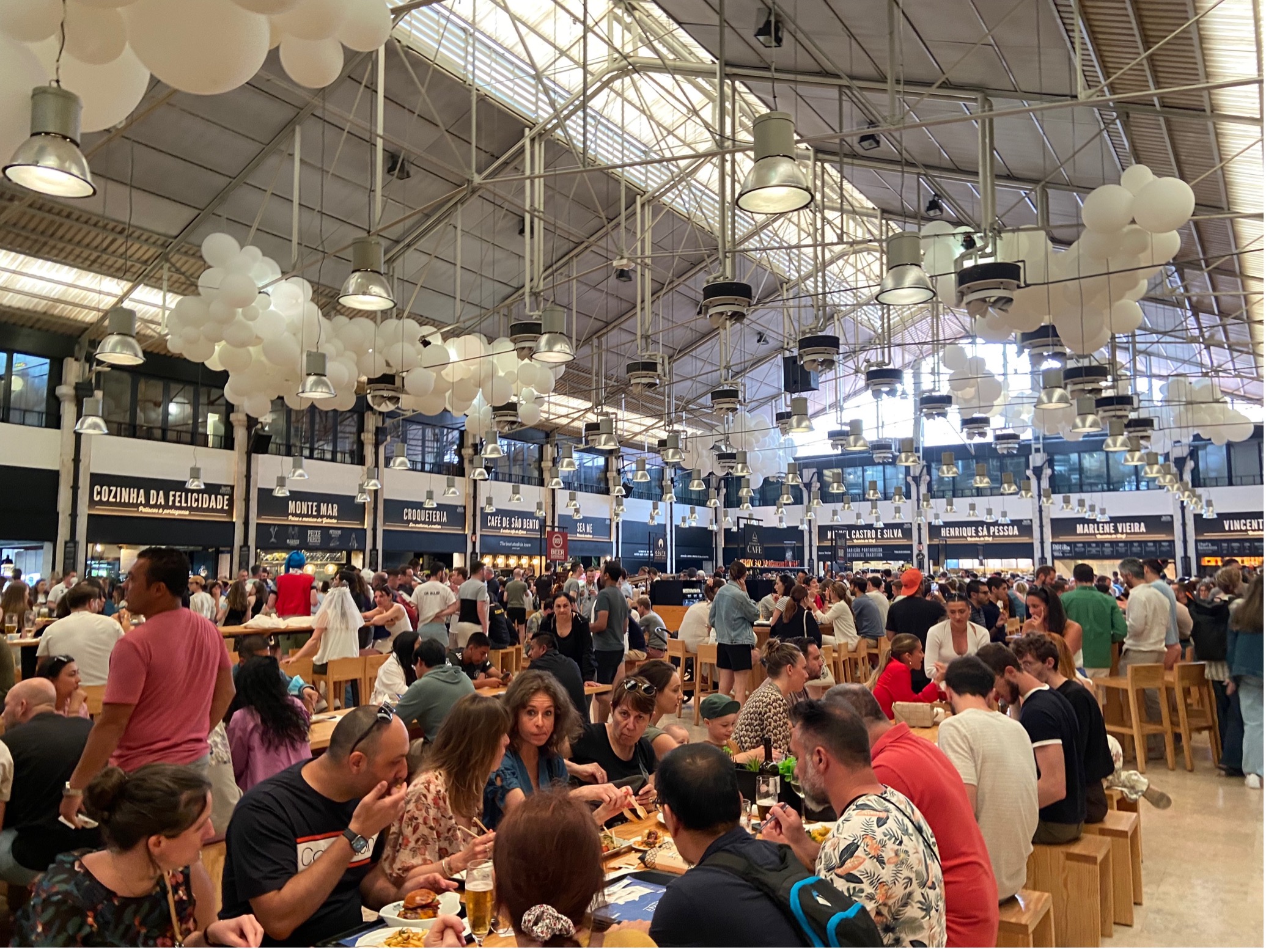 Time Out market in Lisbon. It is busy!
We then went shopping in Chiado (centre of Lisbon).
For our last evening meal, Oficina. Order the Cod fish (a staple portuguese dish). You won't regret it.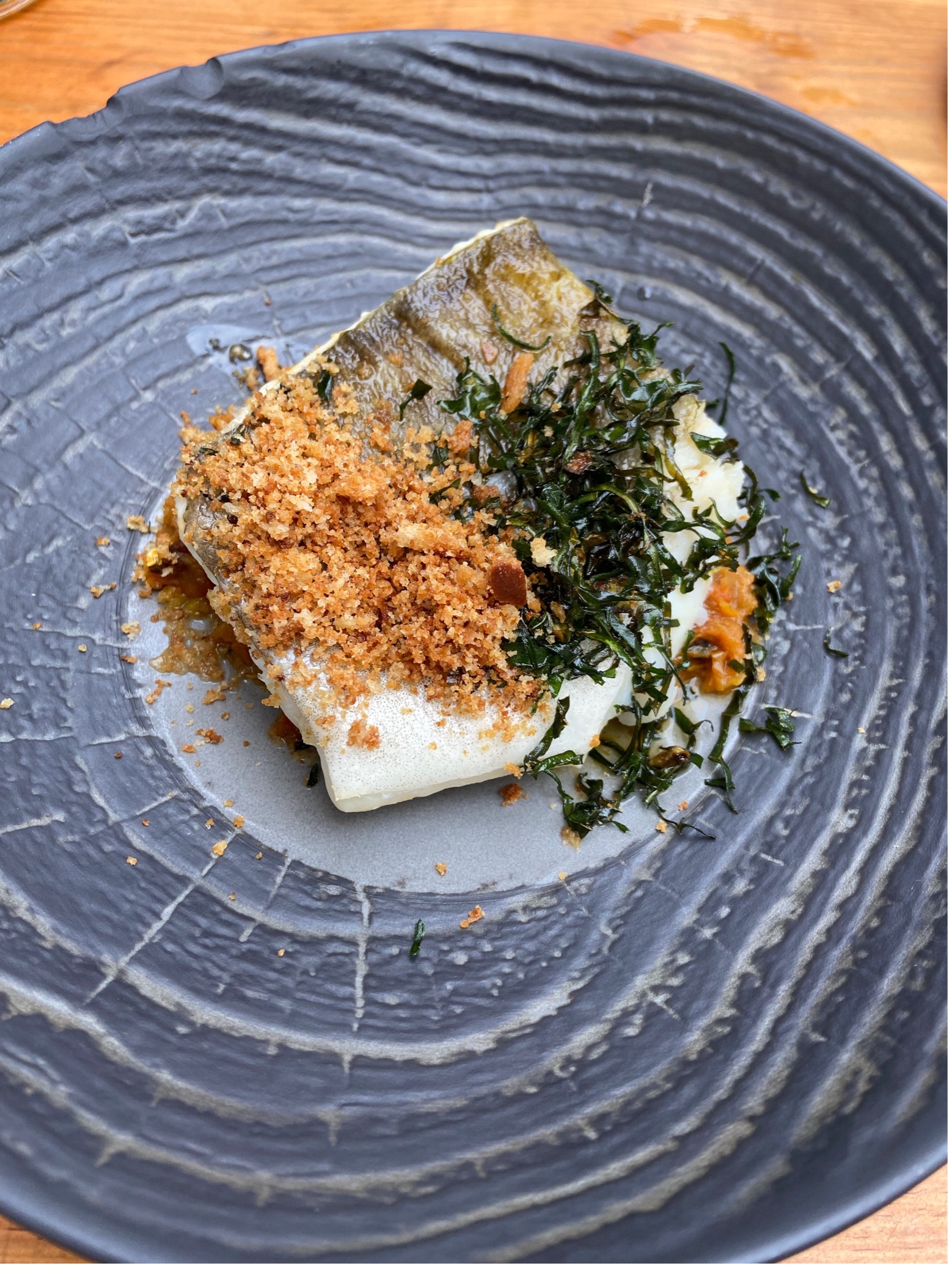 Yum!
Finally, we went to a Artis Wine Bar. Here we had their famous flaming sausages!
Day 4: Brunch and then Flying Back
Before flying back, we went to one of the city's most famous brunch places - Dear Breakfast. I recommend booking as the line to get inside was huge.
Here's a few other things you can do when in Lisbon:
I hope this guide helps you plan your own trip to Lisbon.