Hong Kong, Singapore and Kuala Lumpur — three of Asia's finest places to visit. Each place is distinct culturally, and offers so much to travelers visiting.
I hope my guide helps you plan the perfect trip.
Day 1 — travelling to Hong Kong
I flew from Heathrow with Swiss Airlines, with a connection in Zurich. My flights cost £400 (including return). This was a promotional price. Prices can rise above £700+ so be sure to book flight tickets well in advance, and look out for special deals.
I liked flying with Swiss Airlines. The flight experience was great, and the onboard food was impressive, with local Swiss food provided. I mean how can you say no to Swiss chocolate!? It was a nice touch. Unfortunately, the Swiss Airlines app is appalling and buggy — avoid.
Day 2 — Arriving in Hong Kong
After a long flight, it felt good to land in Hong Kong. I bought an Octopus card from the Airport Express Customer Service Centre. The Octopus card can be used to pay for public transportation (like the London Oyster Card), and in many cases pay for items in stores.
The card costs HK$150. This includes a deposit of HK$50, and an initial stored value HK$100. I topped my card to HK$350. You can top up your card at all MTR stations, or go to 7-Eleven or Circle-K (the cashier will do it for you if you ask). Be sure to return your Octopus card if you don't plan on visiting Hong Kong for a while, as you get your money back. I decided against getting the three day tourist pass mainly because I was in Hong Kong longer than three days. The tourist pass is only worth it if you plan on using the metro a lot.
It's easy to get to the city from the airport. You can either take the airport express line or take a bus. I took the bus, which was significantly cheaper than the airport express line. It took 1 hour to get into the city. The bus also has Wi-Fi.
Accommodation
I stayed at Rainbow Lodge HK. It's a no-frills hostel, and the room itself was small and sparse. It's important to keep in mind though that living spaces in Hong Kong tend to be small. I paid £24.48 a night for a four bed mixed dorm. The accommodation accept credit card. The hostel is located right next to Tsim Sha Tsui station (exit A1). Finding the hostel is very difficult. It's not actually located on Nathan Road, aim for Haiphong Road instead, which is just off Nathan road and you should see Haiphong Mansion House. Take the lift to the fifth floor and look for a big orange door. You really choose the hostel for it's location. There's just so much to do. Tsim Sha Tsui is great for shopping and nightlife. It's also easy to get to other places from here too.
After checking in, I made my way to the Tsim Sha Tsui Promenade outside the Hong Kong Cultural Centre to see 'a symphony of lights' at 8pm with a friend. I was expecting a lot from this and it was disappointing. I don't recommend going out of your way to see this.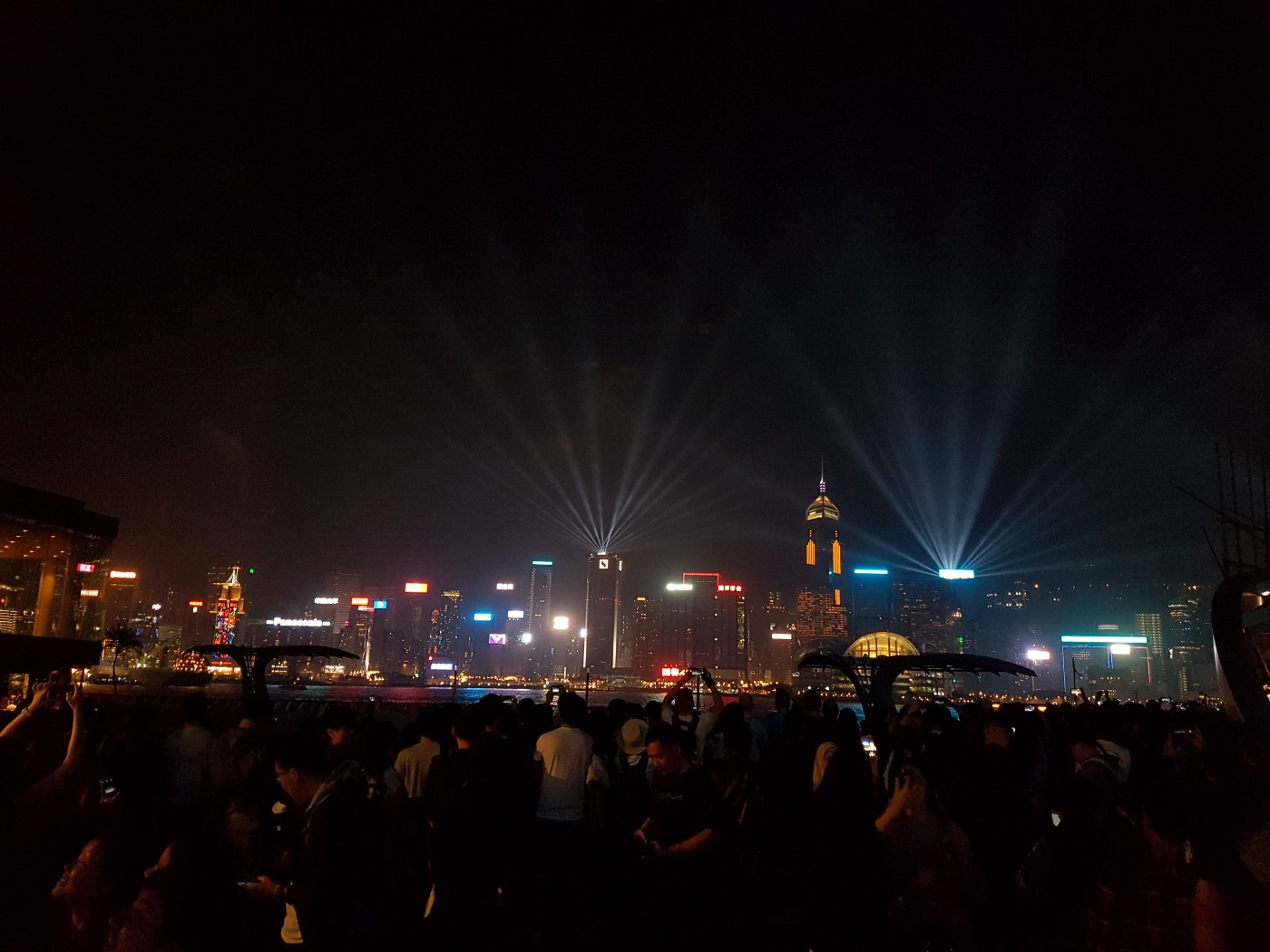 Underwhelming
I was a little hungry afterwards so headed to a Hong Kong cultural institution — Australian Dairy Company. A classic Hong Kong fast food restaurant. The food itself is simple, I got the eggs, toast and noodle soup. Honestly the eggs are superb.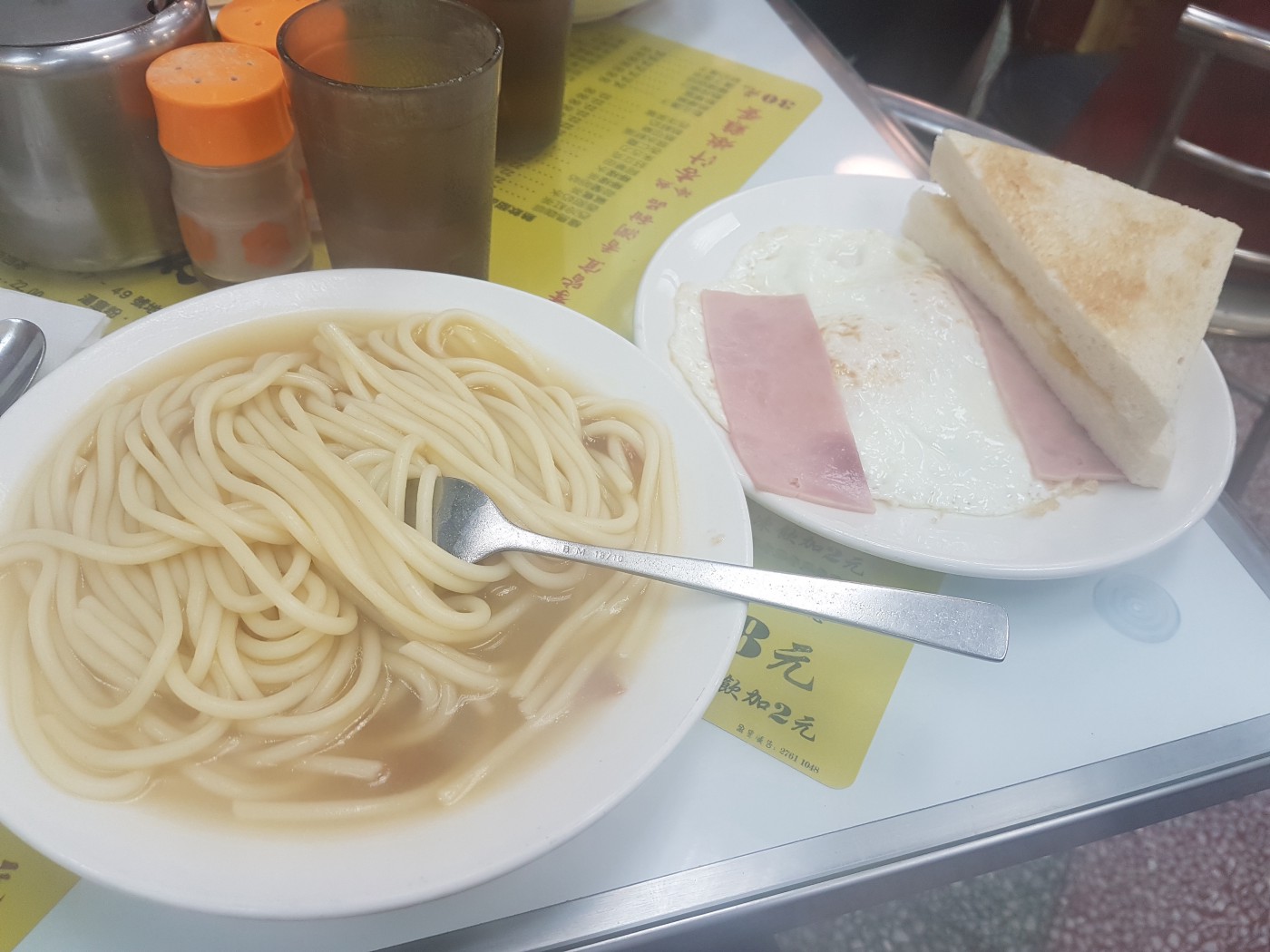 I'll admit that it's a little weird eating a breakfast like meal (according to western standards at least) in the evening but it works.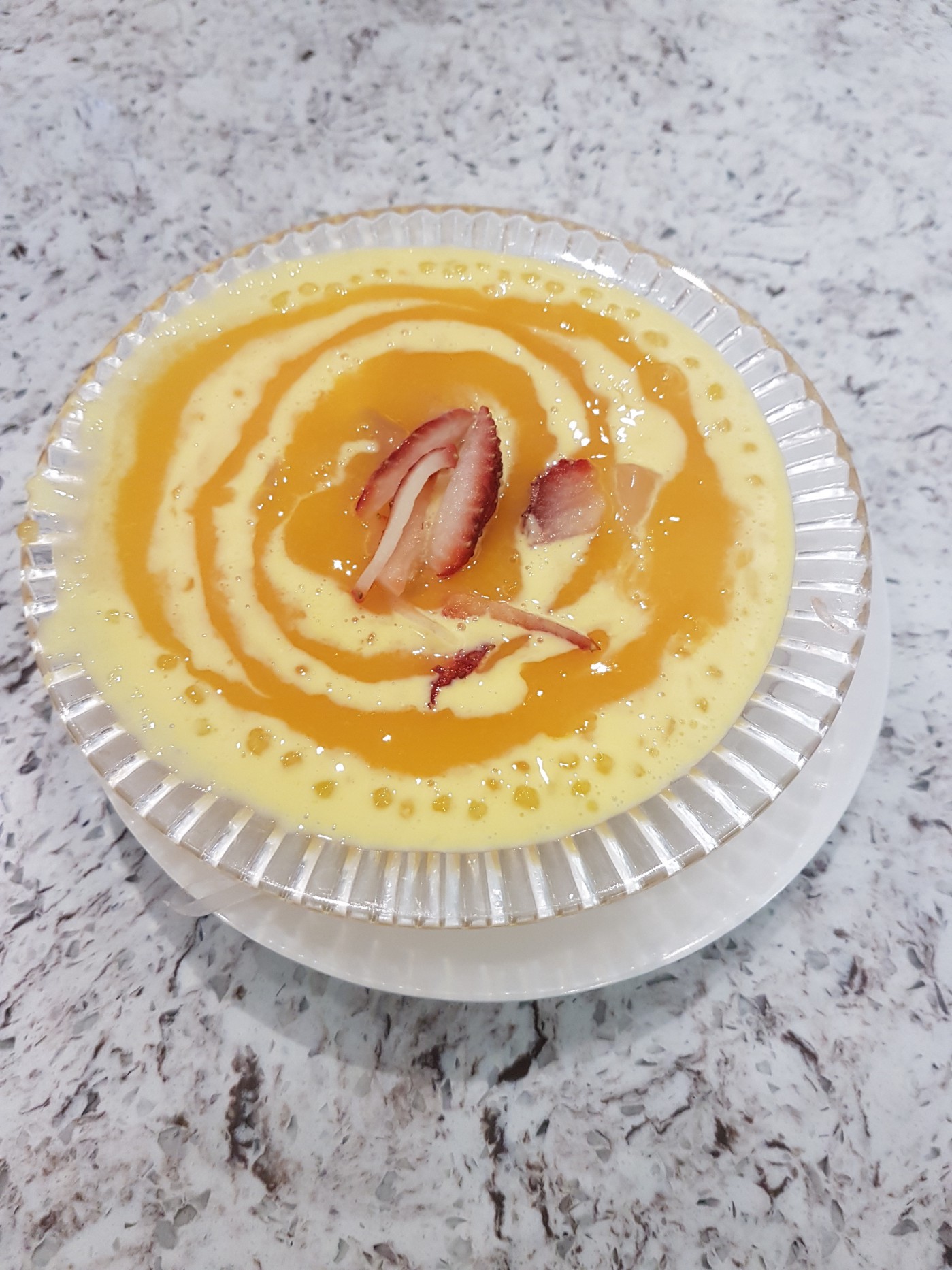 To round off the night we went to a dessert parlour. Mango ice cream — yum!
Day 3 — Market shopping
It's time for the first Michelin star meal of the trip. Make your way to 'one dim sum'. This place gets really busy. I went at 10:30am to avoid the lines.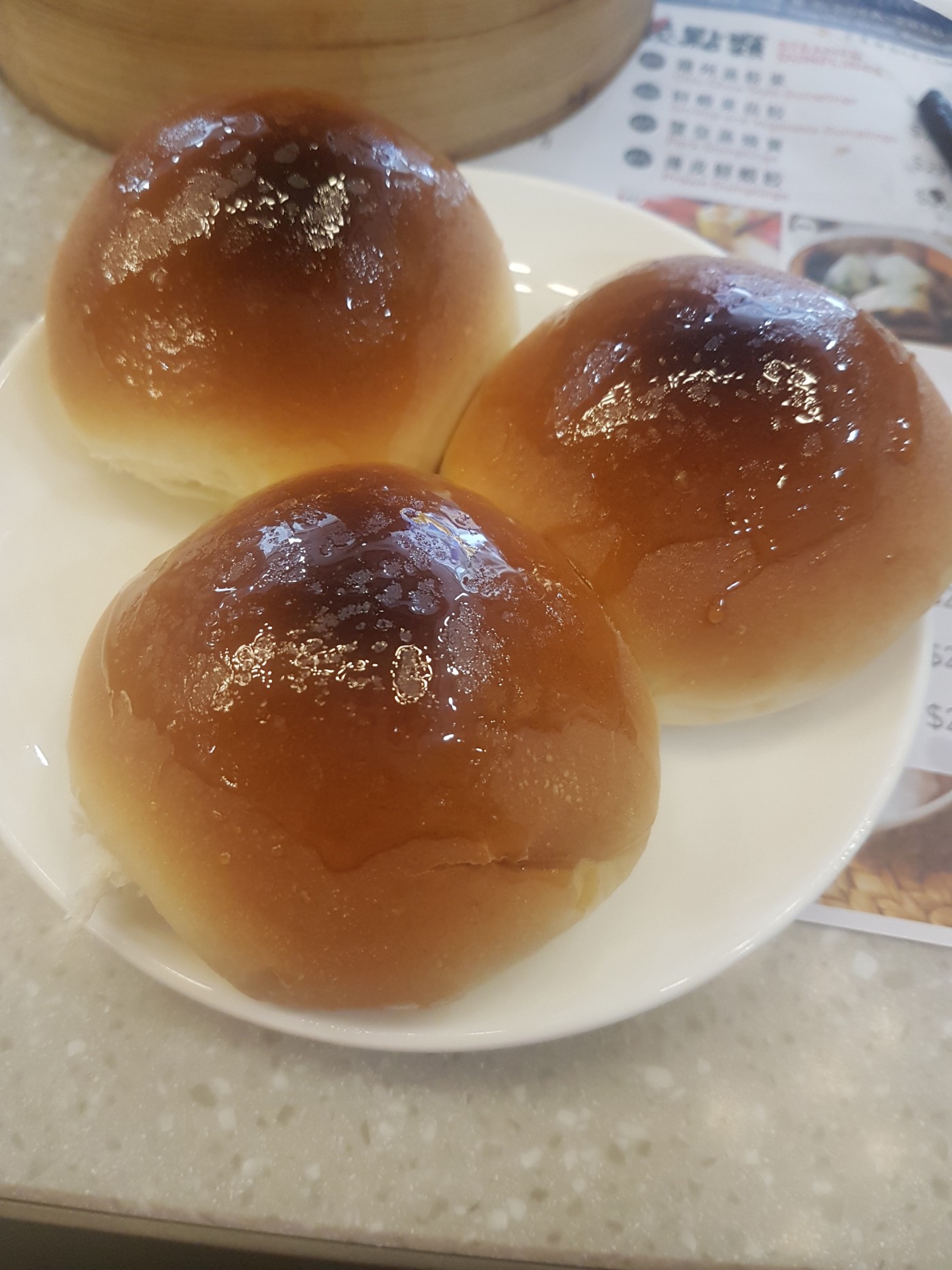 Go for the BBQ pork buns and steamed shrimp dumplings. My meal came to £5.10. Wow.
Time to walk those calories off. Head to the nearby flower market. If you have time you may want to see the nearby Bird, Goldfish and Ladies market.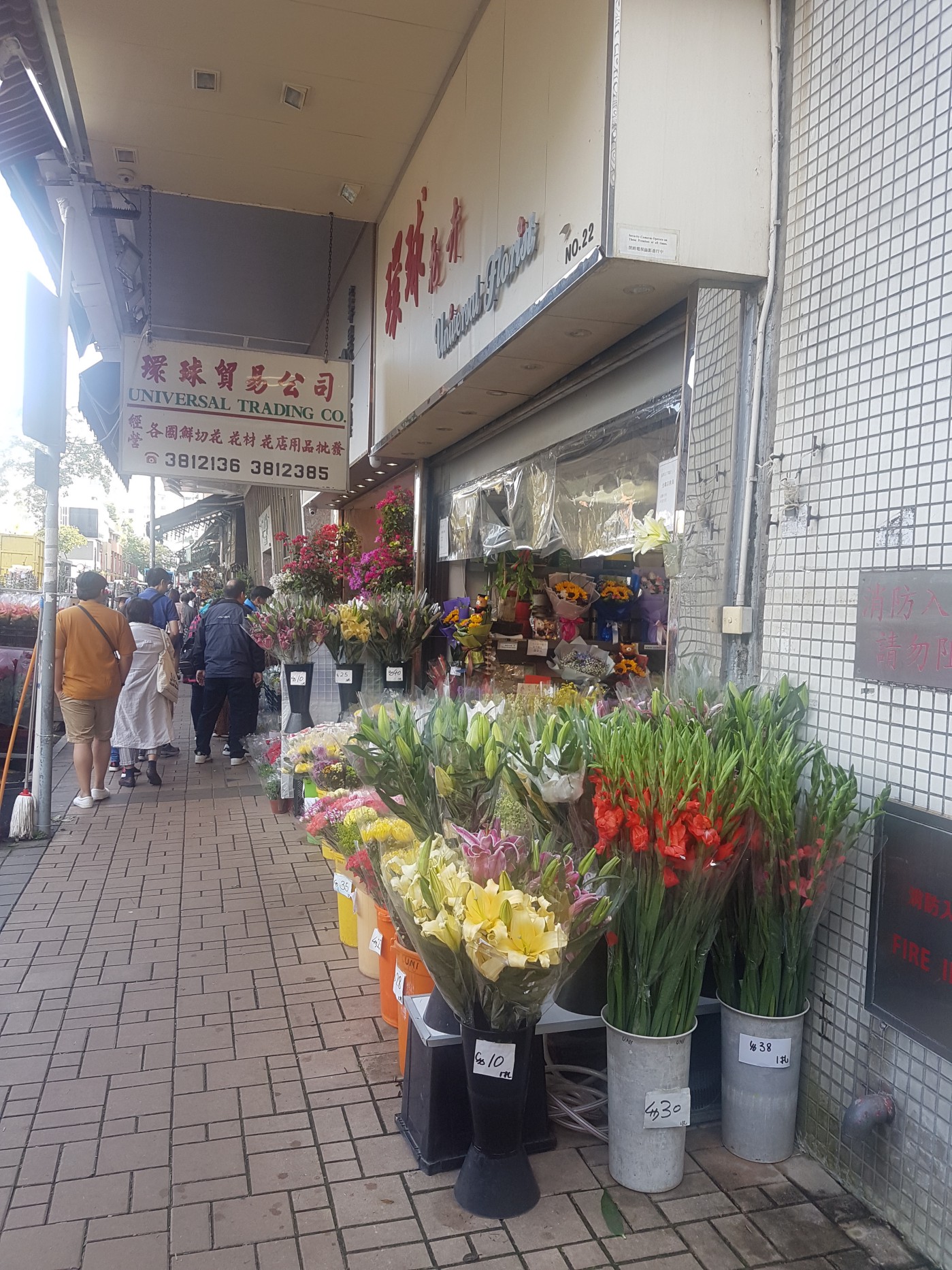 So many beautiful flowers.
After the markets, it's time for a dose of culture. I walked a fair bit to get to the Hong Kong Museum of History. The museum does a great job explaining Hong Kong's rich history.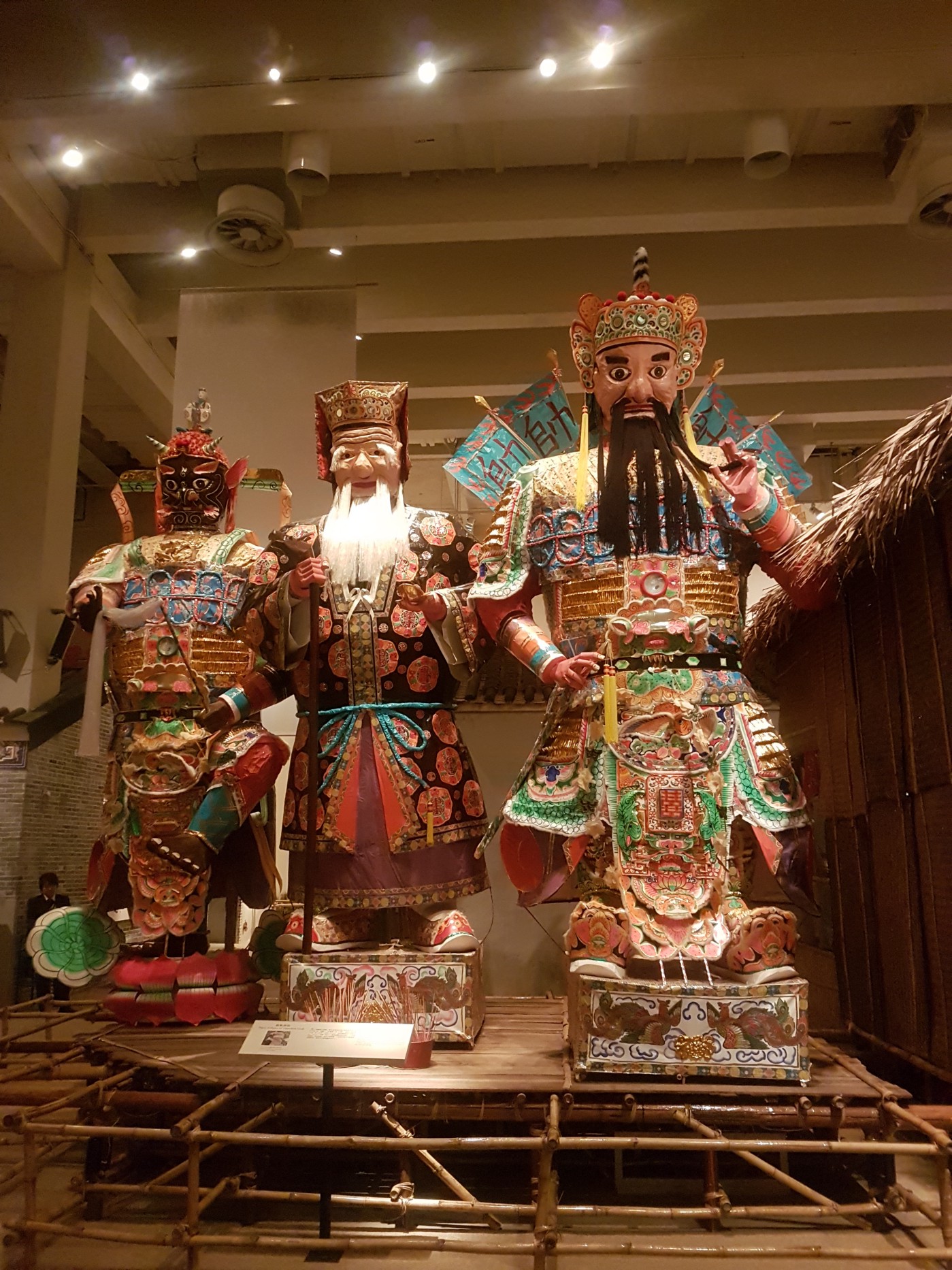 Seen in the Hong Kong Museum of History.
The museum is close to Tsim Sha Tsui Promenade. It offers breathtaking views of the Hong Kong skyline. Closeby is the Garden of the Stars, the perfect place to see 'a symphony of lights'. This is where you can see the famous Bruce Lee statue now as well.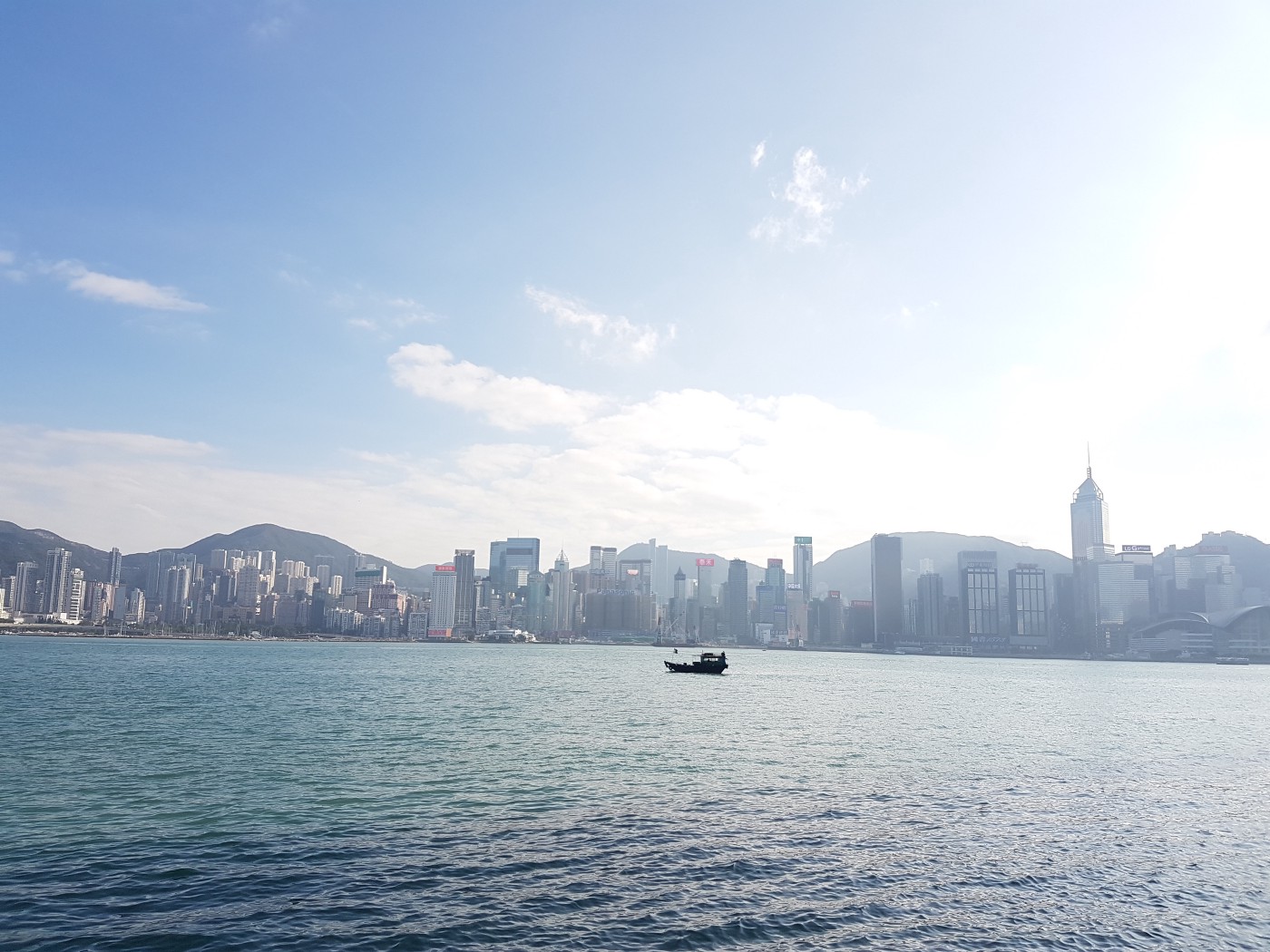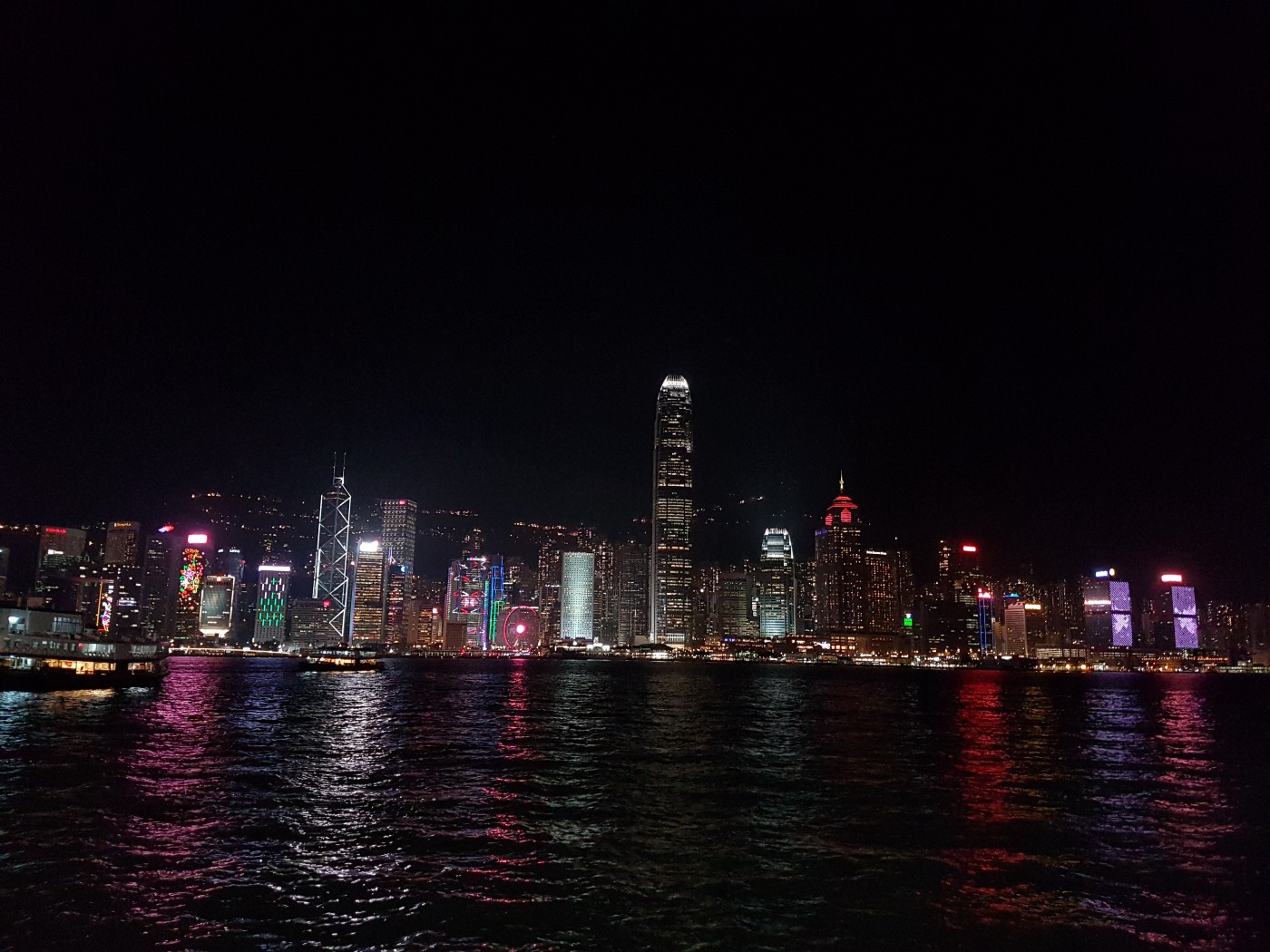 The Hong Kong skyline at day and night.
In the evening, head to K11 Art Concept Mall, the world's first art mall. It's home to number of interesting art pieces and quirky stores. Worth the visit.
To round off the night, it's time to have another Michelin star meal at Cheung Hing Kee Shanghai Pan-fried Buns Lock Road. Luckily it's just behind the hostel.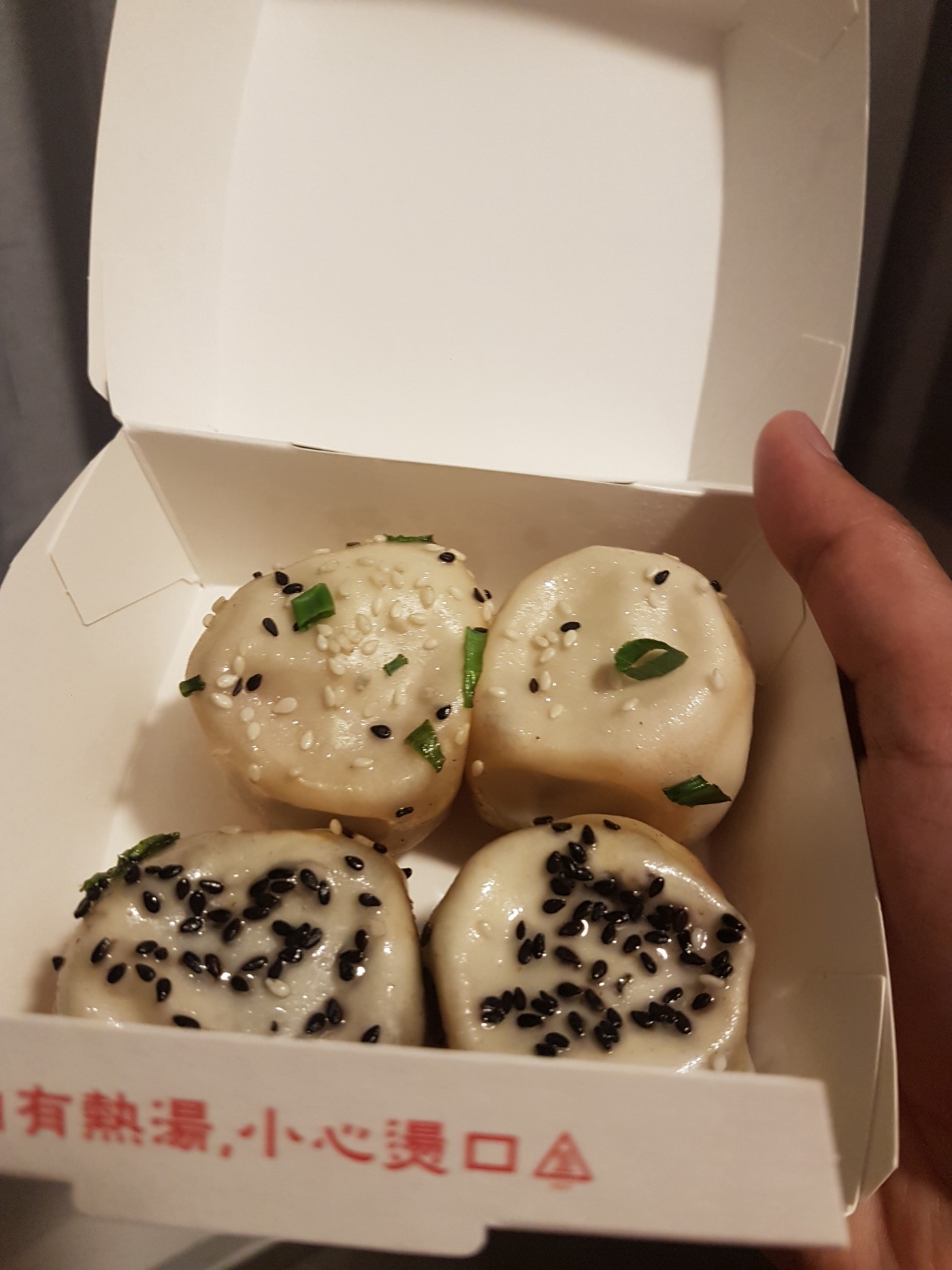 Pork and truffle steamed bun. Exquisite. This didn't break the bank either as was less than £5.
Day 4 — Kowloon Park and Lantau Island
In the morning, head for a gentle stroll round Kowloon Park. It's a great way to start your day.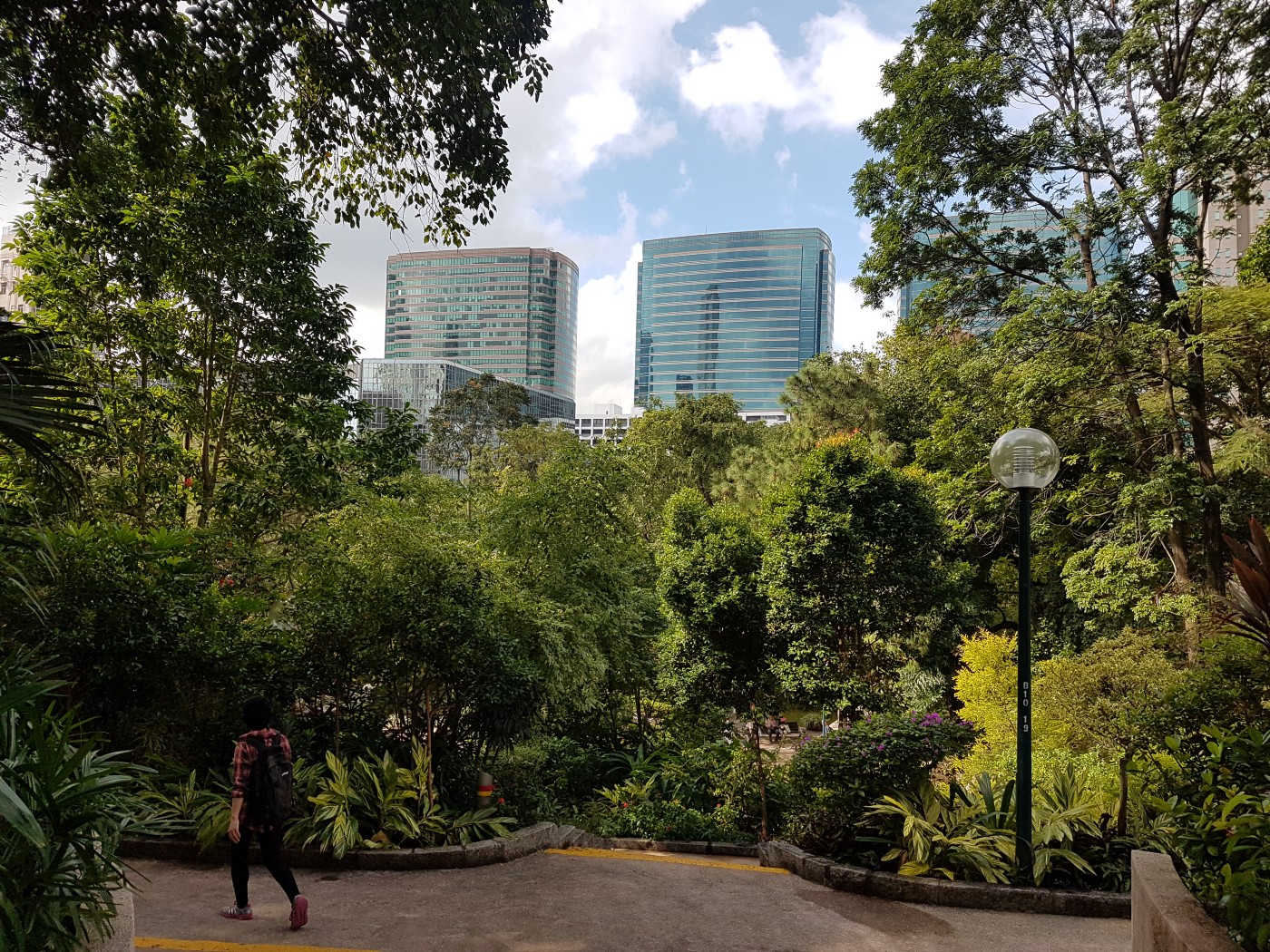 Kowloon park. You can see people exercising, check out the art displays or see the aviary.
It's time to explore the largest island in Hong Kong — Lantau Island. I booked my first and only tour of the trip through getyourguide.com. It included: Skip-the-Queue Ngong Ping 360 cable car, a tour of the Tian Tan Buddha and Po Lin monastery on Lantau Island.
The tour itself is nothing special. You are paying for the convenience of being taken around everywhere and for the Skip-the-Queue ticket for the cable car.
When you get to the Tung Chung Cable Car Terminal aim for the designated counter (usually 14), to collect your Skip-the-Queue ticket for the cable car. Just go straight to this counter and don't wait — you shouldn't have to as you have the Skip-the-Queue ticket! Take the cable car to Lantau Island and wait for your tour guide at the Li Nong Teahouse. Once you've completed your tour go to the information centre to collect your return Skip-the-Queue ticket. I only write all of this as the information provided by the tour company is unclear.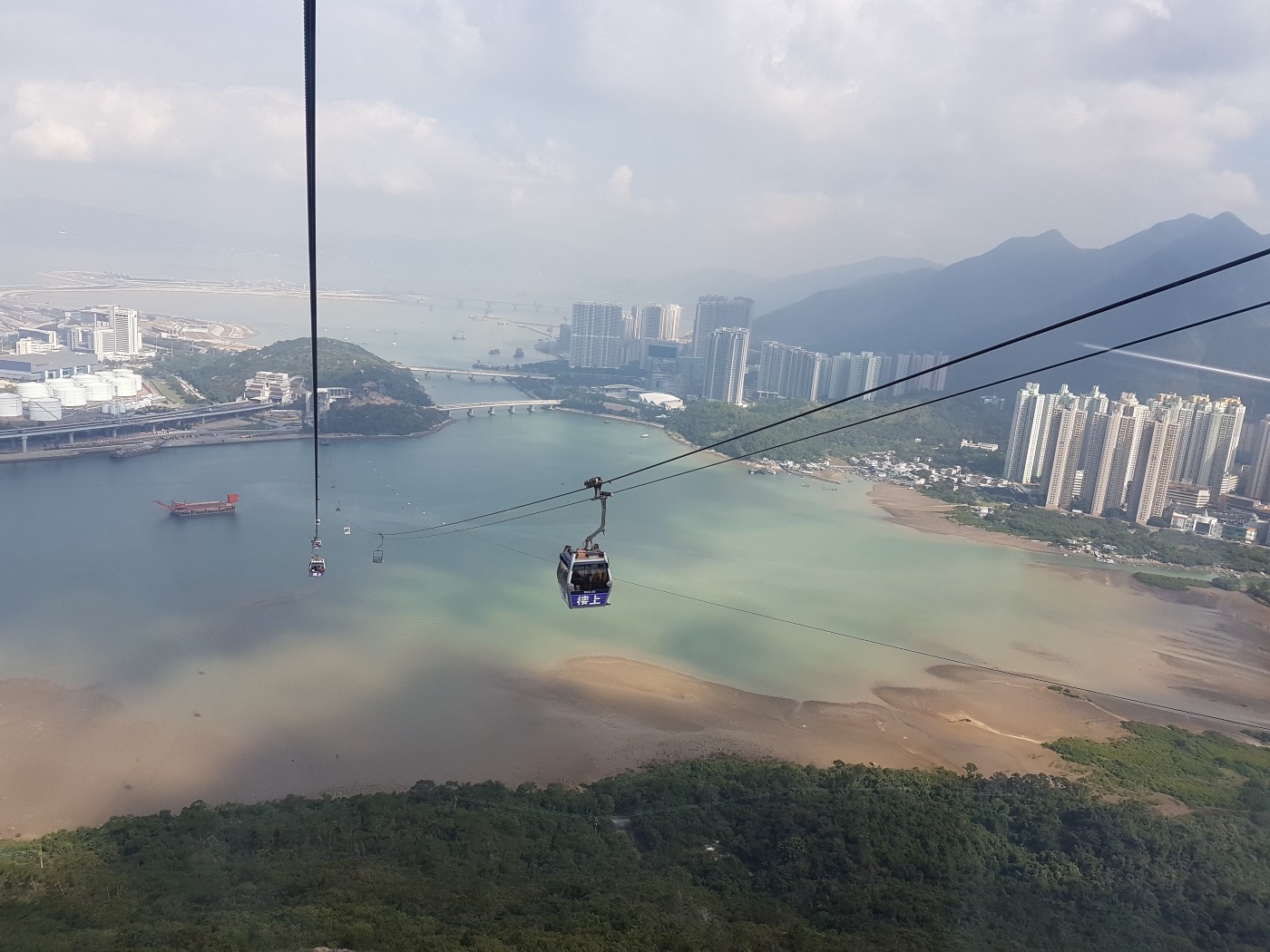 Ngong Ping 360 cable car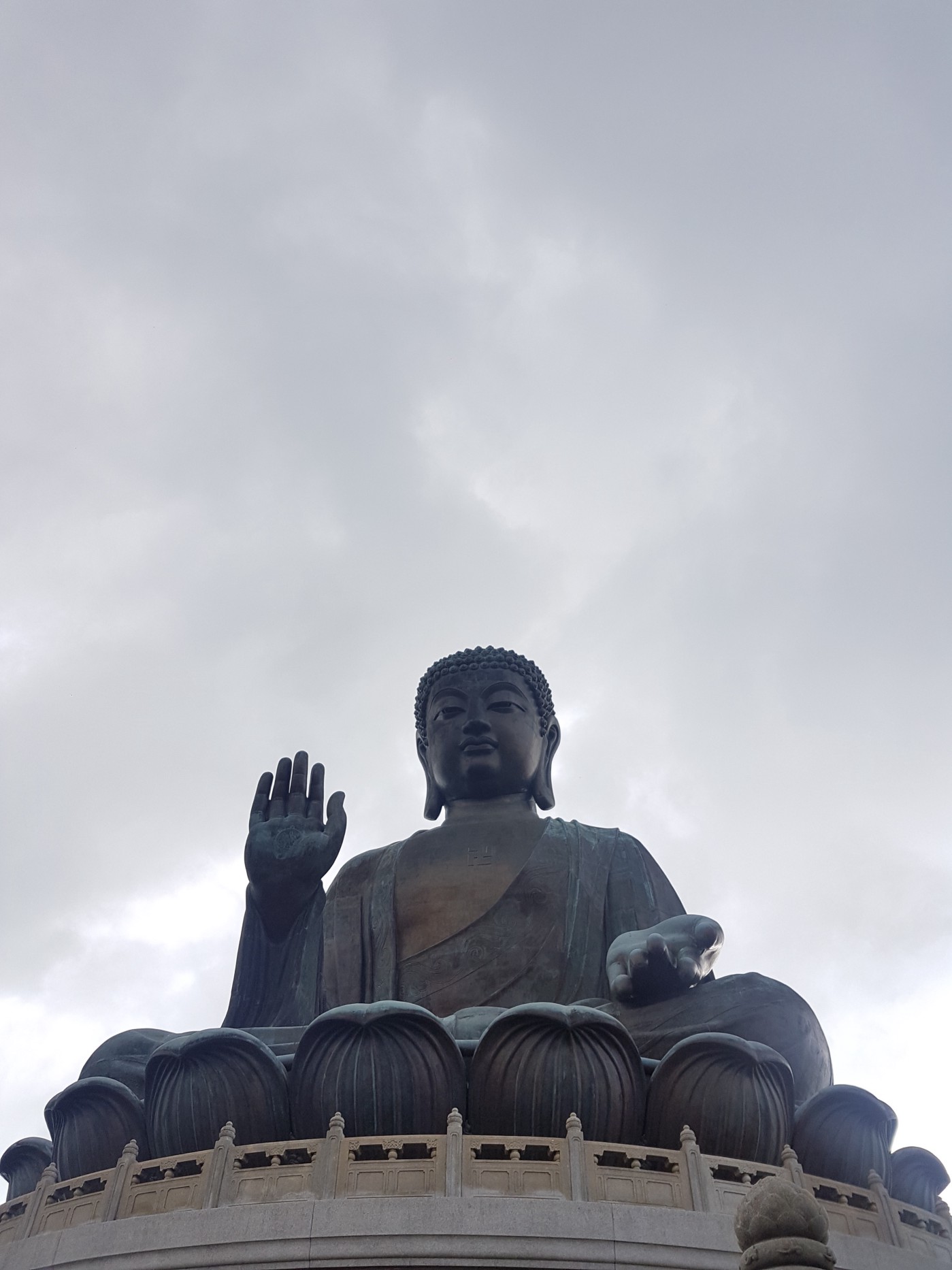 Tian Tan Buddha. This is one of the largest bronze statue of the Buddha in the world. There's an exhibition and a relic of the Buddha inside.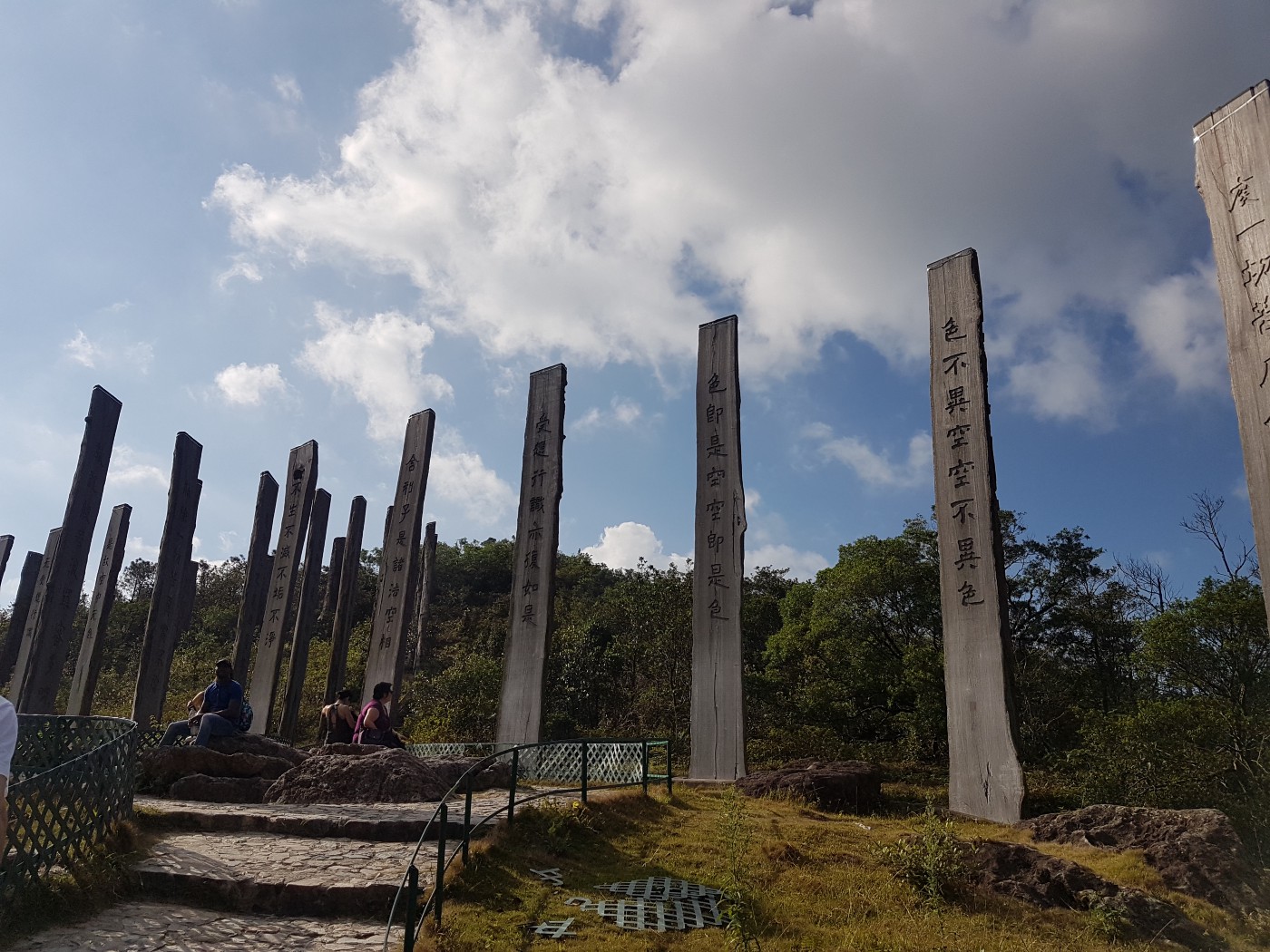 On your way to the monastery is the Wisdom Path. A good workout!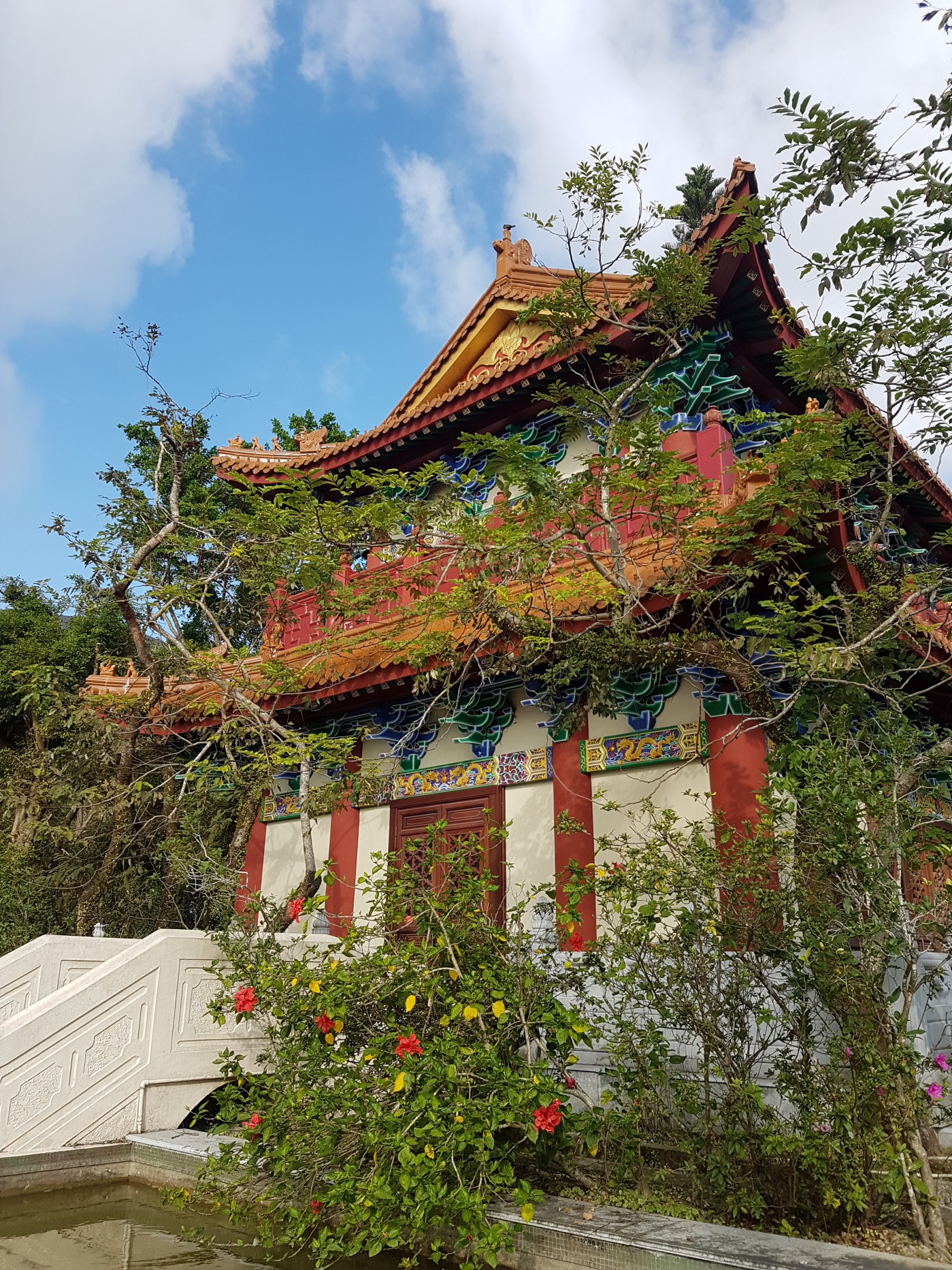 Po Lin monastery. Be sure to visit the Hall of the Ten Thousand Buddhas.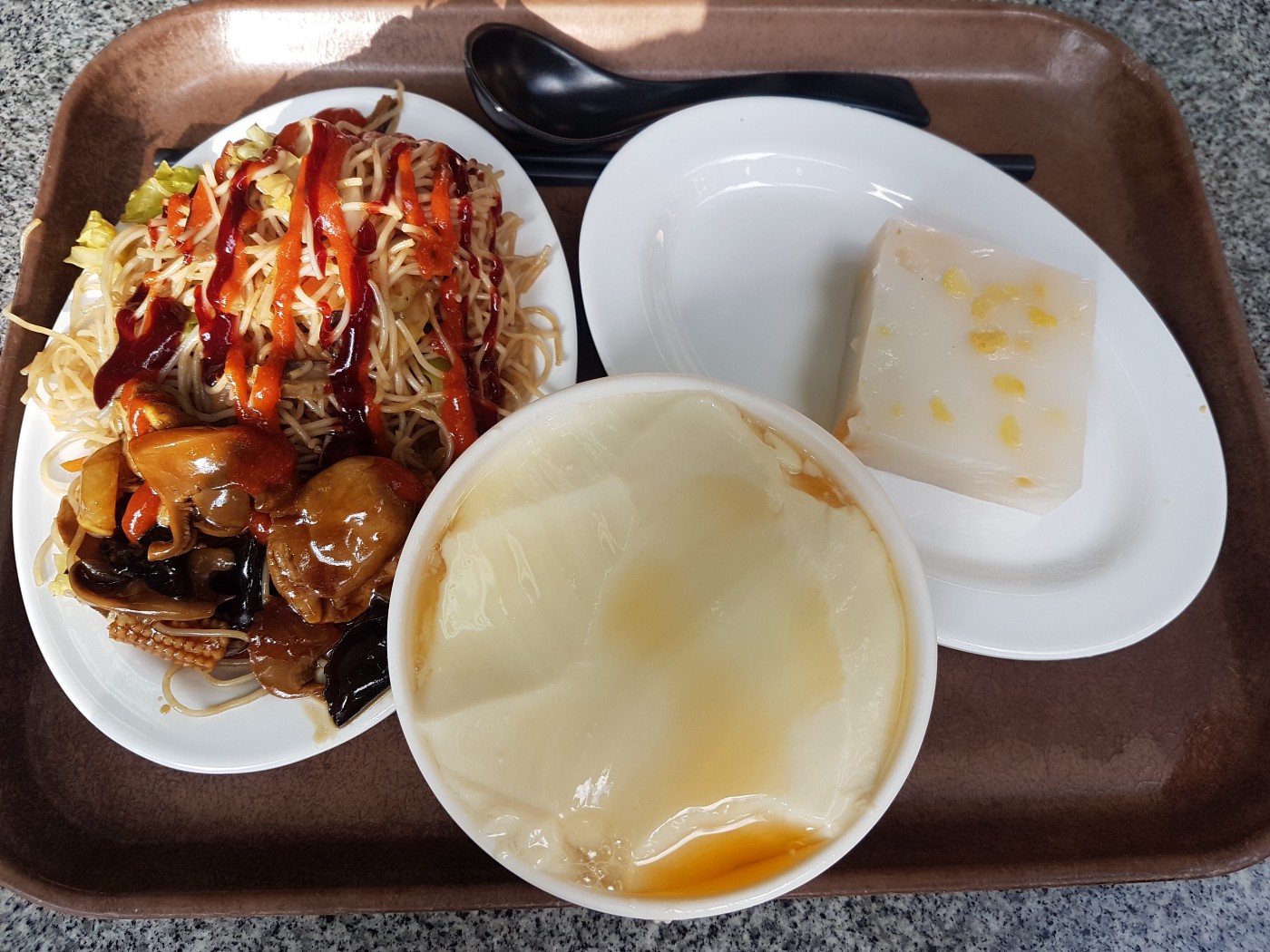 We were given free vegetarian food from the monastery.
If you have time head to Tai O — a charming fishing village. If you do want to go here then head to Lantau Island early.
In the evening, head to Dundas street. It's famous for the number of food stalls it has. Try different food at each stall.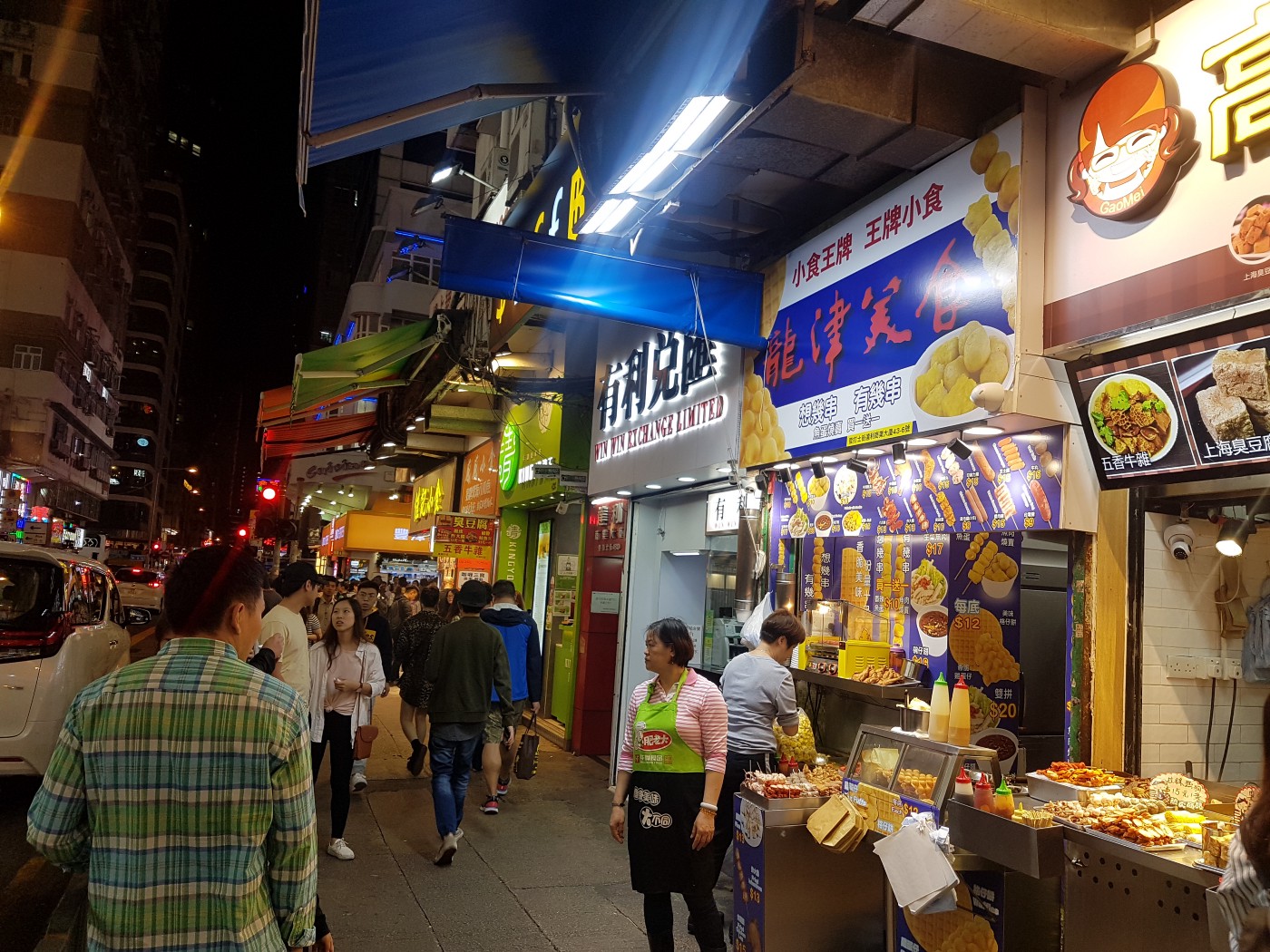 Dundas street. Check out this guide to see what you should try.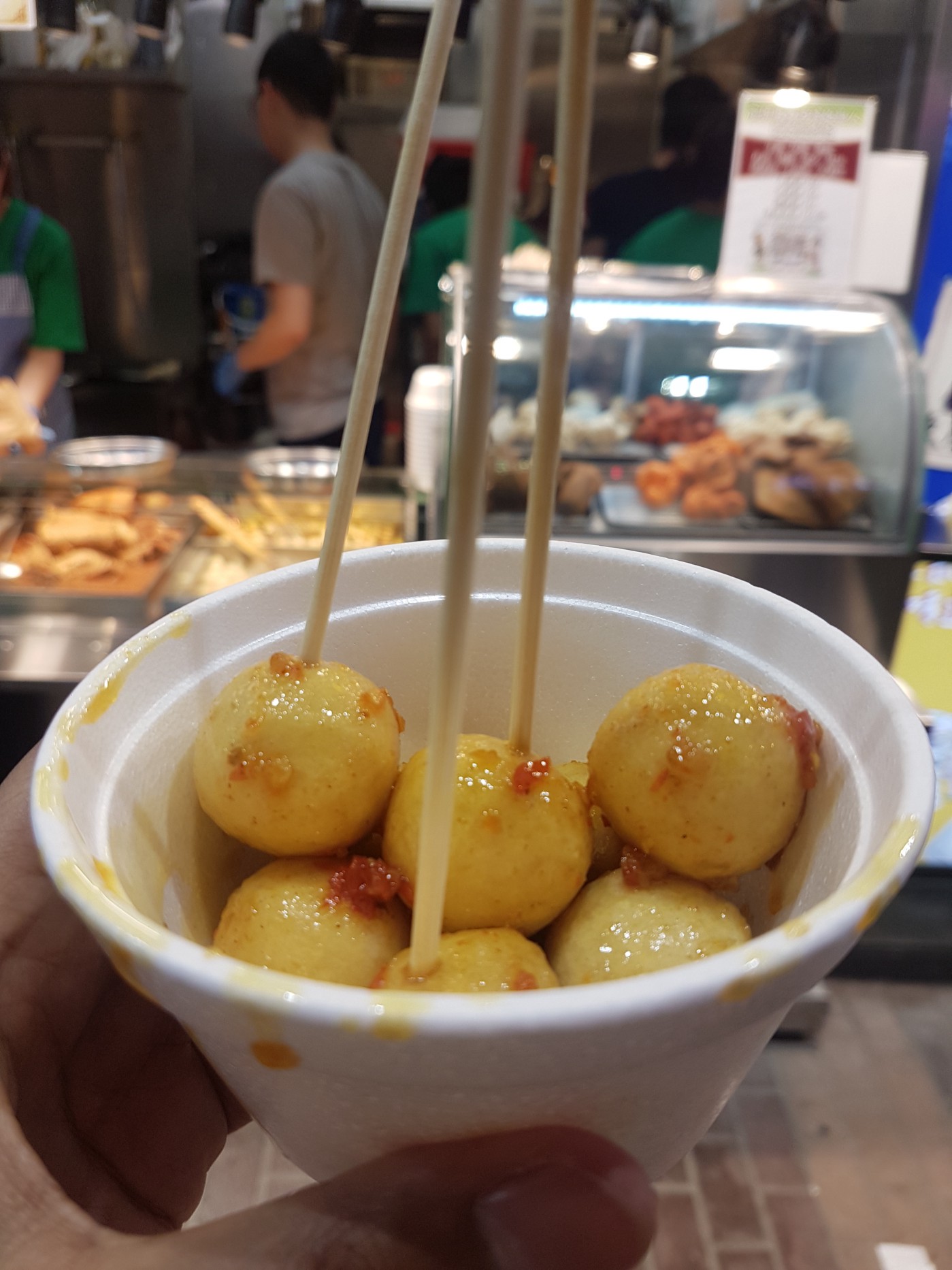 Hong Kong is famous for its curry fish balls — yum!
Close by is the Ladies Market — a great night market (it's open during the day but it's more livelier at night). You can buy clothes and other items from here.
Day 5 — Peak tram
Ride the peak tram to get a stunning view of Hong Kong.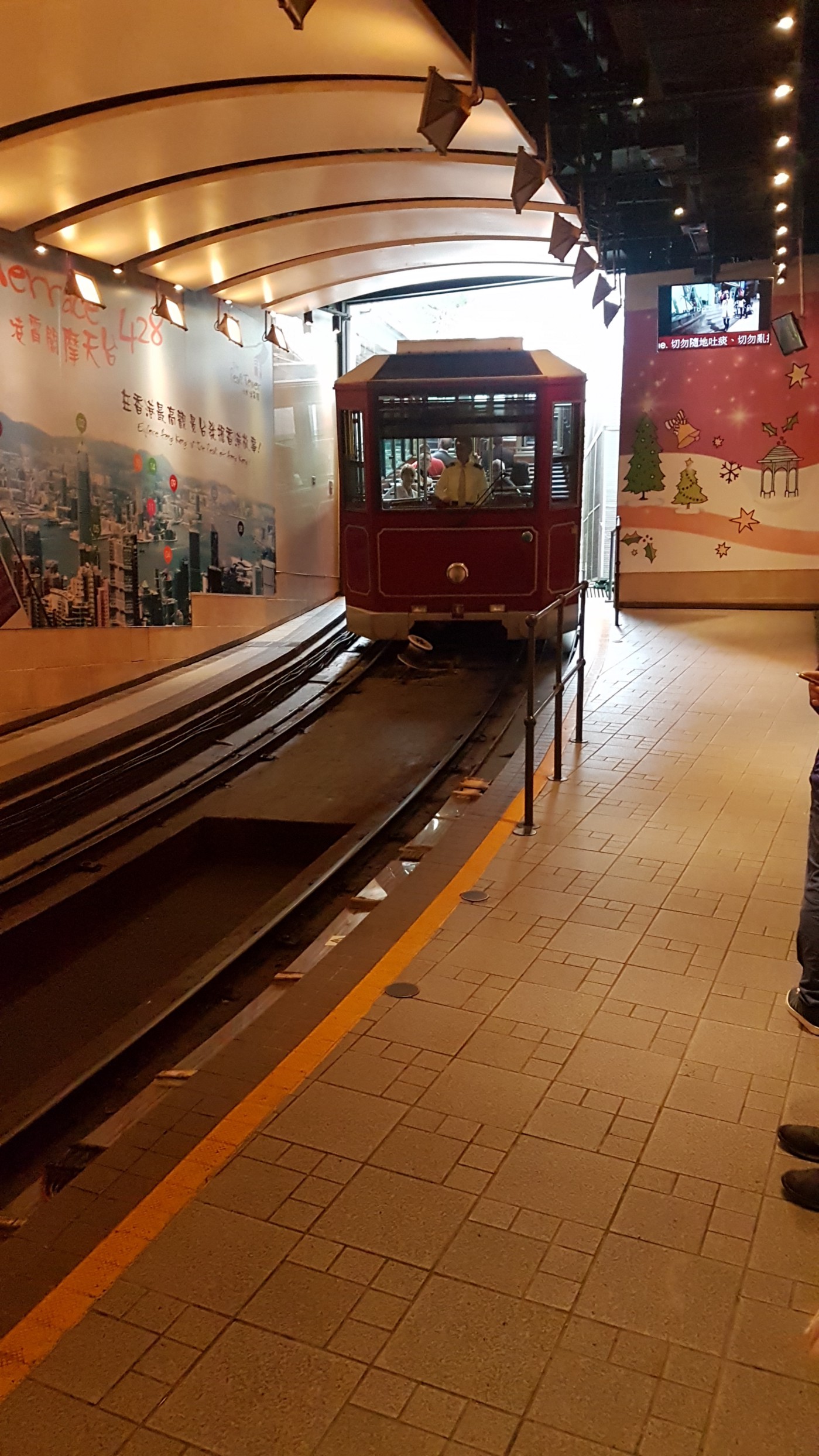 Peak tram. The ride up and down the peak is fun. It's a sharp incline!
I went early in the morning at 9am to avoid the queues. If you go later, say after 11am the queues for the peak tram are long. Use your Octopus card to pay for the tram. The fare for the Peak Tram is HK28 single, HK40 return for adults.
If you decide to go later, than get a cab or bus to get up or back. A one-way taxi ride is about HK40.
Top tip: if you go early in the morning around 9am than the viewing platform is closed. That's ok — look for the peak circle walk trail. This is a lovely walk around the peak, offering breathtaking views of Hong Kong. It's free, quiet and peaceful. You tend to see locals doing this trail as well rather than tourists.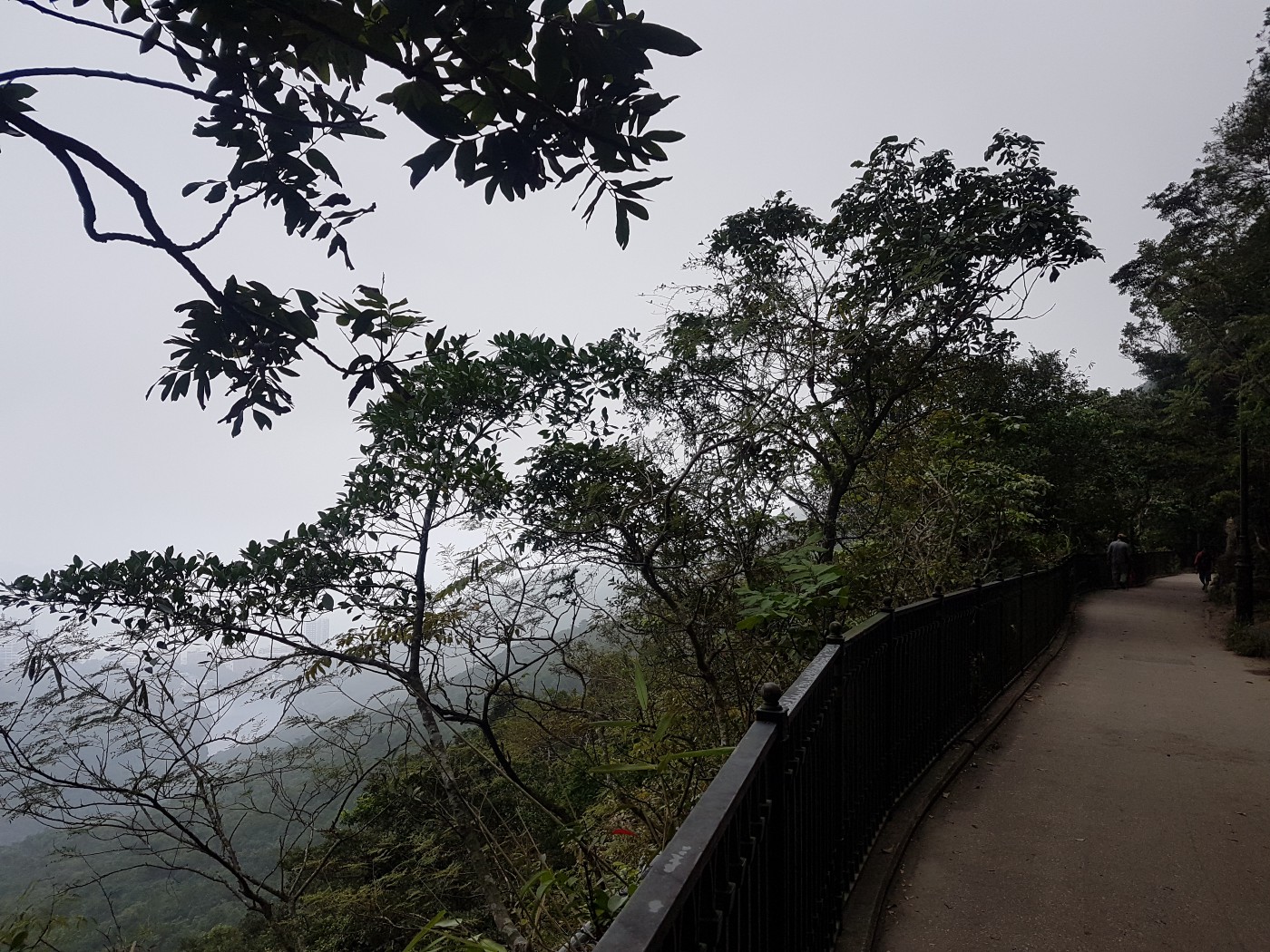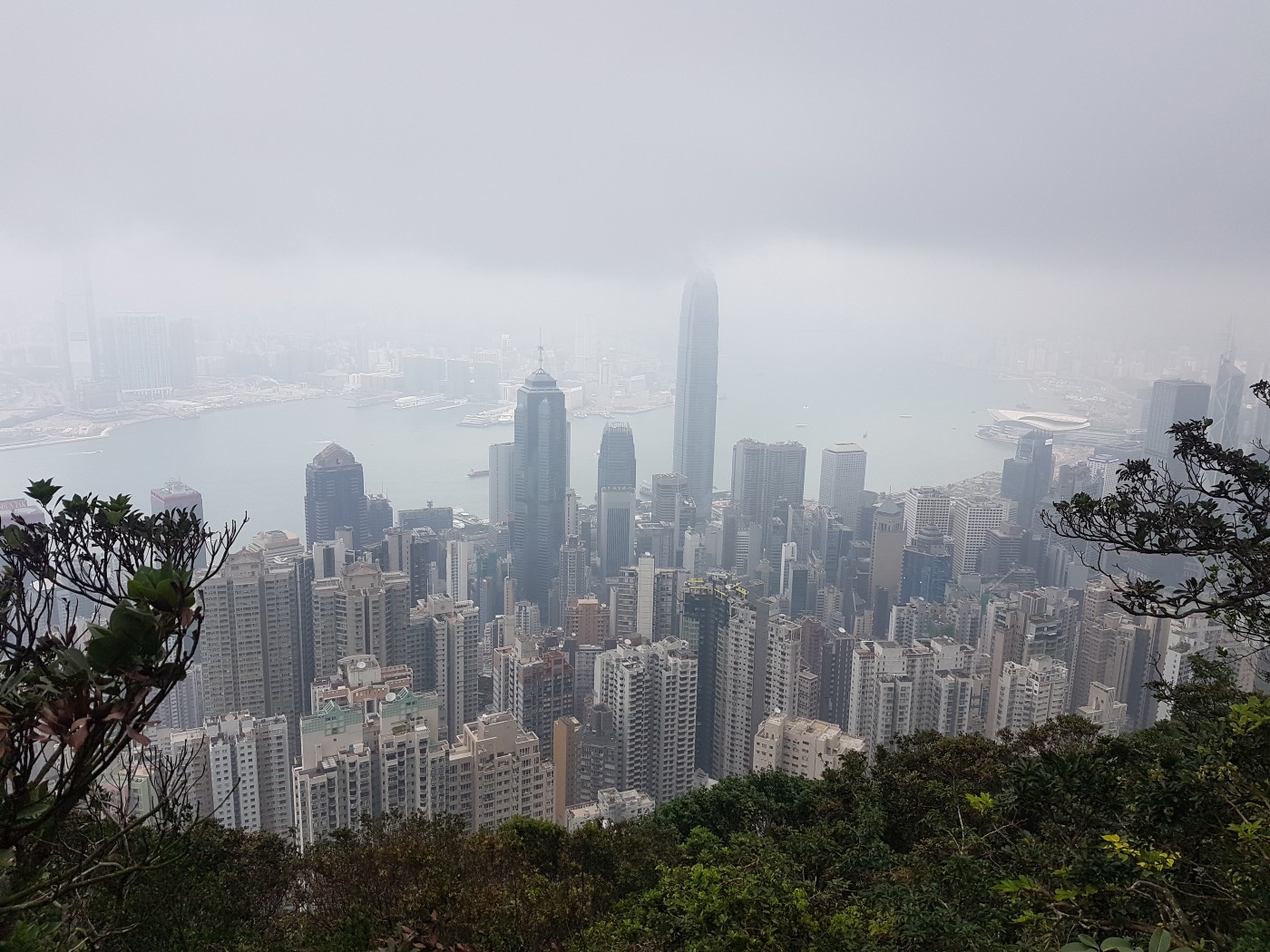 The walking trail. It takes about 1 hour to go round the peak. Totally worth it. A better alternative to the walking platform. Views from the trail. It was foggy in the morning when I went so you may want to check the weather, and ensure there is a clear sky when you go.
After coming back down from the peak, head to Causeway area. It's time for another cheap Michelin star meal at Se Wong Yee restaurant. Go for the snake soup. Yes snake soup.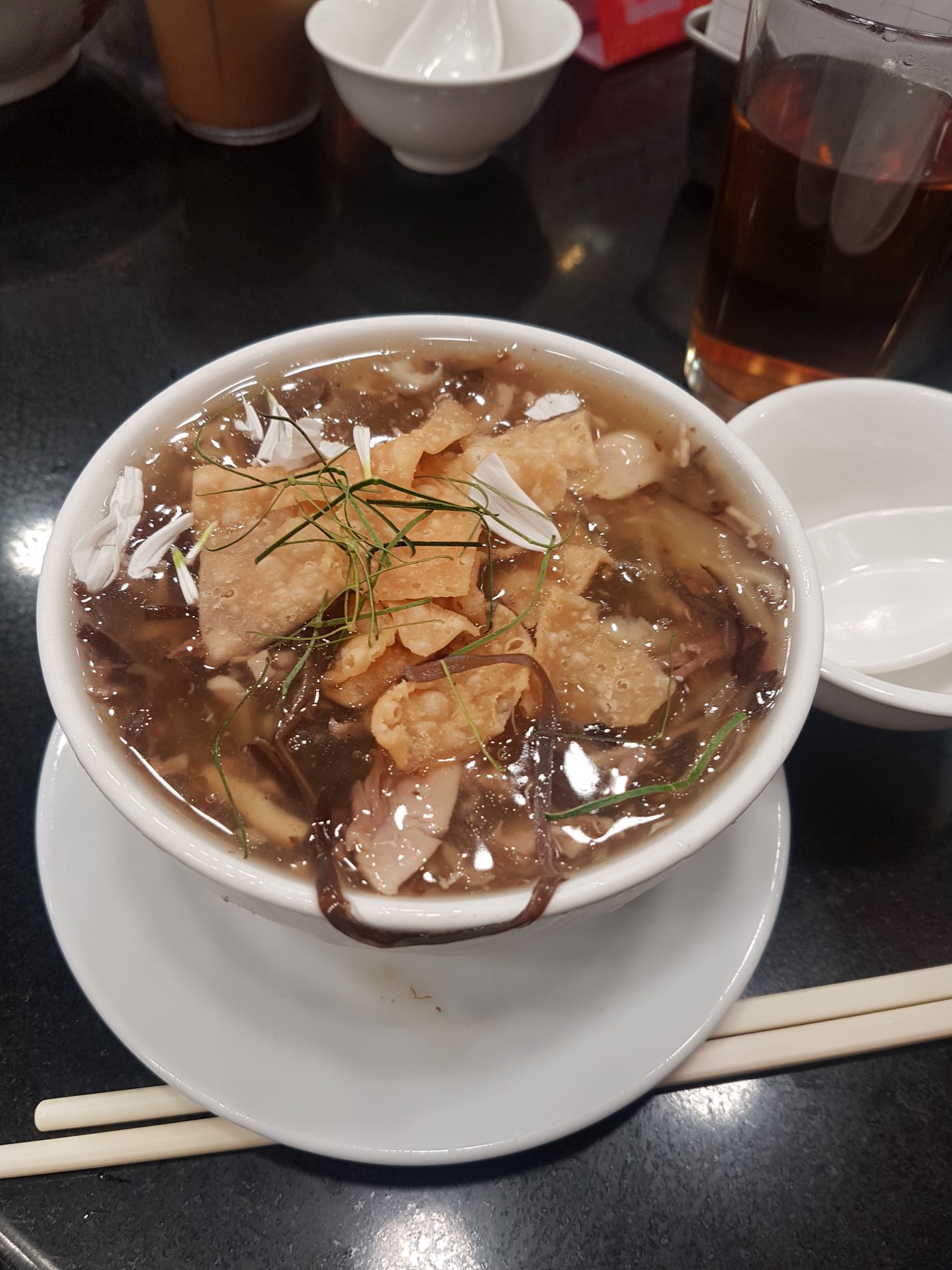 Snake is just stringy and chewy compared to chicken. The soup itself was thick and fragrant. This meal came to £7.20. It was delicious.
Head back to the hostel via the star ferry to Tsim Sha Tsui. You can use your Octopus card. It's a cheap way (less than HK$3.40 in most cases) to be on the water, and see Hong Kong.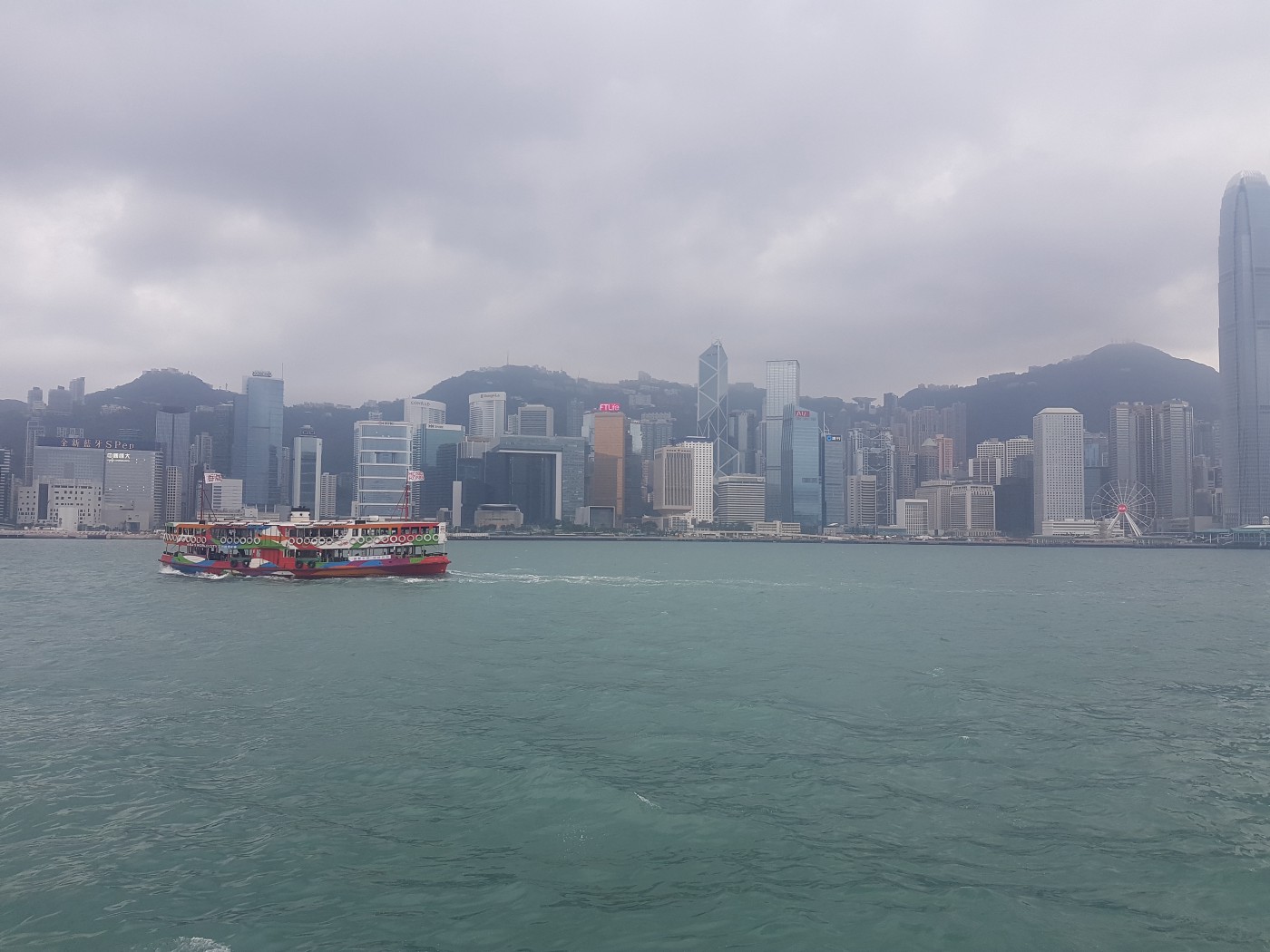 View from the boat.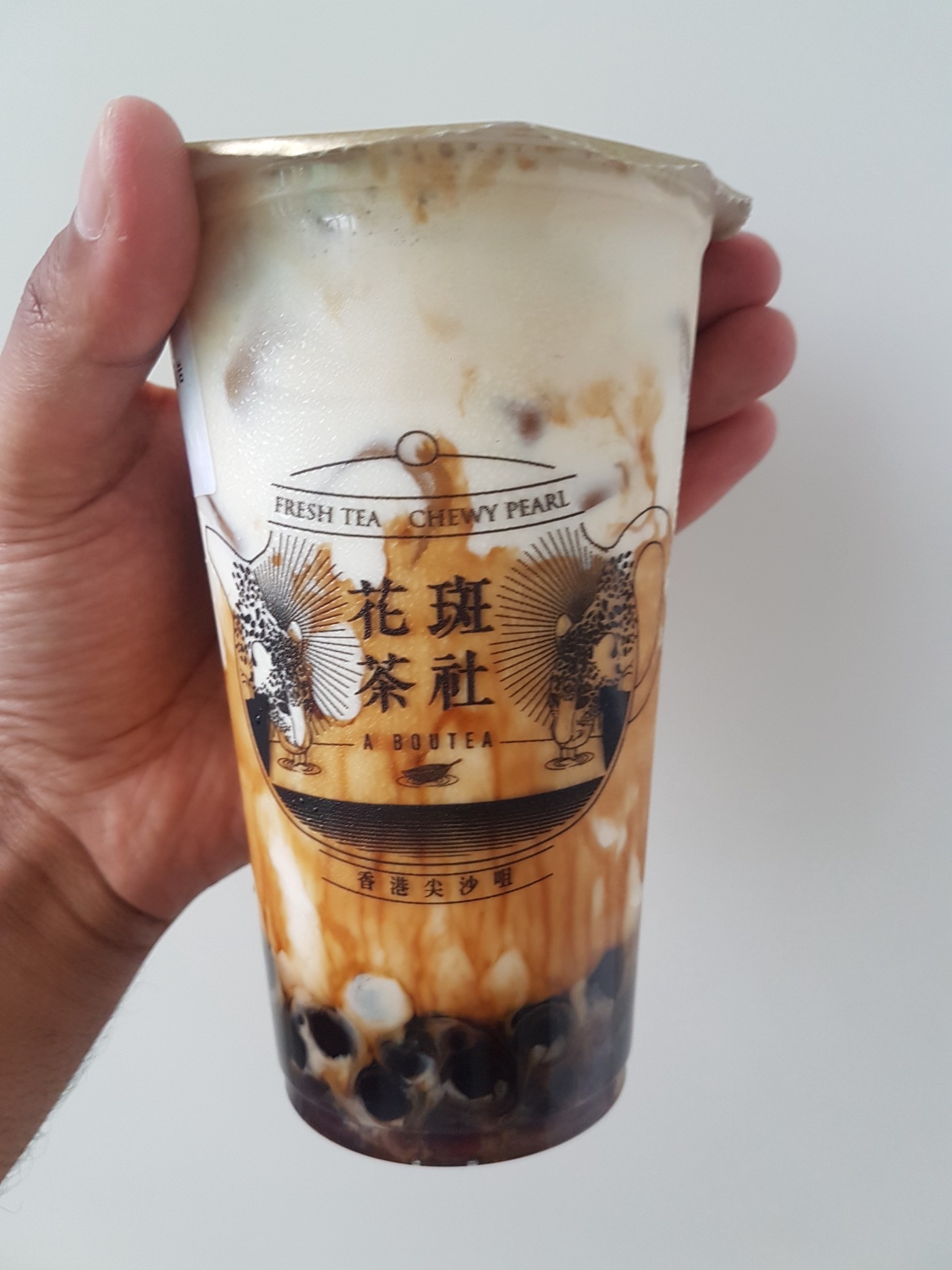 Treat yourself to a bubble tea when you come back to the hostel.
At night, you have two choices:
● Lan Kwai Fong for nightlife. It is touristy and Hong Kong locals tend not to go here. Also drinks are expensive so most people grab something from the local 7-Eleven.
● Happy Valley Racecourse. The atmosphere is electric. Normally the races are on a Wednesday or a Sunday.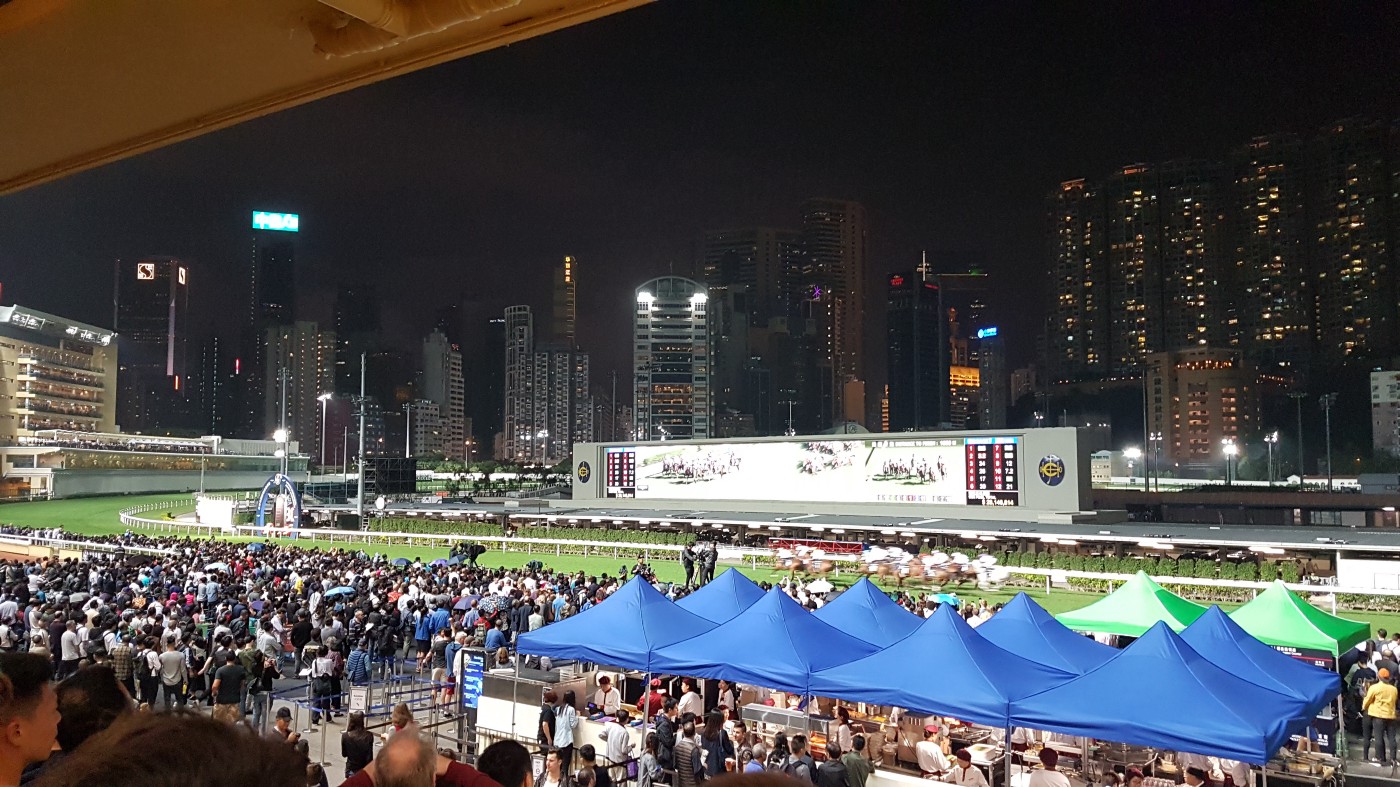 At the races. My top tip, buy the guide from the shop to see how the horses have performed in past races. Tourists go free, just flash your passport and walk through the foreigners entrance.
Top food to try in Hong Kong:
● Dim Sum (Yum Cha) —usually between 7.30AM-4PM — buy steamed dumplings, meatballs, fried spring rolls, spare ribs.
● Congee — thick rice porridge, topped with meat, fish or vegetables (breakfast).
● XO sauce to spice dishes up.
● At noodle houses, try dan dan noodles (sichuan special), fish ball noodle soup and wonton noodles.
Day 6 — Hong Kong to Singapore
I flew from Hong Kong International Airport to Singapore with Scoot airlines. My flight cost £90. I did not like flying with Scoot airlines. Whilst the journey was short (four hours), no food was provided on the flight. This comes at an extra cost. I could not check in online via via the Scoot app, which was frustrating.
After arriving at Changi airport (more on this later), I bought a three day tourist pass for SGD$30. The tourist pass allows you free travel on public transport and exclusive discounts. Also, if you return your pass after the three days, you get SGD$10 back. Annoyingly, the pass does not cover travelling to Sentosa Island, but it's easy to buy tickets for this so don't worry. Also, be sure to validate your ticket so it covers the three days, ask the ticket office for more details.
It's easy to get into the main city from the airport. Take the MRT (subway) to your destination with your tourist pass.
Alternatively, you can:
Take a taxi, which will cost SGD$20.00-$35.00.

Take the airport shuttle, which costs SGD$9.00 per person. Book a seat by following the signs to the ground transport desk after collecting your luggage.
Accommodation
I stayed at The InnCrowd Backpackers Hostel 2. I paid £11.85 a night for a eight bed mixed dorm. The accommodation accept credit card. The room itself wasn't great — there's no privacy and if you get in late you end up disturbing everyone. Also, the top bunk does not have any access to electrical ports — annoying. The hostel is located in Little India, close to two MRT stations. Finding the hostel is easy. Little India is great for food, and with it's central location, easy to get to other places. You'll find a lot of hostels in this area. The InnCrowd Backpackers Hostel 2 is the most sociable hostel I've been to so far. There's always someone up for doing something in the hostel lobby. The free breakfast is basic but enough to set you up for the day. Handily, you can buy tickets to major attractions like Universal Studios at the hostel.
When I arrived at the hostel I was feeling a little hungry, so it was time to eat our fourth Michelin star meal of the trip. We ate at Bismillah Biryani Restaurant.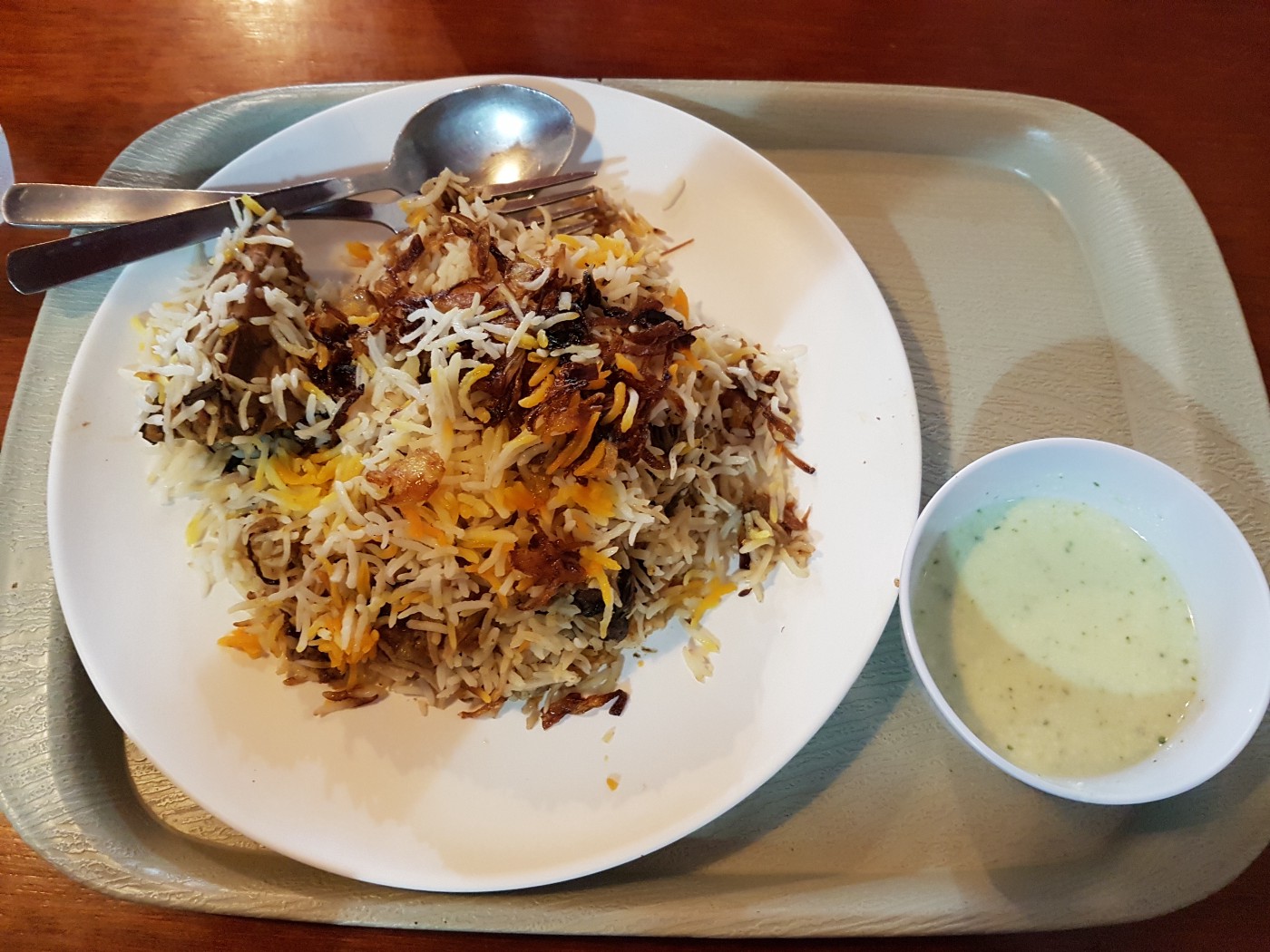 Go for the biryani, a traditional Indian rice dish. It comes with raita (a cool yoghurt) to mellow out the dish.
The hostel is famous for running a scooter tour, which takes you on a whistle stop journey through Singapore. You stop off at key locations such as the Merlion Park and Marina Bay Sands. Be warned, the tour lasts four hours and it can be very gruelling (especially if you are unfit like me!). Personal highlights include seeing the light show in front of Marina Bay Sands (light show at 8pm, 9pm and 10pm) and the Gardens by the Bay (light show at 7.45pm and 8.45pm). Round off the night by grabbing a wafer biscuit ice cream sandwich — popular in Singapore.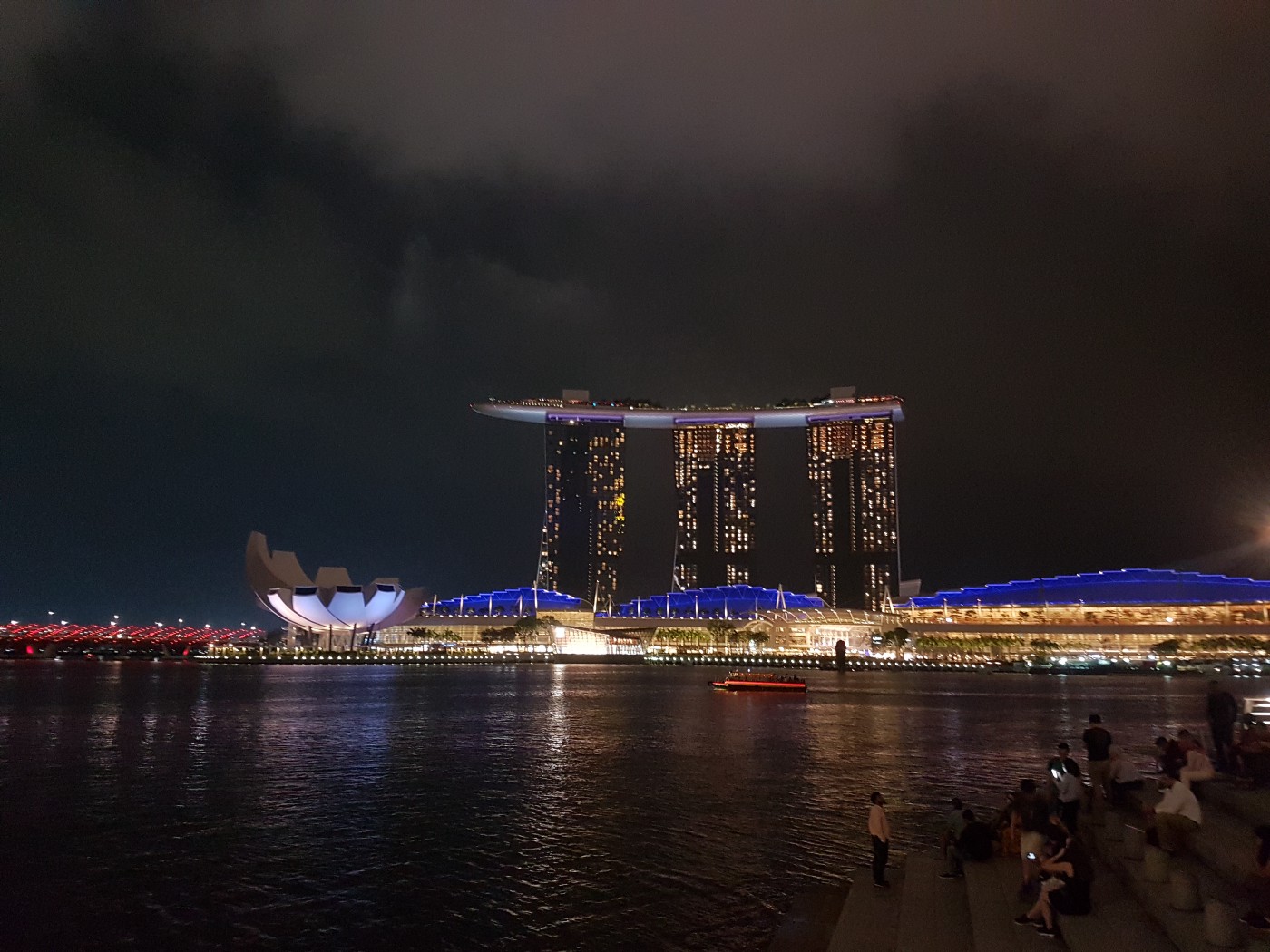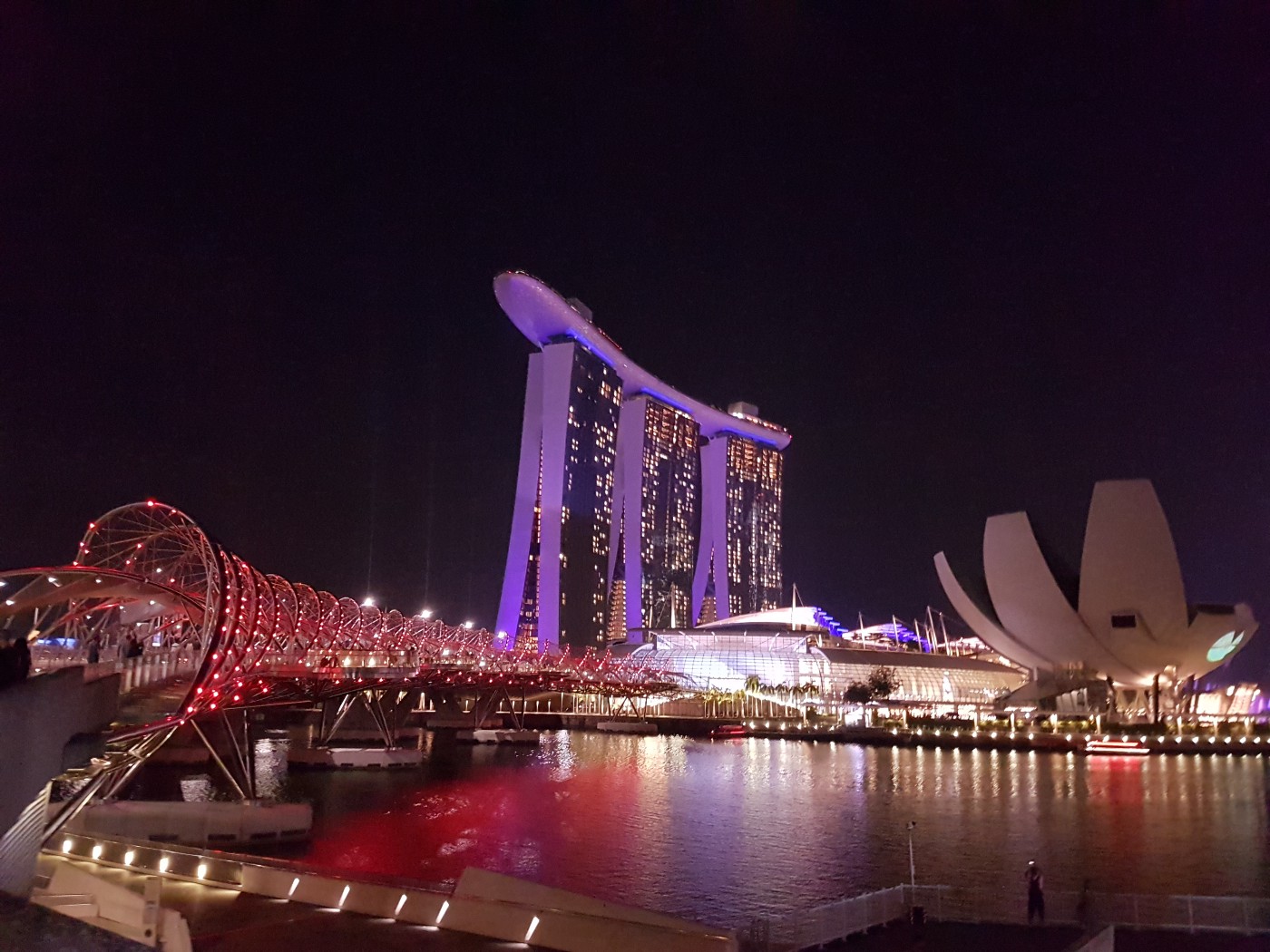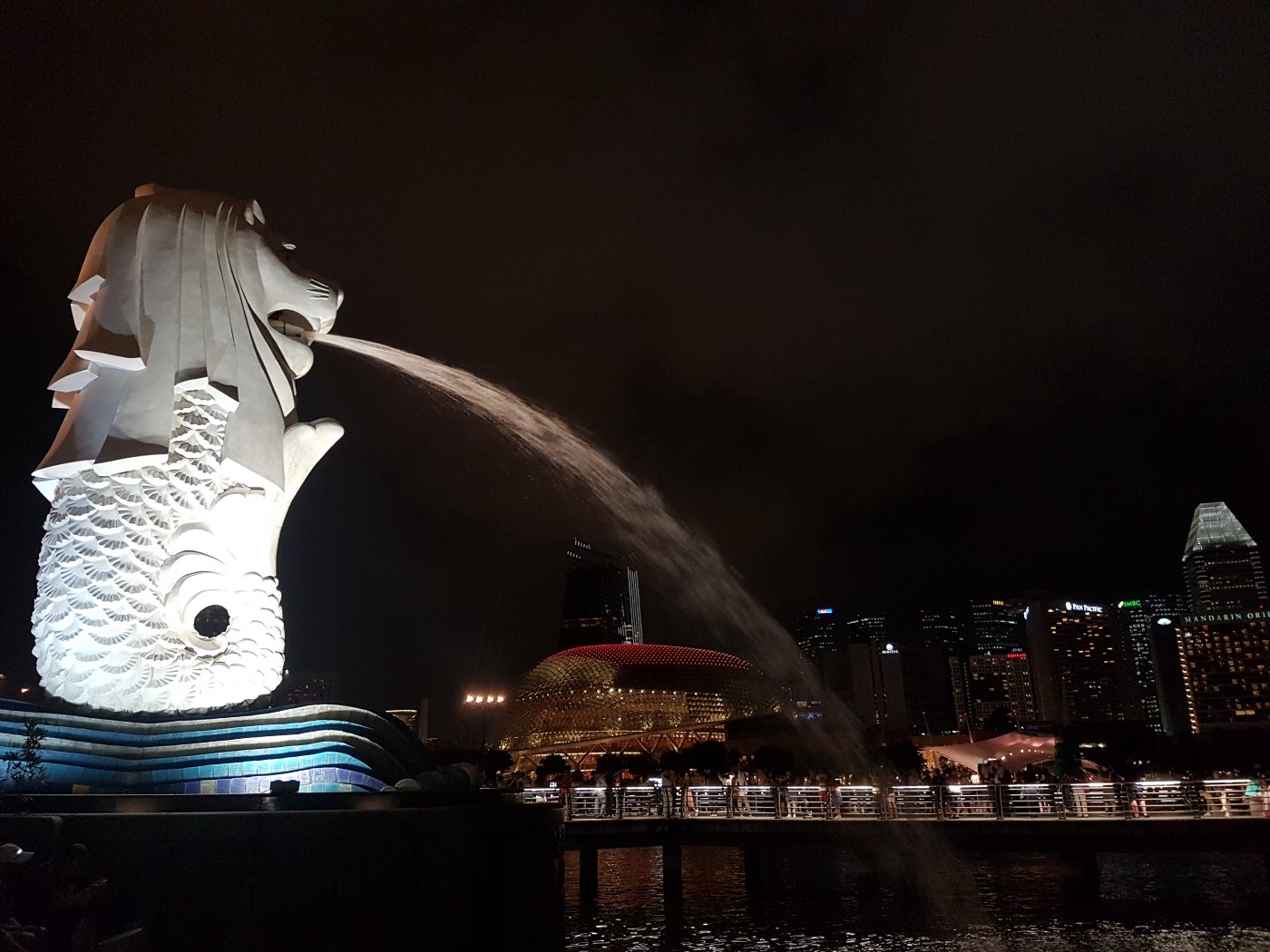 Marina Bay Sands - Singapore's most iconic building. Also, the Merlion statue — a symbol of Singapore. Be sure to check out the light show near the Marina Bay Sands. It's one of the best light shows I've seen.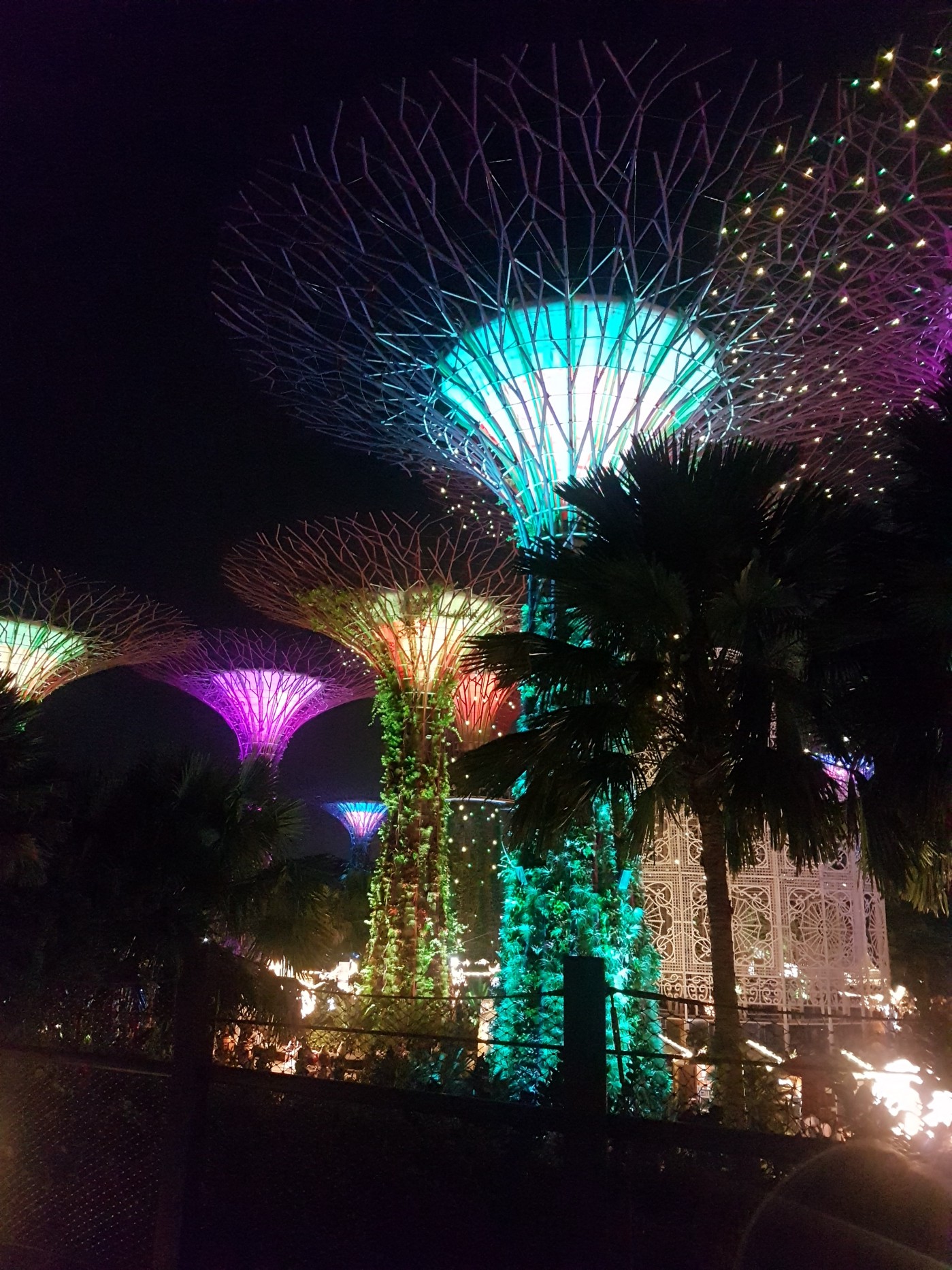 Gardens by the bay light show. The garden itself is free to walk around but the coloured domes are not. Worth visiting.
If the scooter tour is not for you then I recommend doing the following:
● Mustafa centre (shopping centre open 24 hours)
● Dinner at Makansutra Glutton's Bay (cheap street food).
Top tip: eat at Hawker markets. You'll find the best local food at reasonable prices. You'll find these markets in Hong Kong, Singapore and Malaysia.
Day 7 — Exploring Little India, Arab Street and Chinatown
In the morning, explore the vibrant and colourful Little India. Visit the Indian Heritage Center to learn about the history of the Indian people in Singapore. The Hindu temples nearby are beautiful too e.g. Sri Veeramakaliamman Temple.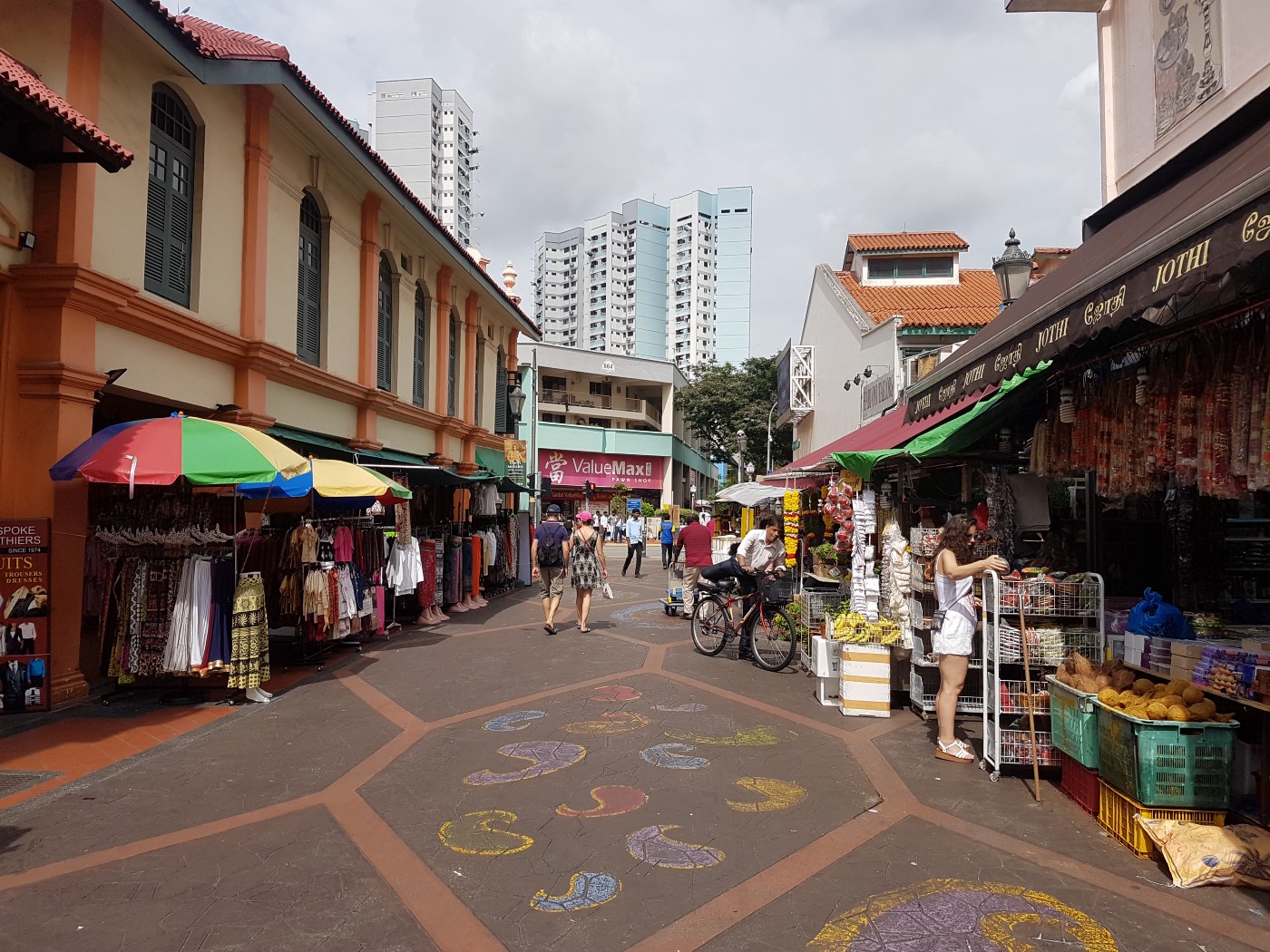 Vibrant Little India
Next, visit the Sultan Mosque, and visit Arab Street. A great place to buy souvenirs and eat good food.
Later, check out Chinatown. Walk about and soak in the ambiance.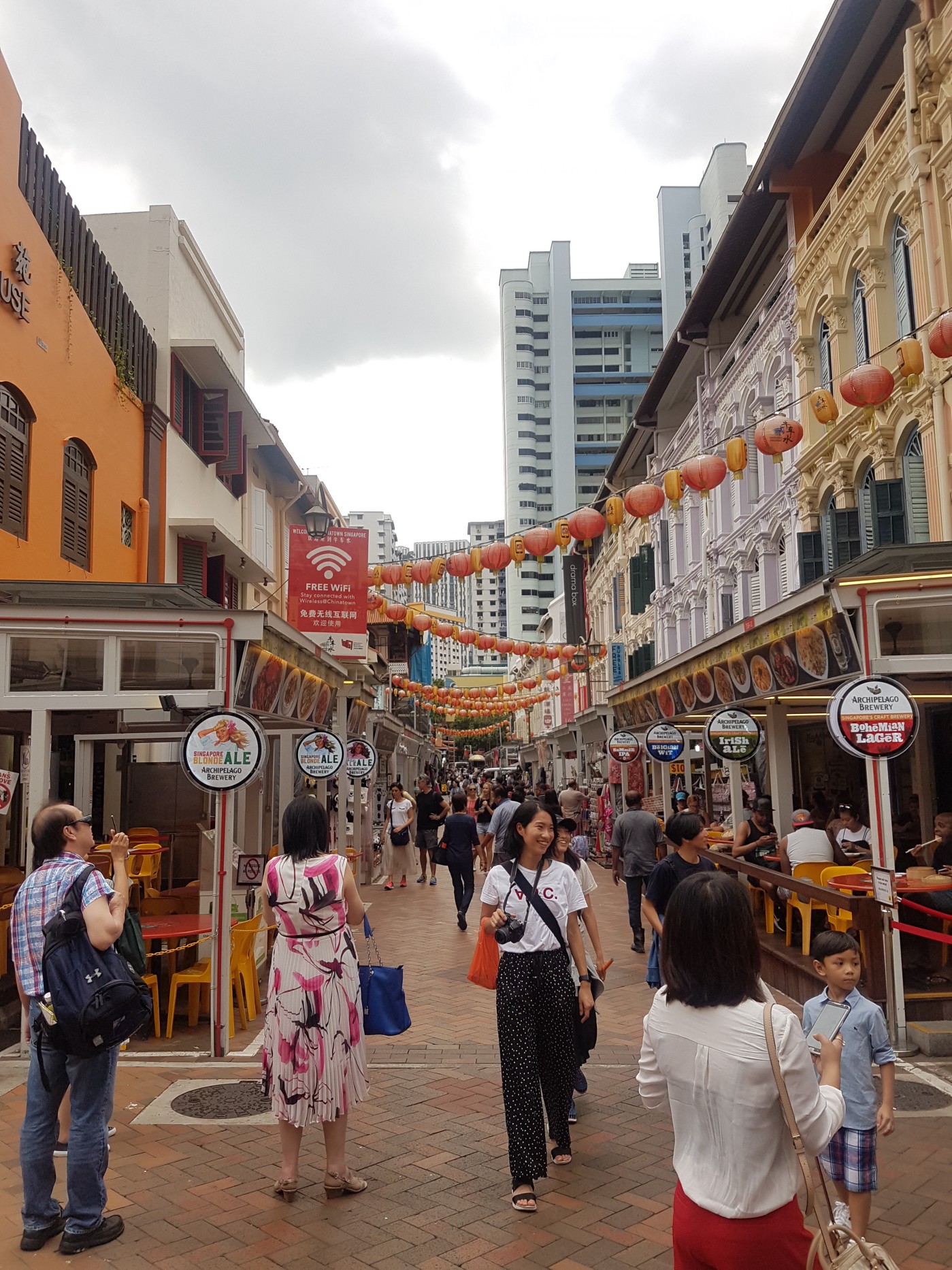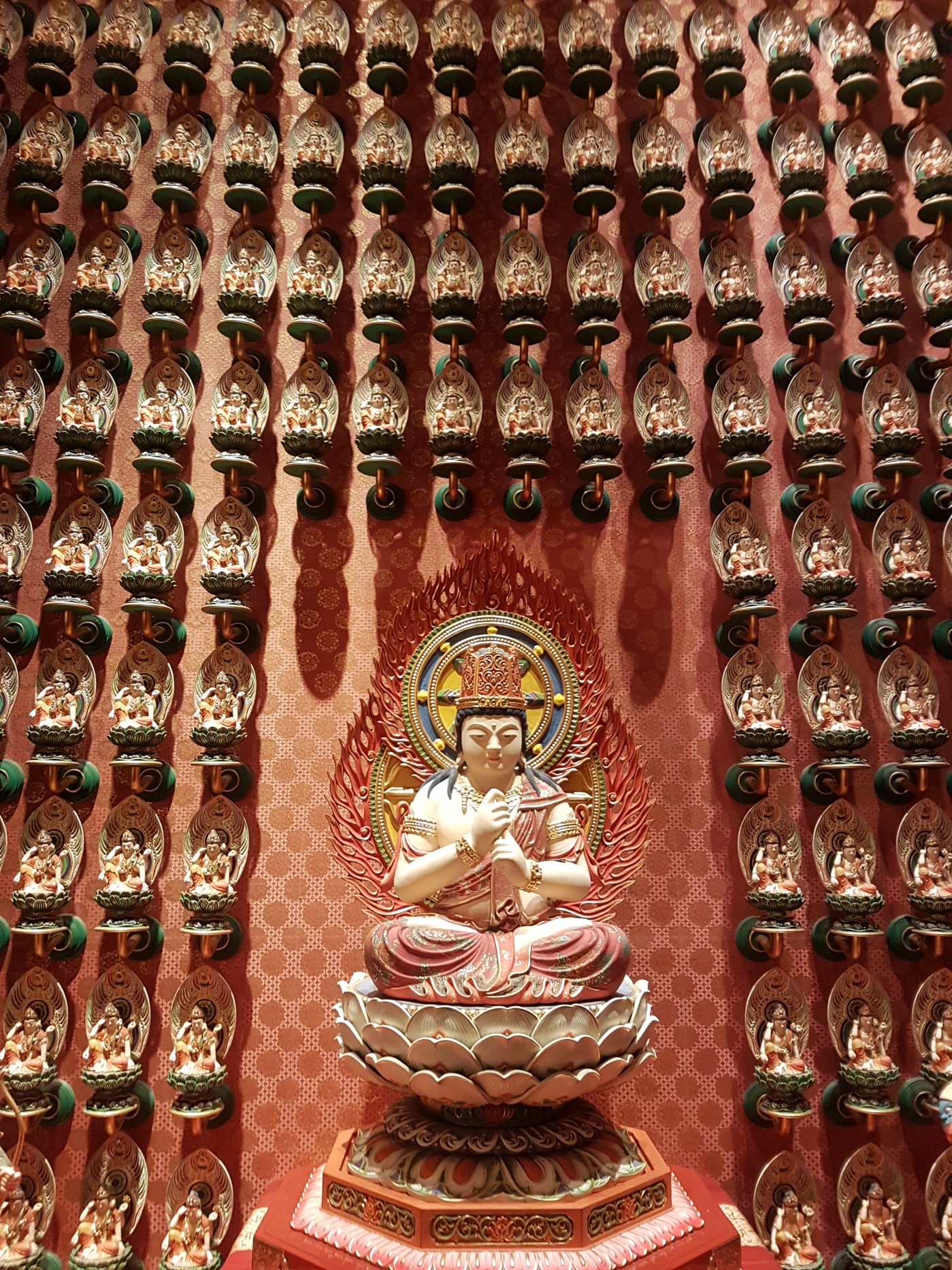 My favourite thing to do in Chinatown was visiting the Buddha Tooth Relic Temple and Museum.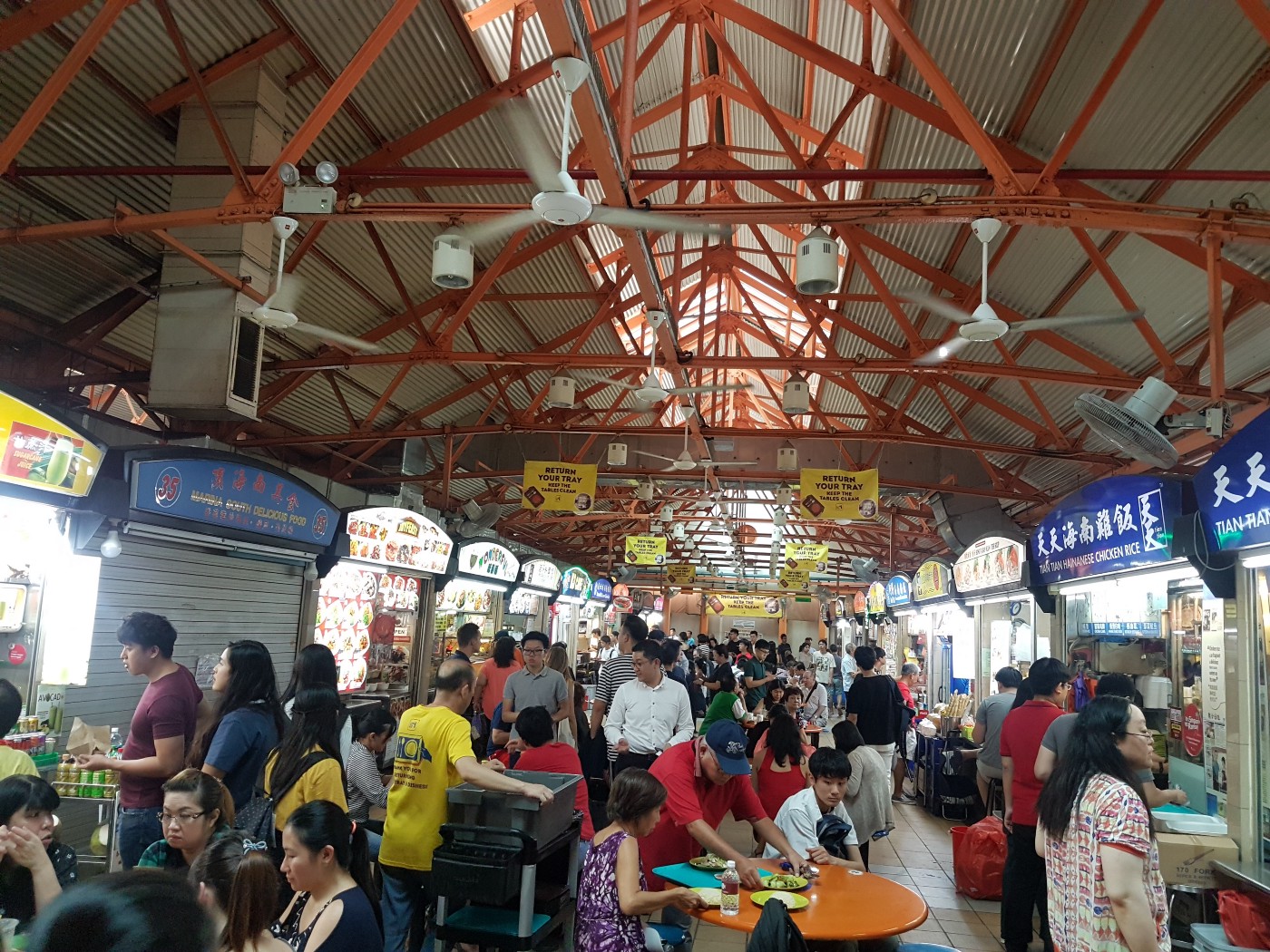 For Lunch, we ate at the Maxwell food centre. A great place to buy cheap but delicious food. I had fried carrot cake. Confusingly it's not actually carrots but parsnips. Parsnips are often called white carrots in Singapore.
For our evening meal, we went to our final Michelin star meal of the trip — Lagnaa…barefoot dining. This restaurant serves classic Indian dishes. The twist, you take your shoes off before dining. I personally found the menu to be confusing, and ended up going with the set meal.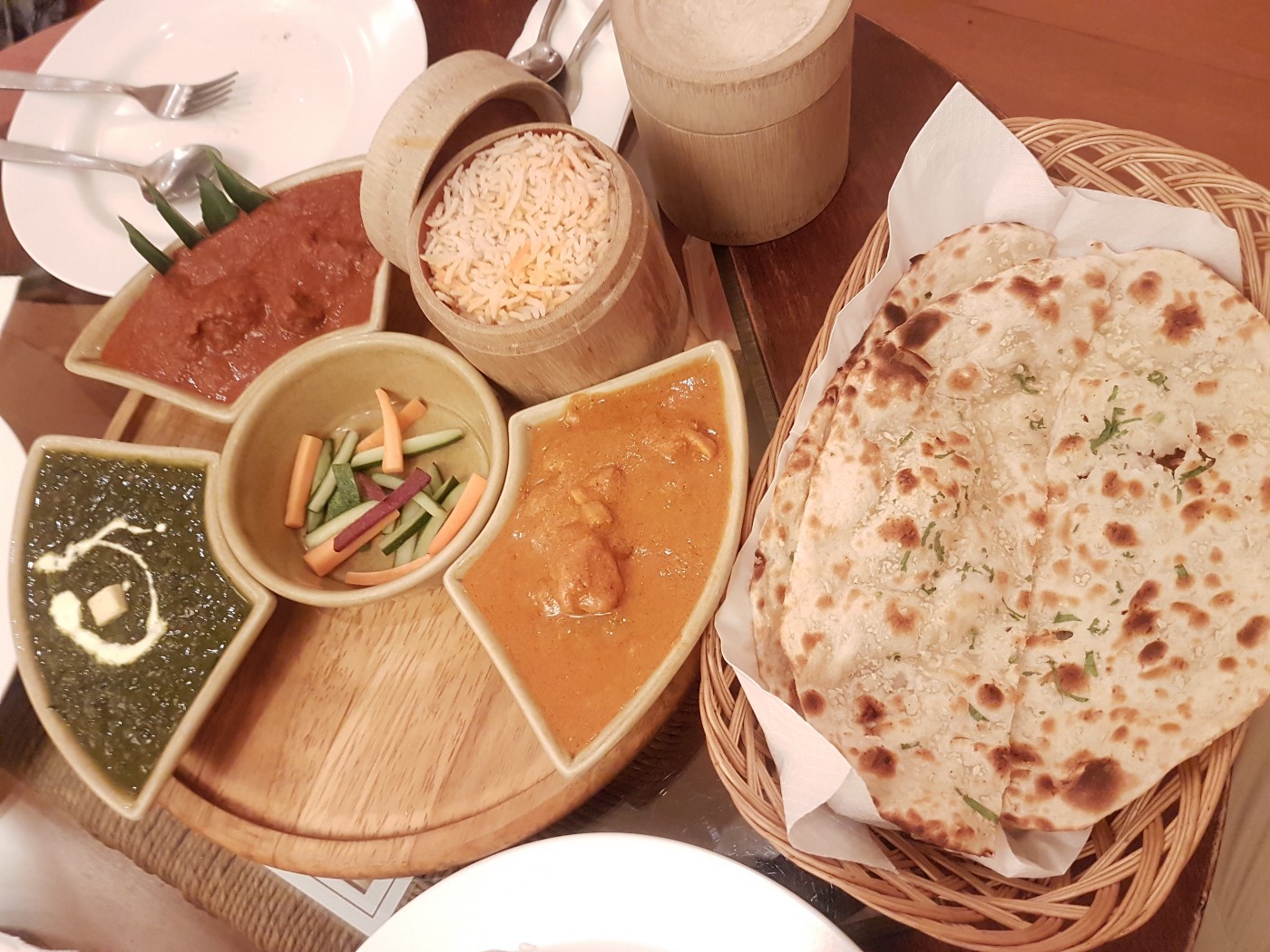 I enjoyed the meal especially the saag paneer. This place was the priciest Michelin star meal I've had so be careful with how much you order.
In the evening you may want to:
● Go to the Night Safari. I didn't do this as it seemed hit and miss amongst the locals. They do have an excellent creatures of the night show though.
● Visit Timbre @ The Arts House. Drinks are pricey but the live band is sublime.
● Soak up the atmosphere at Clarke quay riverside. It's the best place to go for a drink or to a club. Drinks are pricey but the atmosphere is electric.
Day 8 —Sentosa Island, Universal Studios Singapore and Raffles
If you are looking for adventure, Sentosa Island is the place to be. There's so much to do here. You can go rock climbing, relax on the beach or visit the S.E.A. Aquarium.
Universal Studios Singapore is smaller in comparison to Universal Studios Orlando, but there's still some excellent rides such as Transformers, Shrek 4D movie and Battlestar Galactica rollercoaster.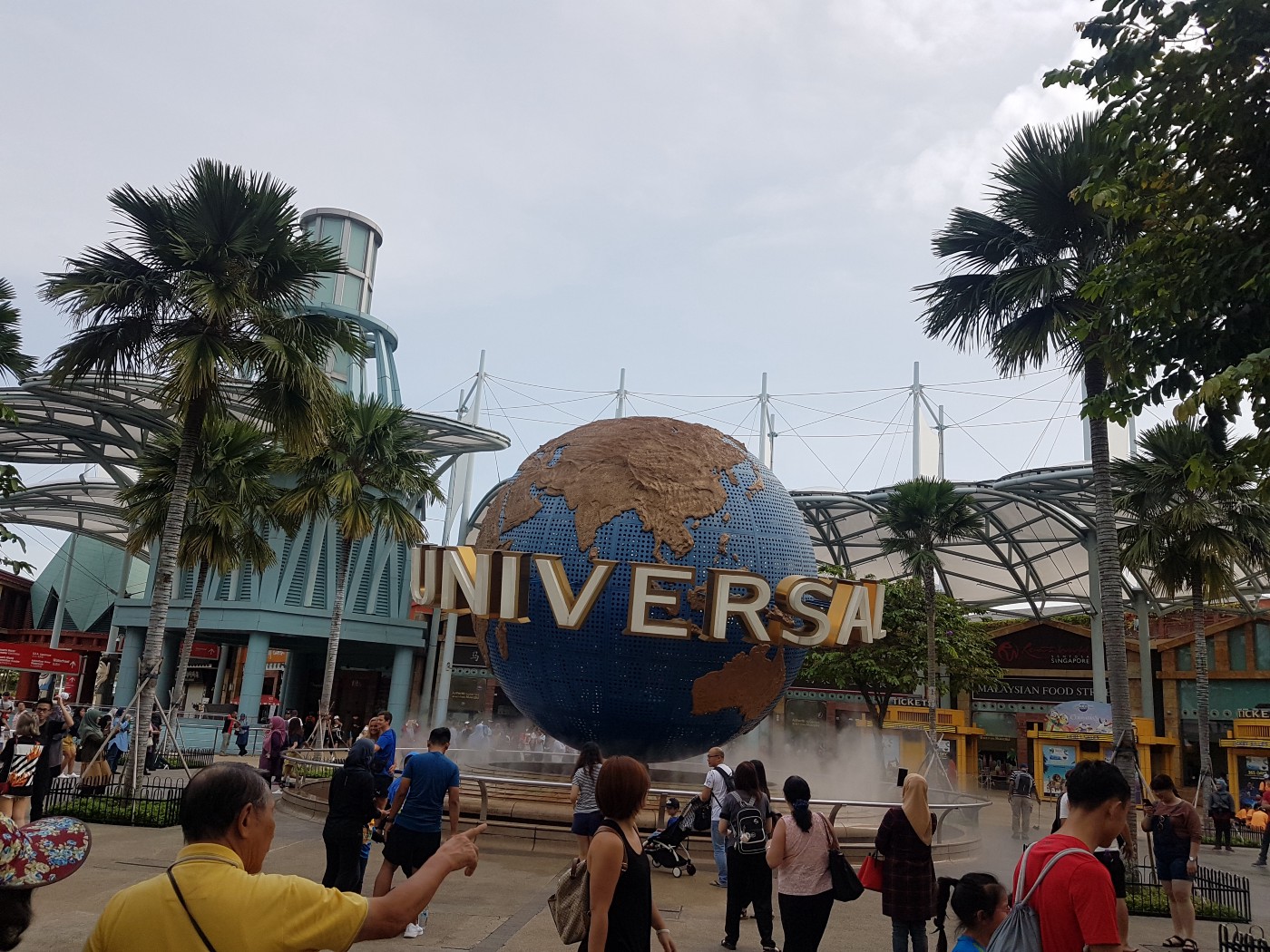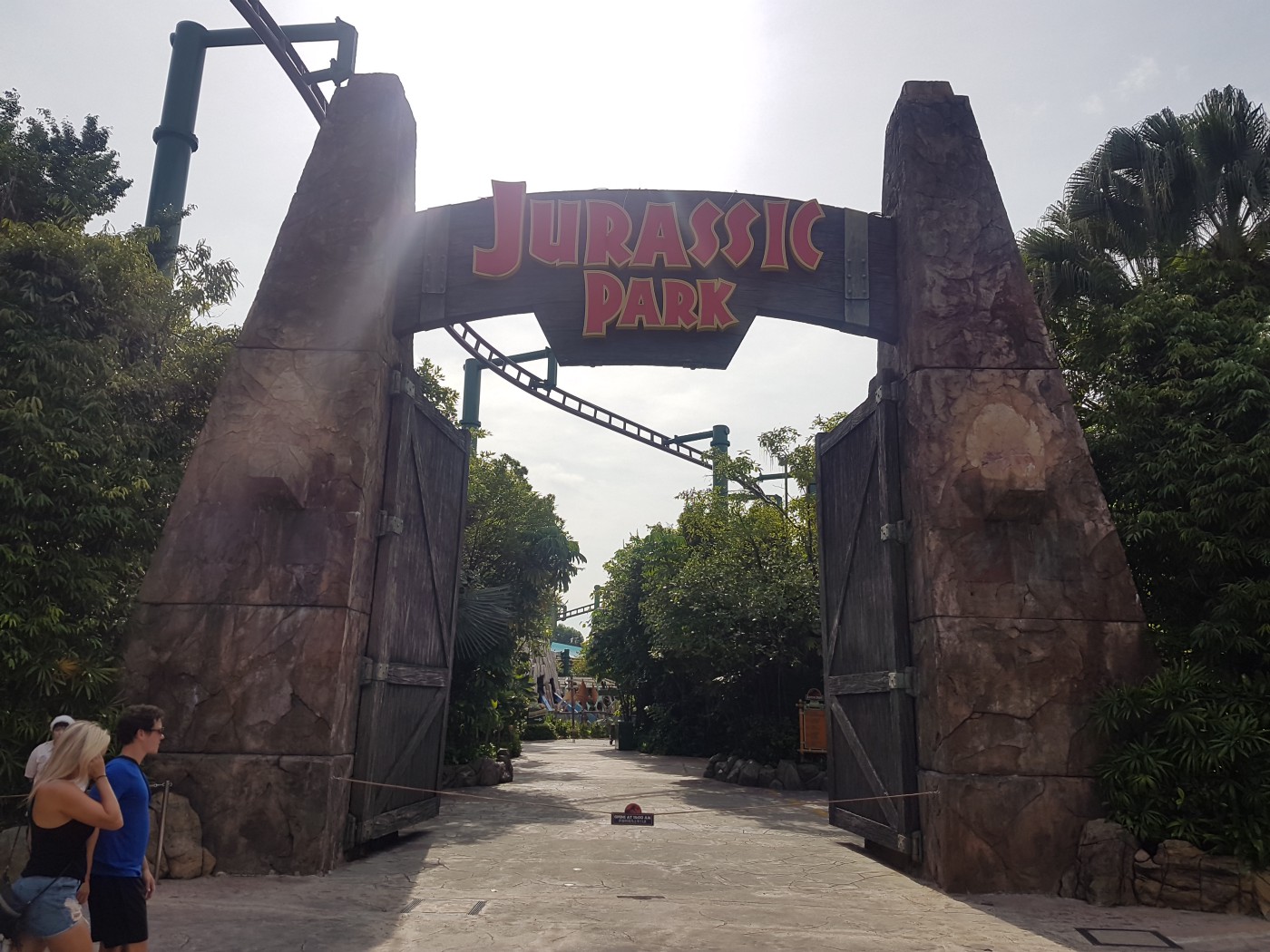 The iconic logo, and the famous Jurassic Park gate.
You can buy a ticket to Universal Studios Singapore for SGD$76. The express ticket (access a ride through the express lane) can be bought at the park, and cost us SGD$50 (price can vary on the day and depends on what type of express ticket you go for, we went for the singular express ticket). This was by far the most expensive activity I did whilst on this trip.
Is the express tickets worth it? Yes, if you are short on time. My suggestion would be to go early in the morning to avoid the crowds. Do not use your singular express ticket (use the express lane for each ride once) in the morning! Wait till the afternoon when the park gets busier. This way, you can ride the most popular rides, multiple times. Thank me later.
In the evening, we visited Raffles bar. The bar is famous for being the birth place of the 'Singapore Sling'. The drink is pricey but it's worth getting one (roughly costs SGD$32). The bar is also famous for patrons throwing the shells of nuts on the ground after eating them. It's a little weird at first but you get into the swing of things, after a drink…or two.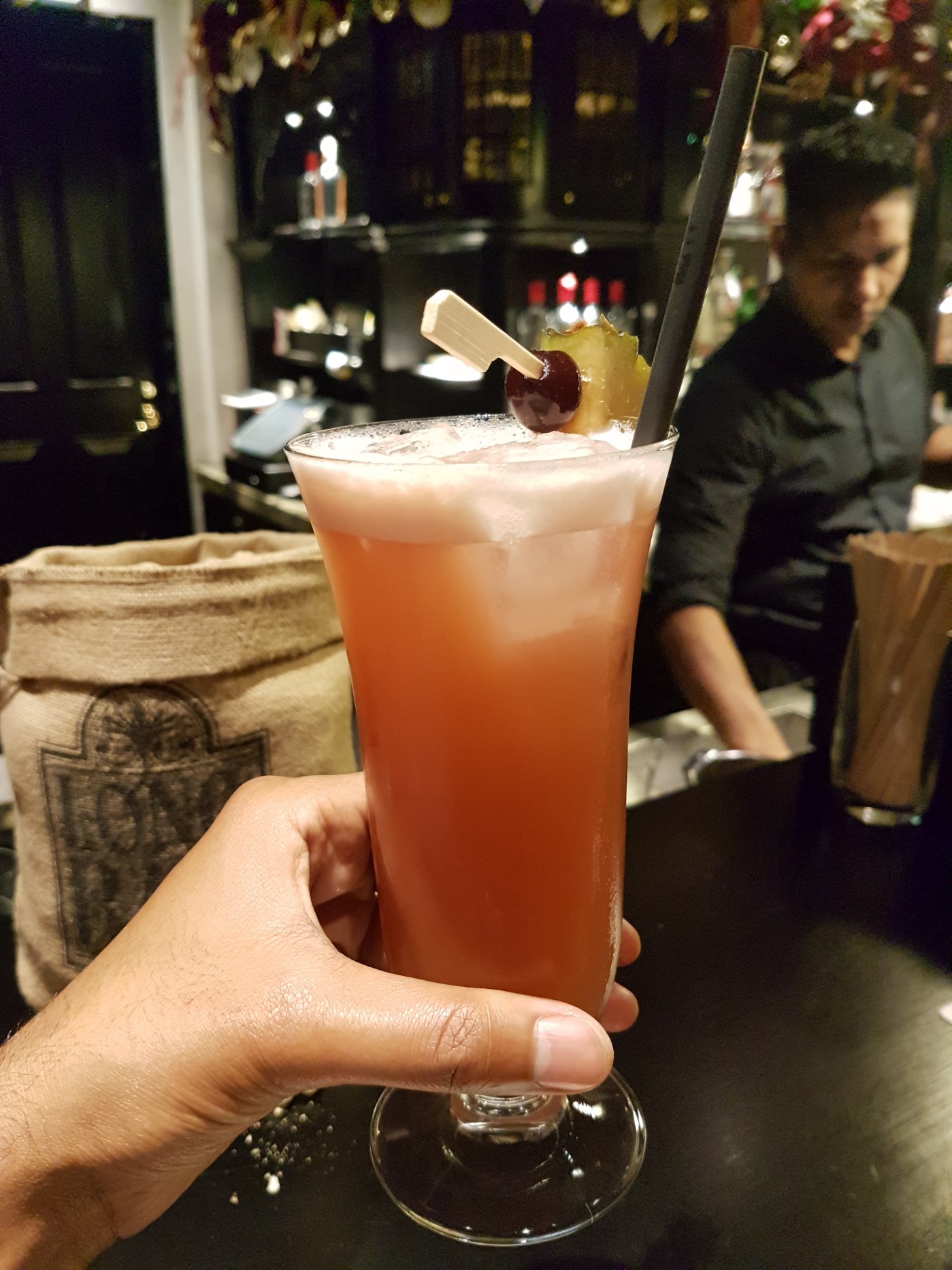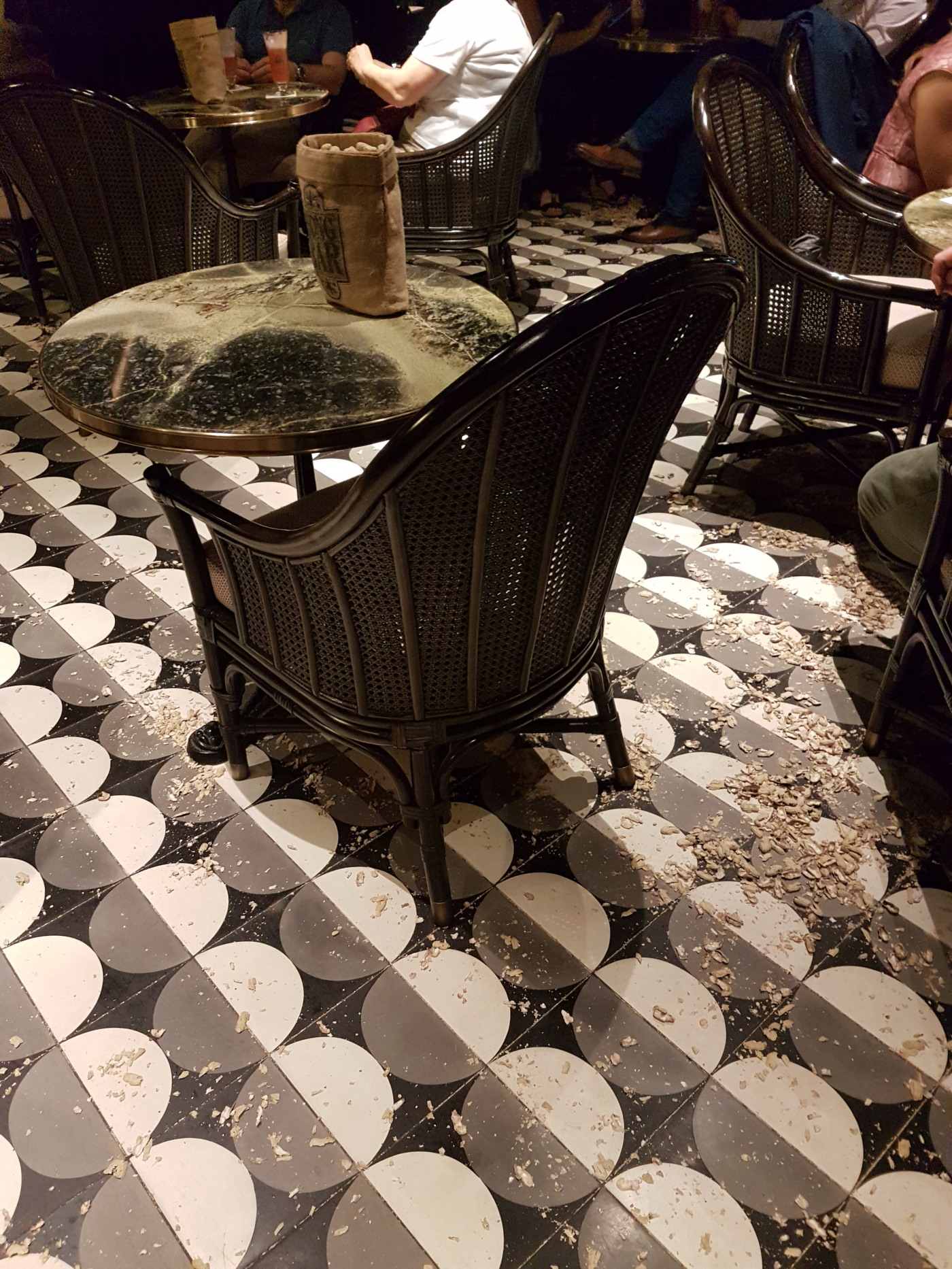 Singapore Sling drink. Also, I wasn't kidding about the floor — it's covered in nuts.
Top foods to try in Singapore:
● Char kway teow (flat noodles with cockles)
● Roti prata or roti canai
● Fish head curry served on banana leaf
Day 9 —Changi airport, and then flying to Kuala Lumpur
You want to go early to Changi airport. It's one of the best airports I've ever been to in my life. I am not exaggerating. It's consistently voted one of the best airport's in the world.
The airport has super fast check in, two movie theatres, a butterfly garden (seriously) and an orchid garden, and much more.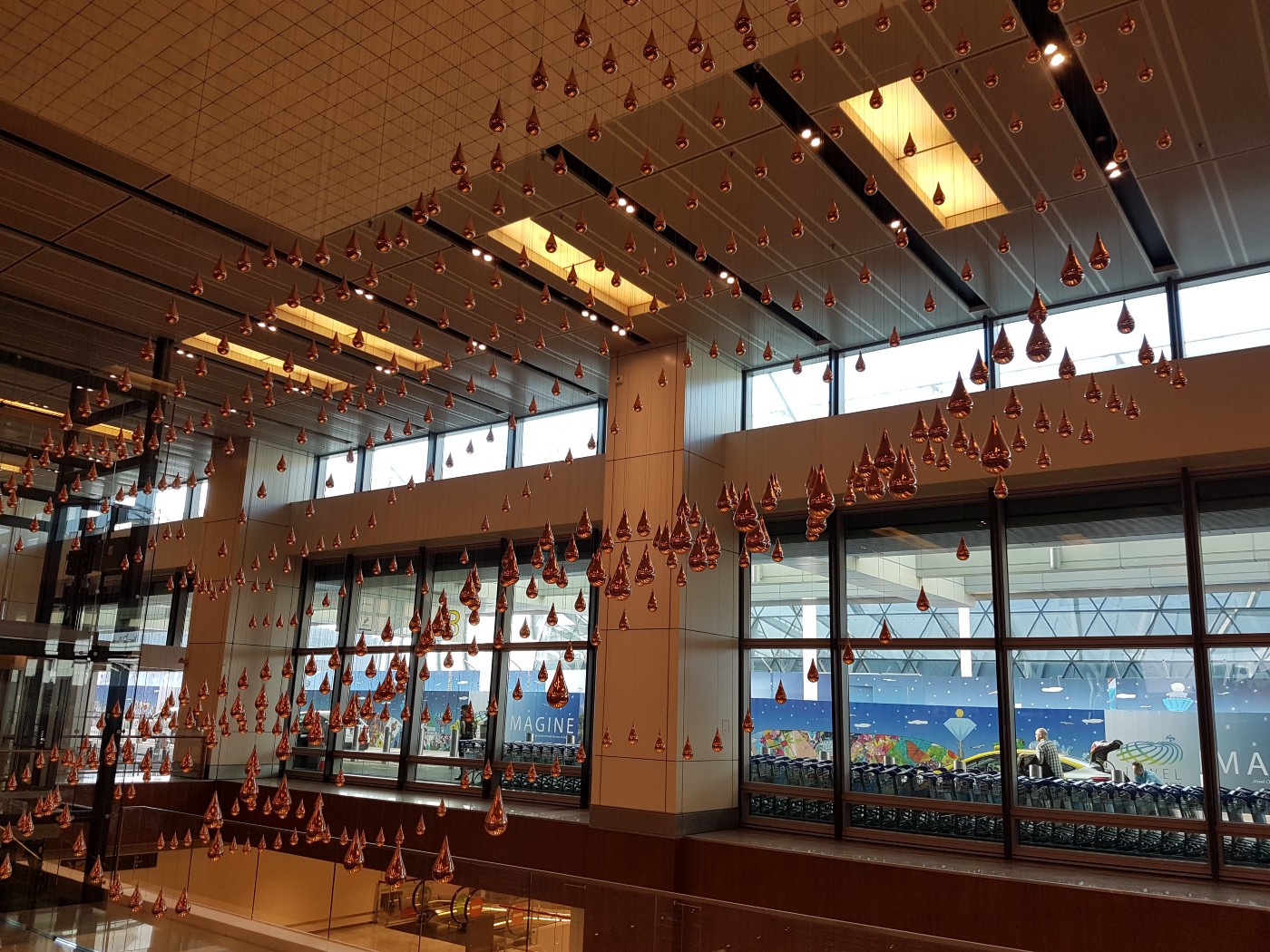 Kinetic rain. See the mesmerising video here.
I flew from Changi Airport to Kuala Lumpur International Airport with Air Asia. My flight cost £50. The flight to Kuala Lumpur was only 1 hour. Food was provided on the journey but at a cost. I found the Air Asia app easy to use, and importantly it could display my boarding pass without issue.
Once at the airport, I made my way to the city via bus. It's really easy to buy a bus ticket at the transport concourse. I bought a ticket to go to Pudu Sentral bus station with Star Shuttle. You can also buy a bus ticket through easybook.com (in fact you can use this site to book travel across Asia — handy). My ticket cost me RM12. Alternatively, take the KLIA Express train from the Kuala Lumpur International Airport to KL Sentral (RM55). A taxi will typically cost you around RM80-100. A 50% surcharge exists after midnight.
I didn't buy a MRT pass as it's easy to travel across the city without one. You can just buy tickets from a station. If you want to buy a MRT pass than the Touch 'n Go (TnG) card costs RM20 ($4.70 USD). This includes a RM10 ($2.35 USD) stored credit. It works like the London Oyster card, enabling you to use public transport. These cards are available at the airport or train station. The card can be topped up at retail outlets or convenience store. Please note, you do not get a refund on the value of your card so be wary of topping up too much.
Top tip: download the Grab app. Its like Uber, but far cheaper. Use it to go to any place you need to go.
Accommodation
I stayed at Mingle Hostel. I paid £11.40 a night for a standard four bed bed mixed dorm. The accommodation accept credit card. The room itself was great — the beds were comfy and a privacy screen is appreciated. The hostel is located in Chinatown. The hostel retains its historic aesthetic without compromising on modernities. Just outside the hostel is two great cafes (one owned by Mingle), which I spent a lot of time in. An Asian style free breakfast is provided, toast is an option. The staff at the hostel were great. I had a couple of issues and they went out of their way to help. I rate this as one of the best places I've stayed for this reason. If you are looking for a more party like atmosphere, than I recommend Reggae Mansion.
After settling into the hostel, it's time to explore Chinatown. Walk down Petaling Street and experience the frenetic markets.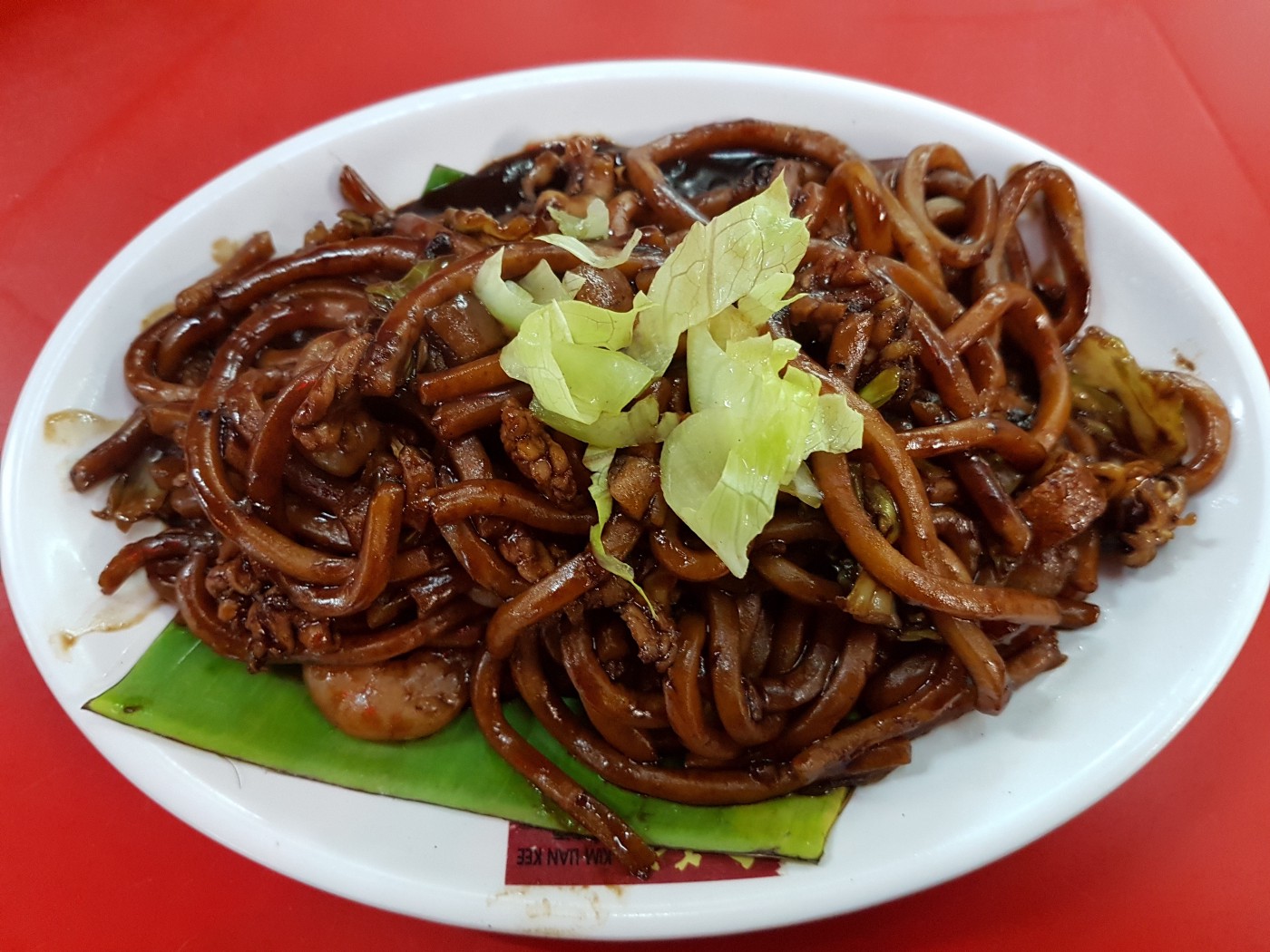 Be sure to eat at Kim Lian Kee. Order the famous Hokkien Fried Noodle. It's quite rich so order the small.
Later, go to the iconic Petronas Tower, a symbol of Malaysia's strength. There's a light show at 8,9,10 pm. Near Petronas Tower is a huge shopping mall, Suria KLCC, which is well worth the visit.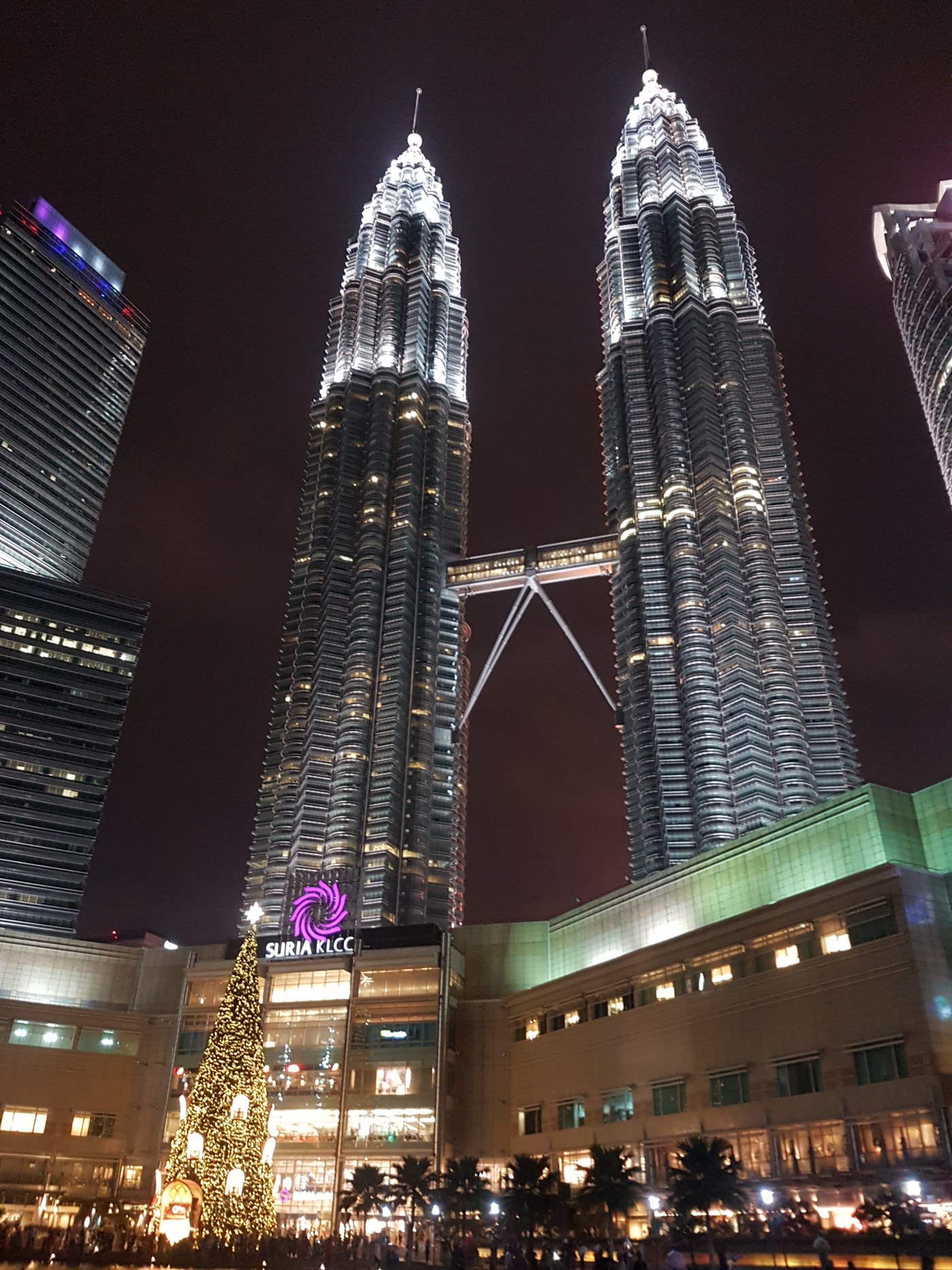 Petronas Tower and Suria KLCC underneath.
Day 10 — Shop till' you drop
I took a different approach to Malaysia compared with Hong Kong and Singapore. I was coming towards the last part of my trip so I started to slow down.
Having said that, you can always make time for shopping to get those last minute gifts. Kuala Lumpur has shopping malls everywhere, and they tend to have everything you could ask for. Berjaya Times Square Mall is the place to be. It had so many floors I didn't have the energy to go to all of them. It even has an indoor theme park for kids. The mall is located in the Bukit Bintang area, known for its shopping and nightlife.
If you are hungry head to Jalan Alor Hawker market, the best place to grab something cheap to eat. Nearby Changkat has a number of cool bars and clubs. Best to go at night when it's busiest.
Day 11 — Batu Caves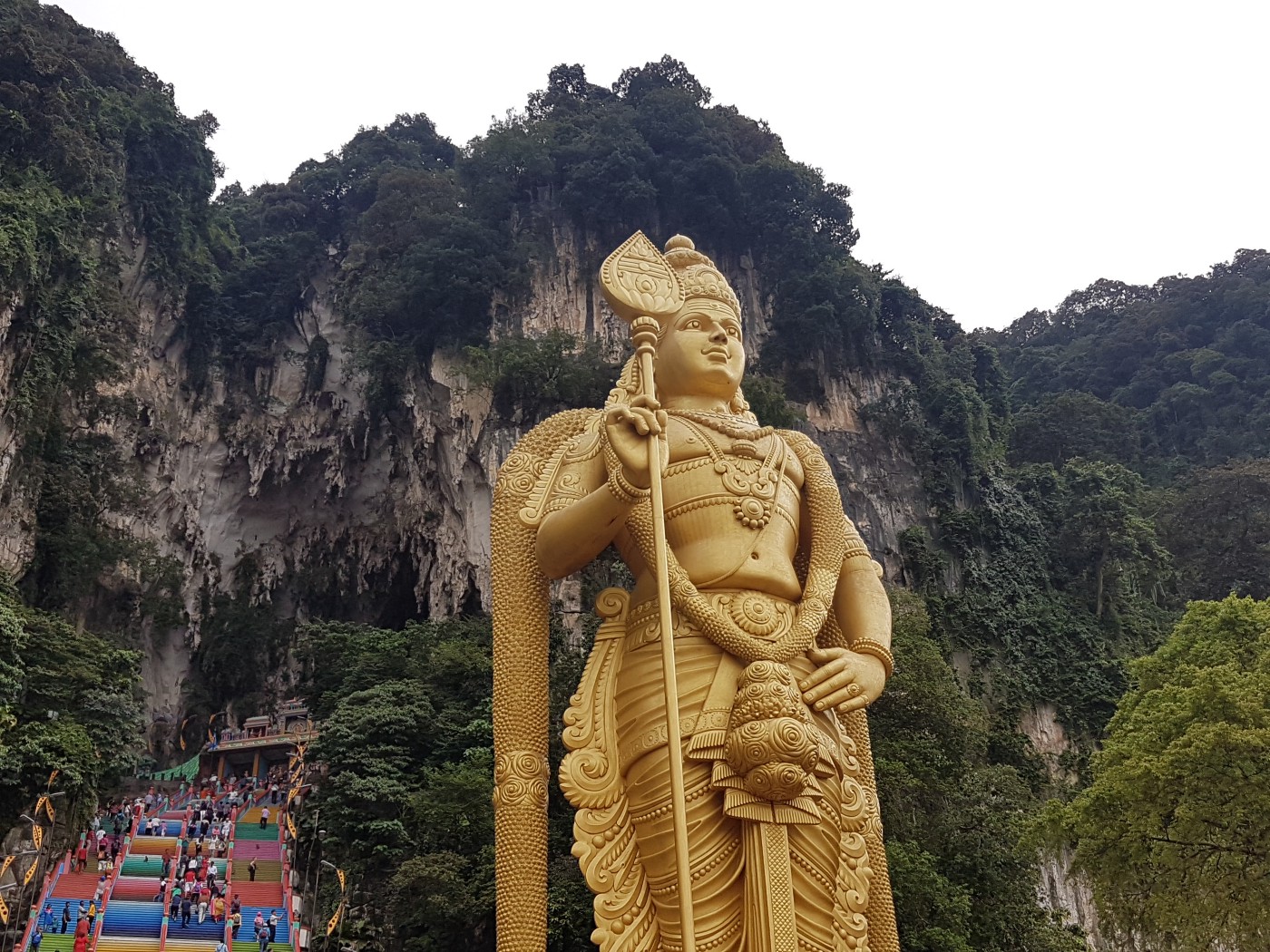 Entrance of Batu Caves.
Batu Caves is one of the most popular tourist attractions in the city. The Hindu temple is visually impressive, and it has a lot to do with the large golden statue of Lord Murugan. You walk up the steep steps to find a beautiful cave, with small temples inside. Entry is free.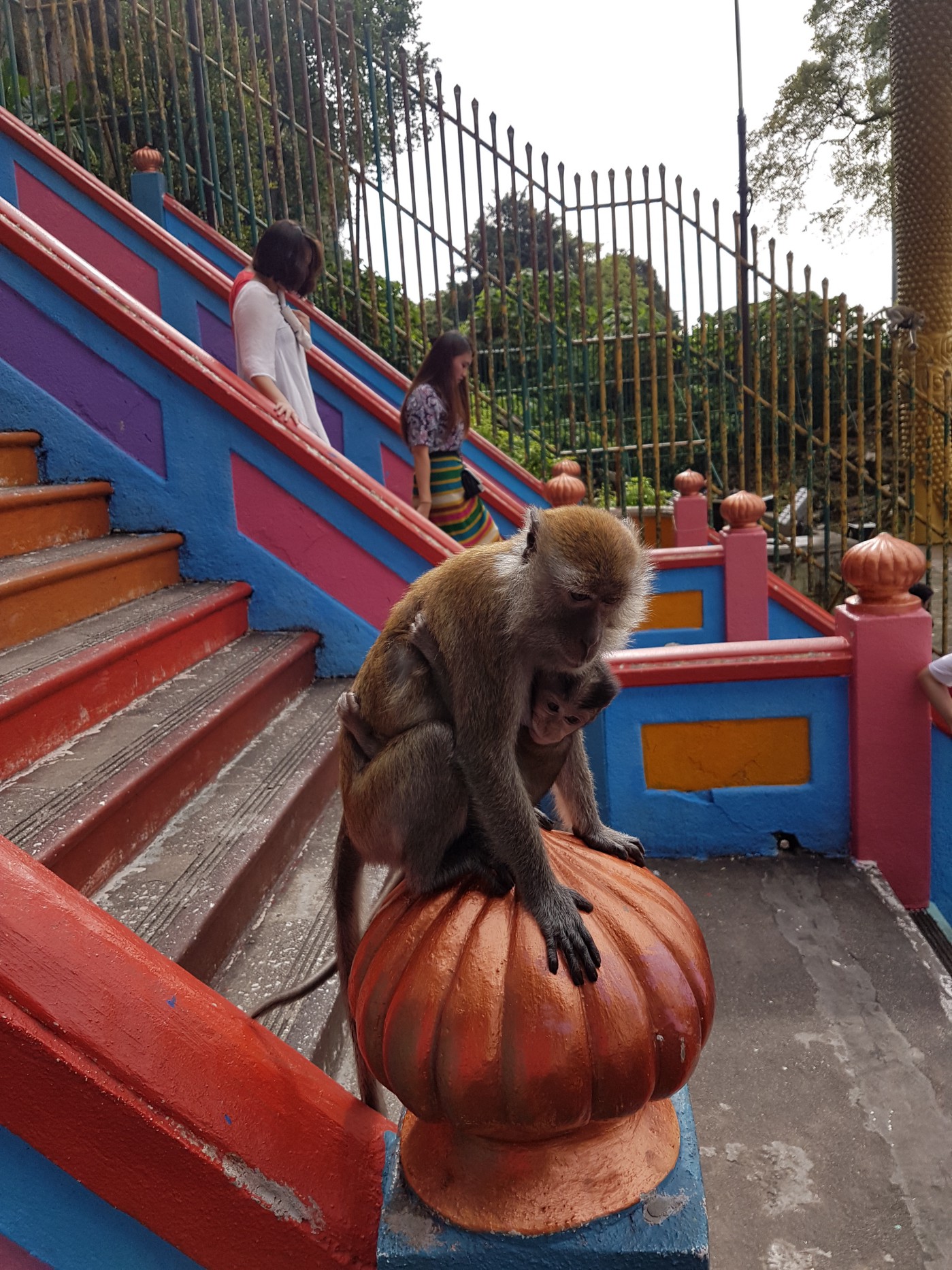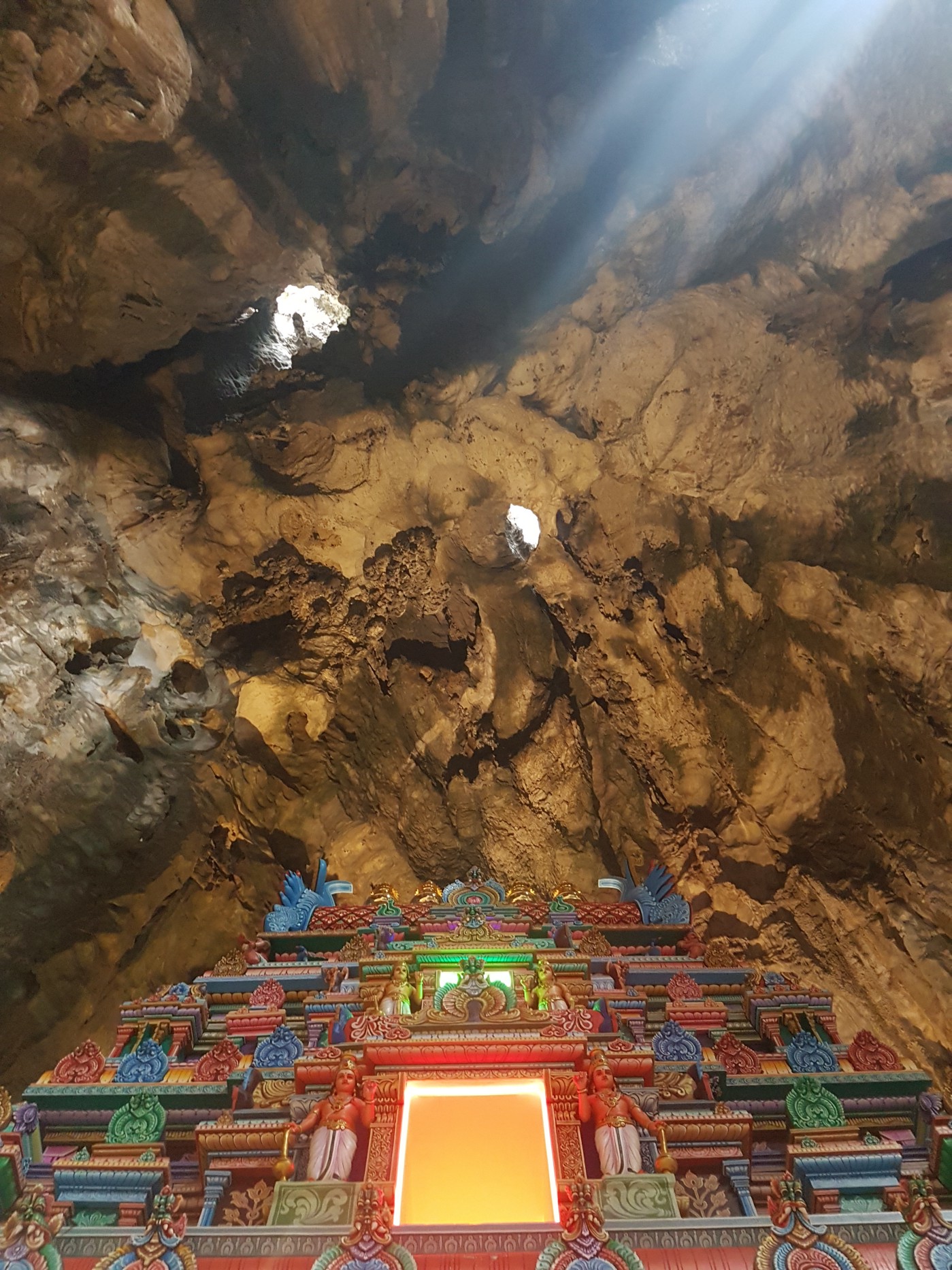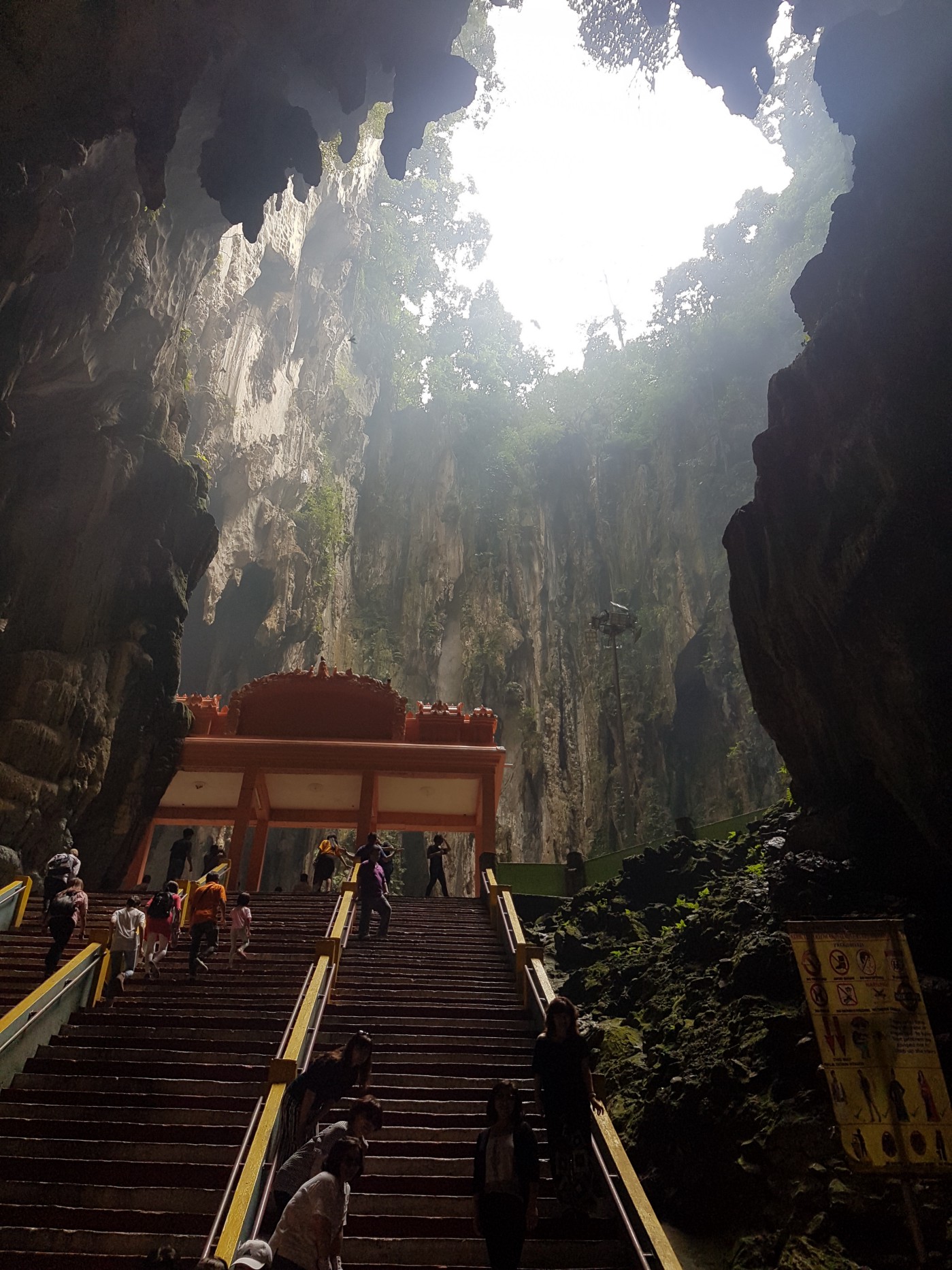 As you walk up to Batu Caves, you'll see monkeys. Be careful though, if they think you have food they'll go for you! Inside the cave there are smaller temples. The cave has an opening, which allows light to shine through. After visiting the caves, go to nearby Ramayana Cave. This is a hidden gem that a lot of tourists forget to visit. It recounts the story of Rama's life and his battle against Ravana. Entry is RM5.
I didn't do this but I met others on the trip who went to Kanching Waterfalls. It looks fun and it comes highly recommended. Again, take a Grab there.
Another alternative to Batu Caves is the Kuala Gandah Elephant Sanctuary. The experience lasts 8 hours. Be sure to book early as ticket prices can get expensive.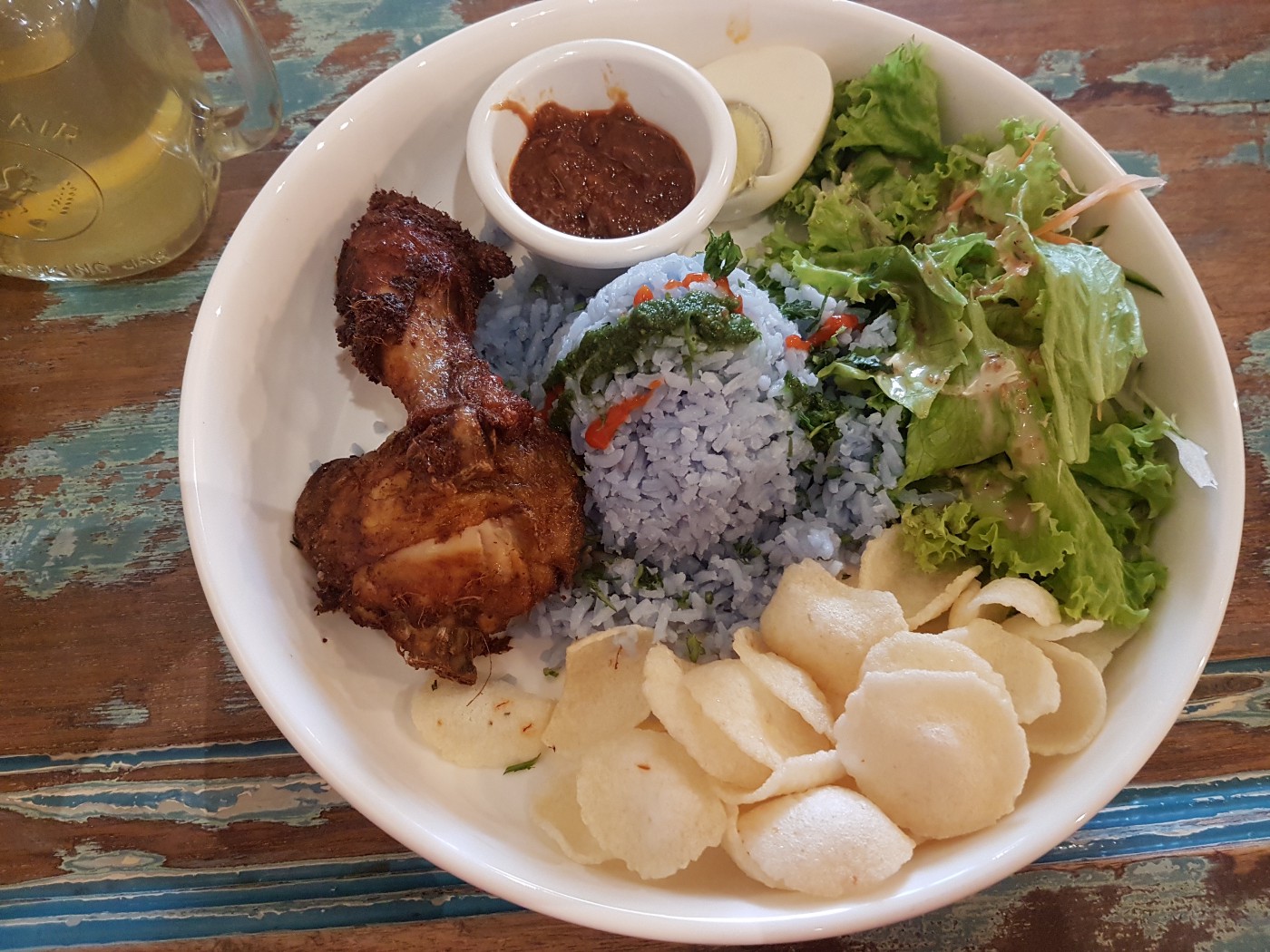 In the evening, I had a classic Malaysian dish — Nasi lemak (rice cooked in coconut milk served with sambal, a dipping paste).
Day 12 — Parks and Recreation
This was my last day in Kuala Lumpur, and I spent it immersing myself in culture and beautiful parks. Luckily, a lot of the parks are close together.
Top tip: it's hard to see all the parks Kuala Lumpur has in one day, prioritise the parks you think you will enjoy.
Early in the morning, I went to one of the largest Bird parks in the world. Tropical birds roam free and have lay of the park. It's not uncommon to see a peacock on the walking path. The birds are harmless and the park is good fun. Tickets cost RM63.00 for adults.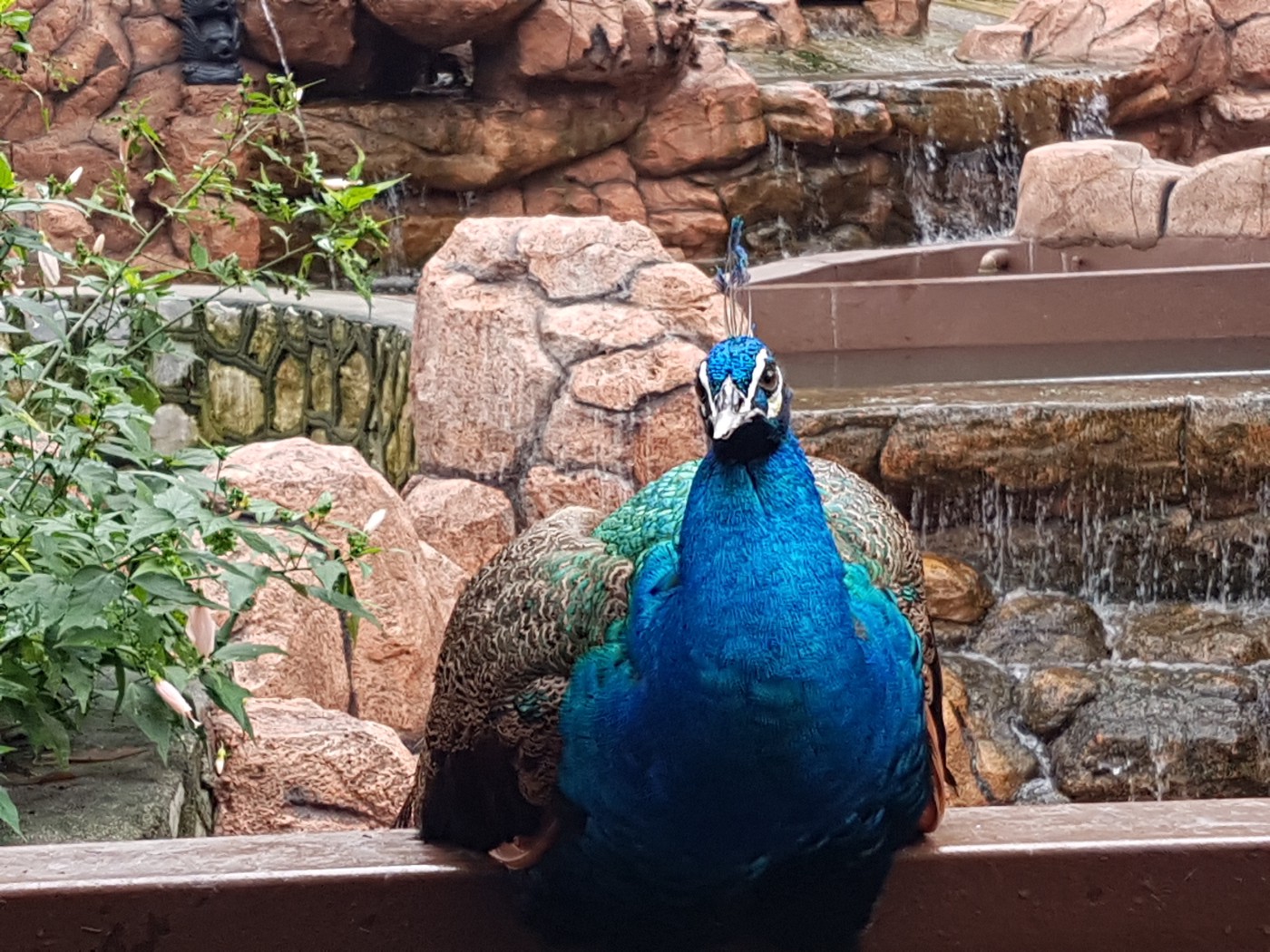 There are peacocks everywhere in the park.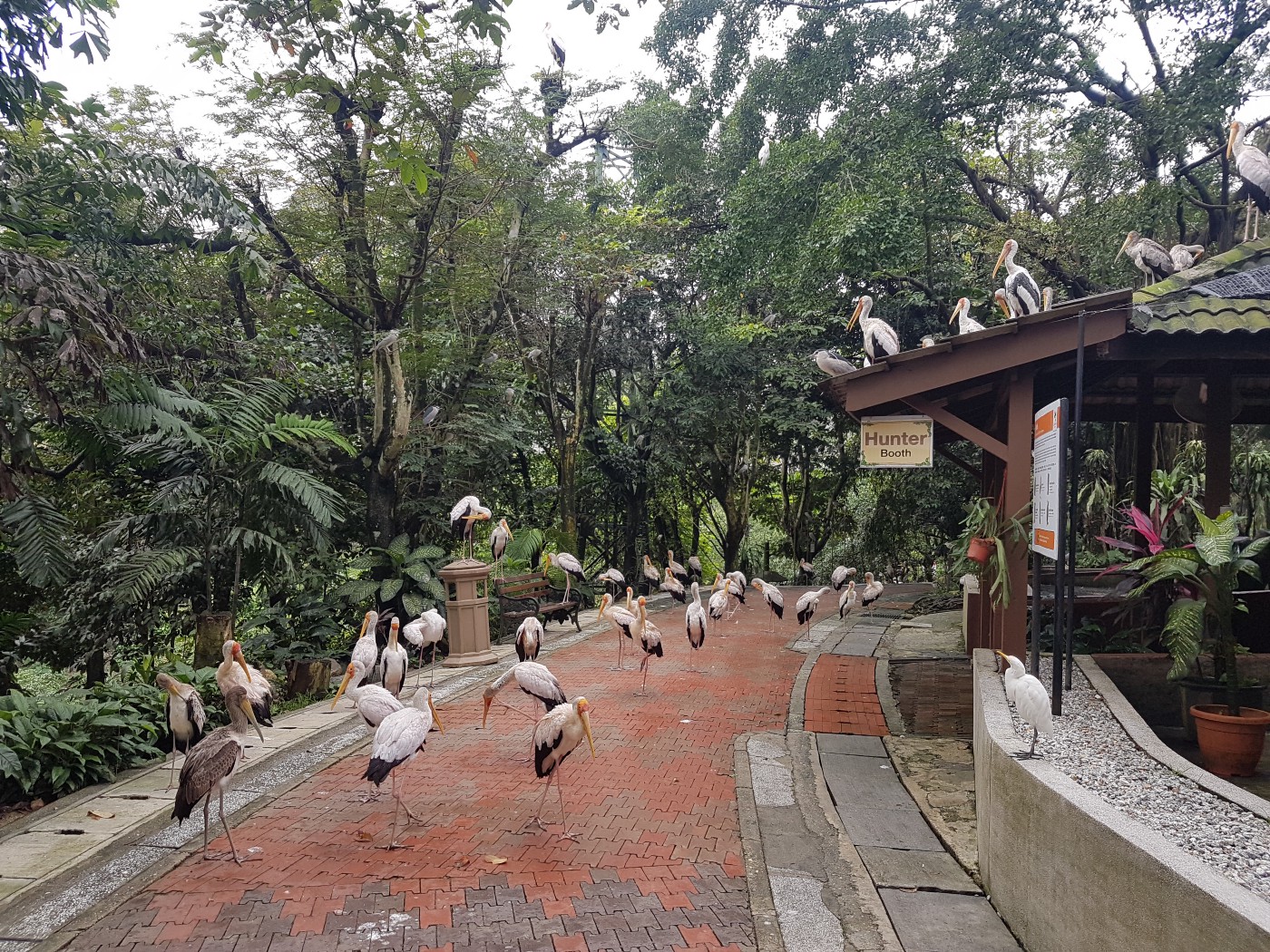 It's quite nice to see the birds out in the open without restriction. Birds block the path but they are harmless.
Later, I made my way to the Butterfly park. This park is very small but still worth the visit. Seeing the butterfly's, fly is magical. Tickets cost RM24 for adults.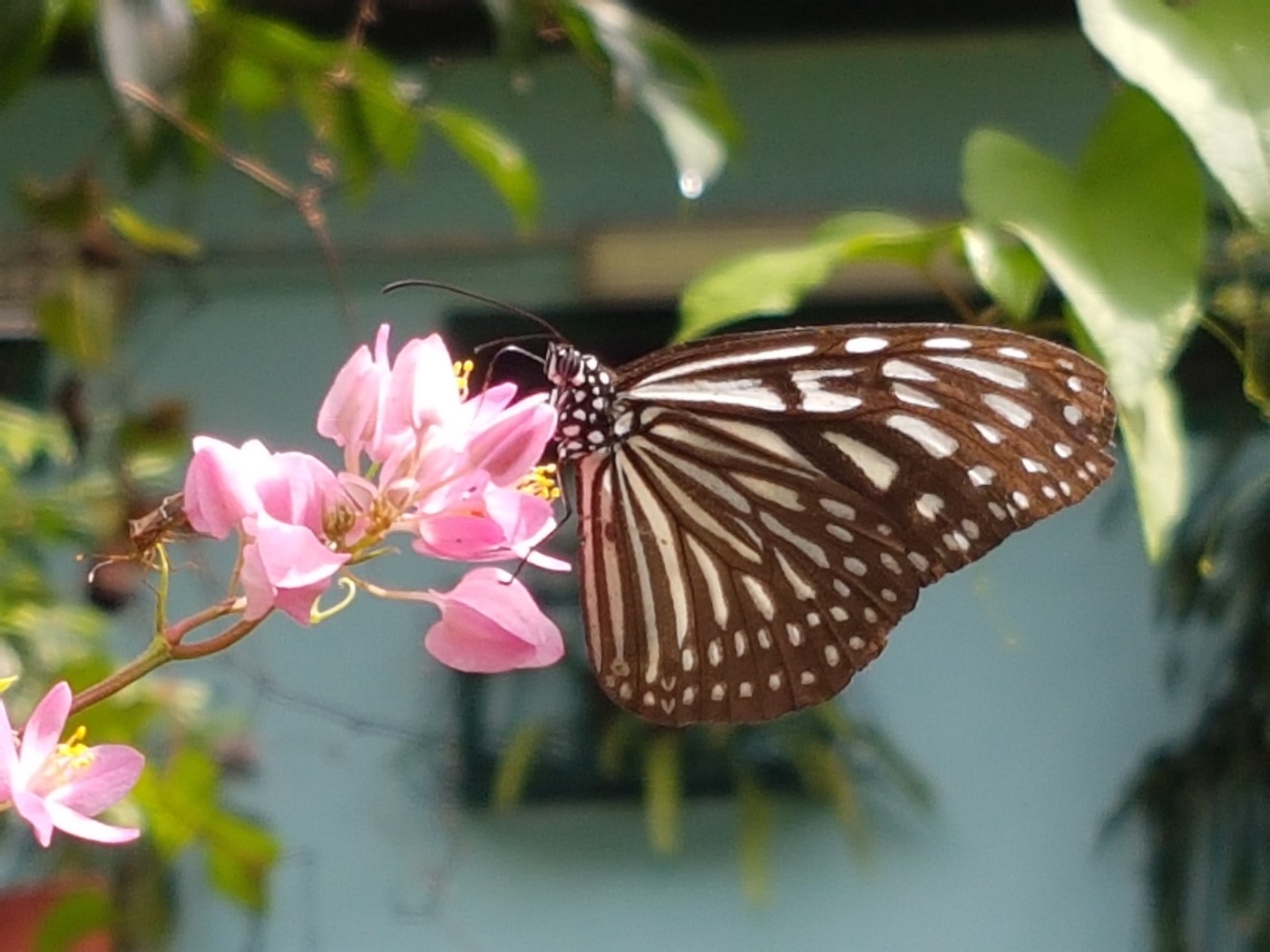 My favourite picture of my trip.
Then make your way to the Islamic Art Museum to understand the rich history of Islamic art. Tickets cost RM14.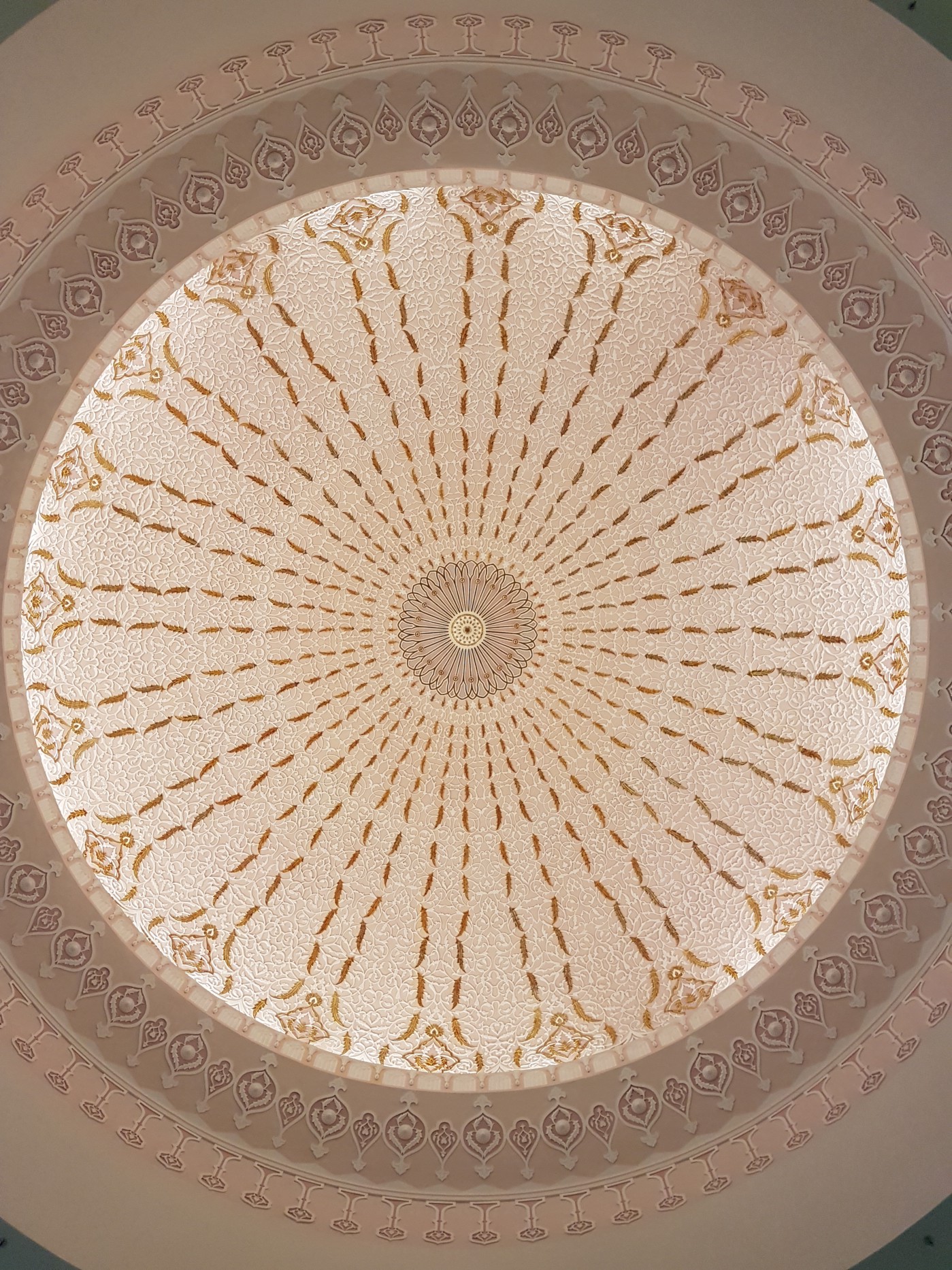 There's beauty in symmetry.
You can visit the nearby National Mosque but it's only open to tourists at certain times. Please dress appropriately too. Read this for more information.
Top foods to try in Malaysia:
● Roti kahwin (toast with coconut jam and butter)
Most restaurants close at 10pm but mamak stalls/kedai mamak (curry houses) are open 24 hours.
Day 13 — Flying Home
I hope you've found my itinerary useful. If you have any questions, feel free to drop me a comment.
Finally, I would like to thank all the people who helped to make my trip special: Adam, Emma, Rainbow, Karthick, Renee, Thomas, James, Mike, Tangka and Benjamin.
Thank you for reading!
FAQ
When should I visit Hong Kong, Singapore and Malaysia?
I visited all three places in December 2018. You can see the best time to travel for Hong Kong, Singapore and Kuala Lumpur.
Do I need a visa for Hong Kong, Singapore and Malaysia?
If you are a UK Citizen and you plan on staying for a short time the answer is no. You will need a visa if you plan on staying for an extended time. Refer to GOV.UK for the latest visa travel advice: Hong Kong, Singapore and Malaysia.
How much money should I take to Hong Kong, Singapore and Malaysia?
I'm a big fan of Lonely Planet's money and costs page.
● In Hong Kong, I budgeted HK$800 per day.
● In Singapore, I budgeted SGD$100 per day.
● In Malaysia, I budgeted RM100 per day.
Please note: this daily budget does not account for the cost of experiences, excursions and activities. If your trip is going to be more activity based consider taking a lot more money.
What should I do in an emergency services in Hong Kong, Singapore and Malaysia?
● Call 999 in Hong Kong.
● Call 999 for police services in Singapore. Call 995 for emergency ambulance and fire.
● Call 999 in Malaysia.
Feel free to get in touch if you have any questions for me.