Belgium. A land of fine beer, and delicious chocolates. This country is wonderful and a perfect place to spend a long weekend. On my travels, I visited Brussels, Bruge and Ghent.
I hope my travel itinerary helps you plan the perfect trip.
Day 1 — travelling to Brussels and beer tasting!
I was traveling from London to Brussels using the Eurostar. The journey takes two hours.
The Eurostar is always a pleasant experience. If you have a small family, this is definitely the travel route I would recommend. The Eurostar has few luggage restrictions — which is good news if you want to bring back bottles of Belgium beer!
Top tip: book your train tickets well in advance. Travel earlier in the morning to get cheaper deals.
After arriving at Brussels Midi station, we took the tram to Grand Place, the centre of Brussels. You will need to buy a ticket to use the tram. There are machines and helpful staff on hand to help you. Read this guide to learn more about public transport in Brussels.
Top tip: stay in the centre of Brussels (Grand Place). Everything is walking distance so you don't need a travel day pass.
We settled into our accommodation, before heading out to explore what the Grand Place had to offer.
The first place we visited was the Galeries Royales Saint-Hubert (shopping arcade). The arcade is home to famous chocolatiers and shops.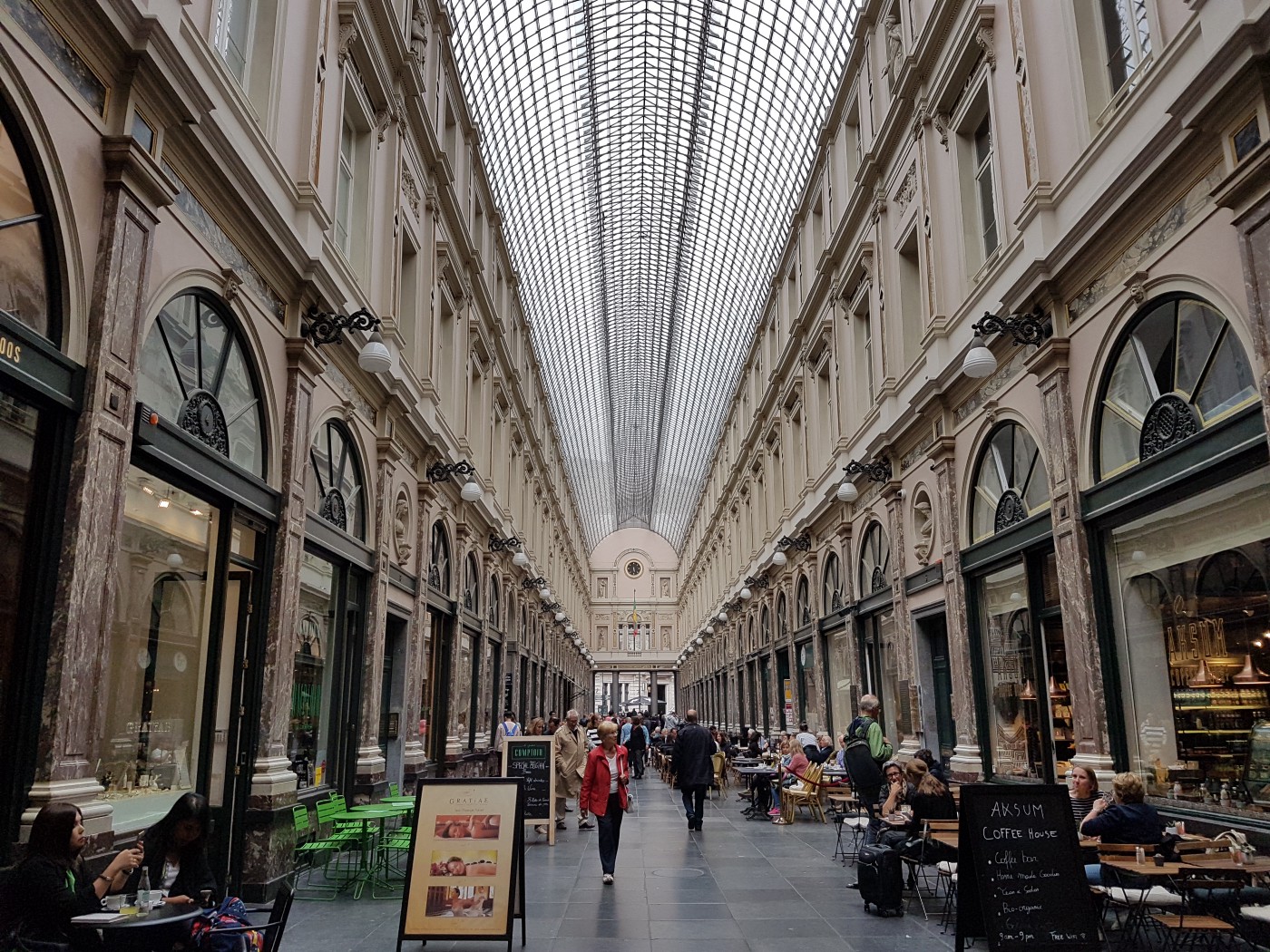 Galeries Royales Saint-Hubert. The shops are a little pricey, but the quality is assured.
At this point, we were hungry so it was time to try one of Belgium's most famous delicacies — French Fries! One of the most popular places to try French Fries is Bij Chez Pappy.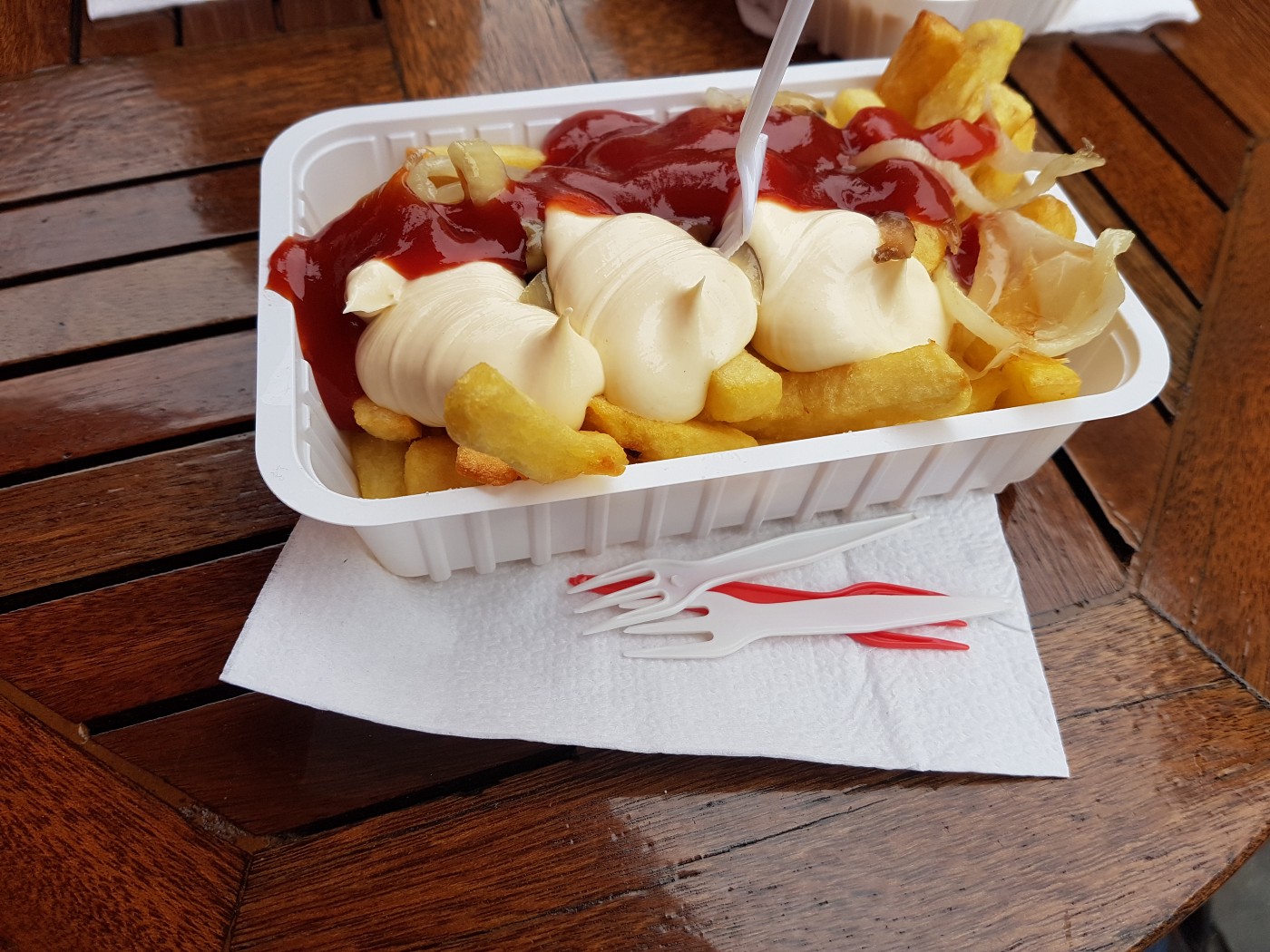 Go for the special with Onions, Mayonnaise and Ketchup. Delicious!
Continuing our journey, it was time to see Brussel's most famous icon — Manneken pis.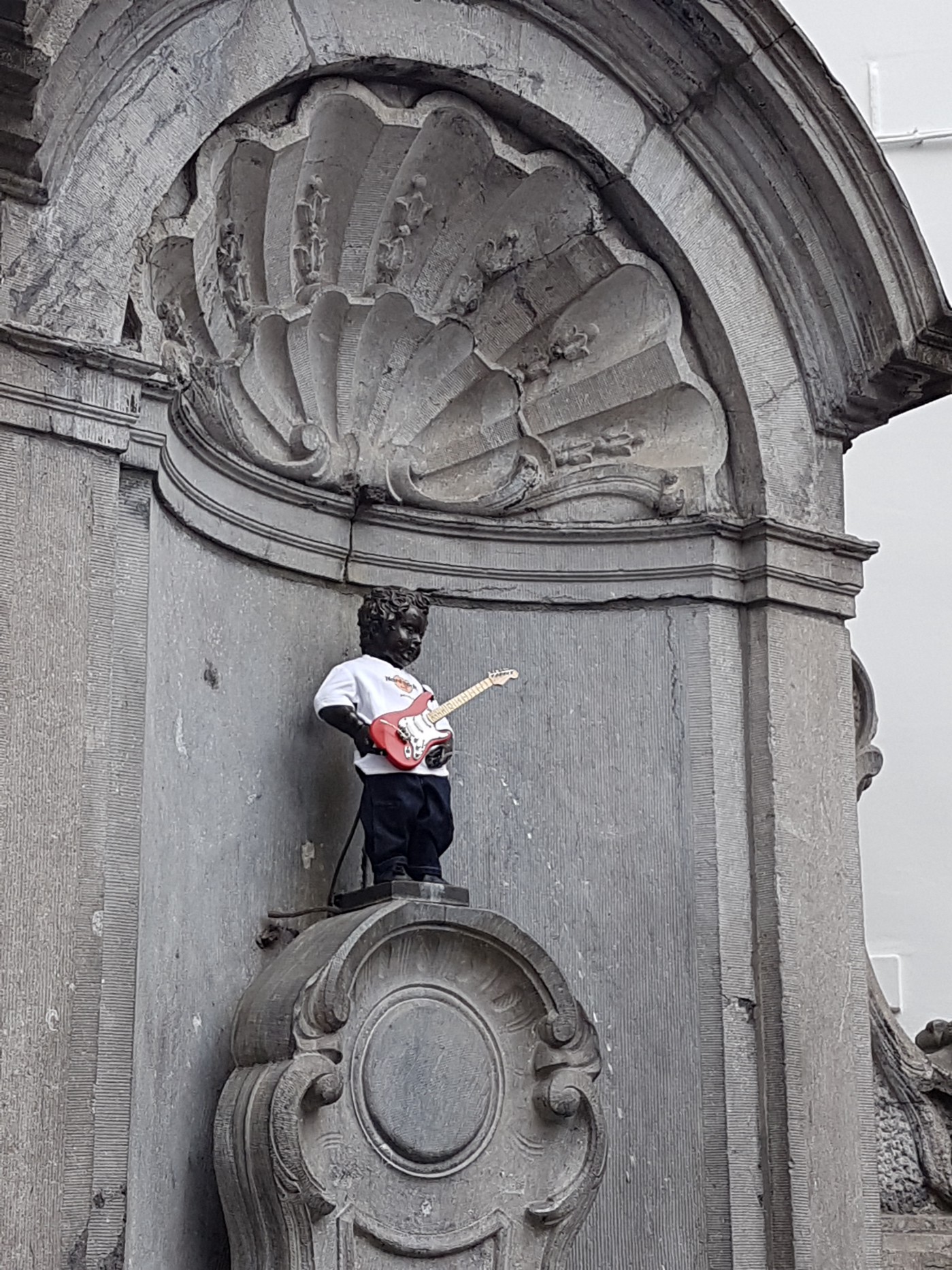 Manneken pis. There's a tradition of dressing up the statue in different costumes.
Next, we saw the Everard T'serclaes. It's right next to the Grand Place.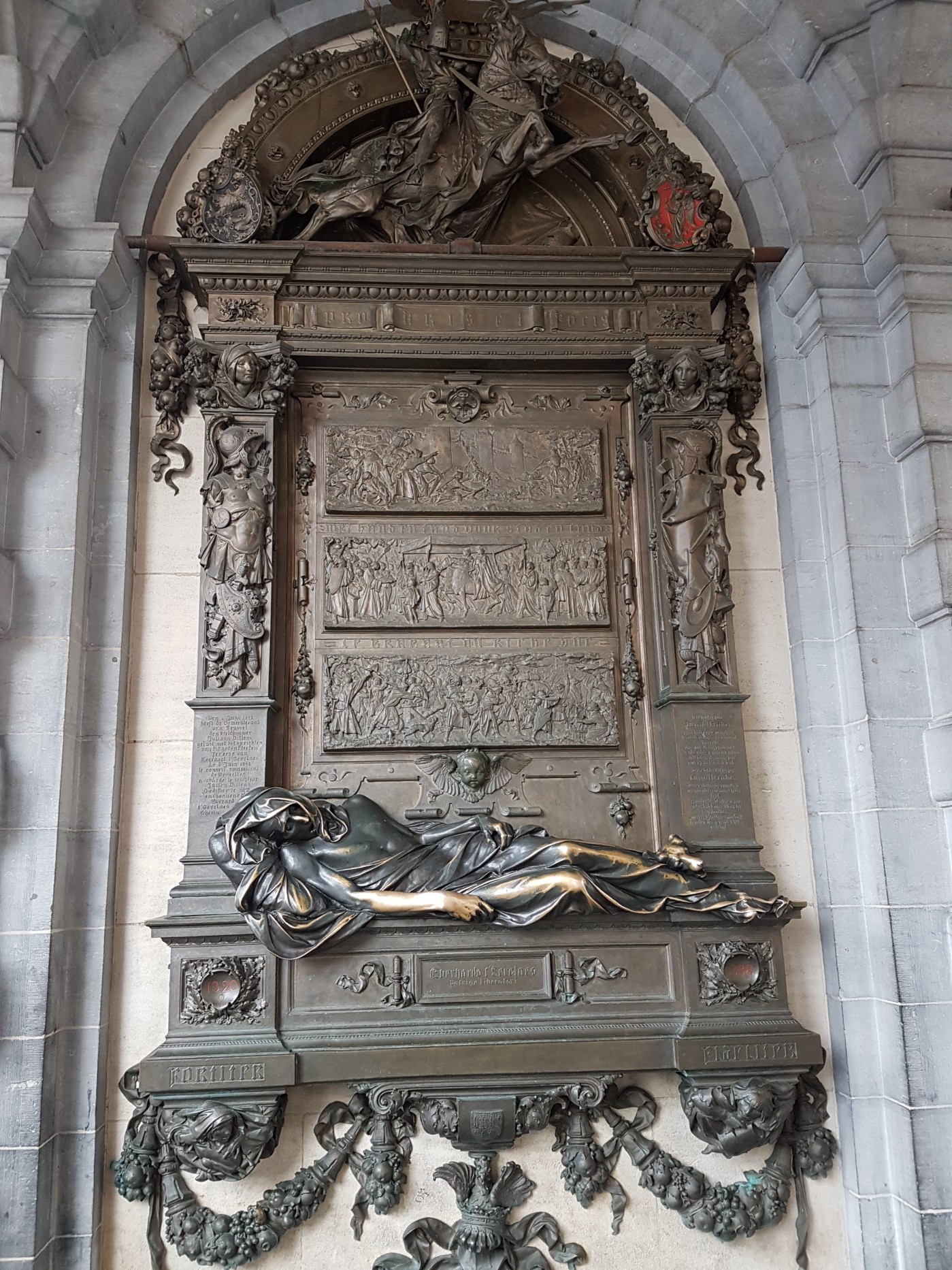 Everard T'serclaes.
Grand Place time! The centre is a large public square surrounded by bars, cafes and restaurants. It's lively and always buzzing.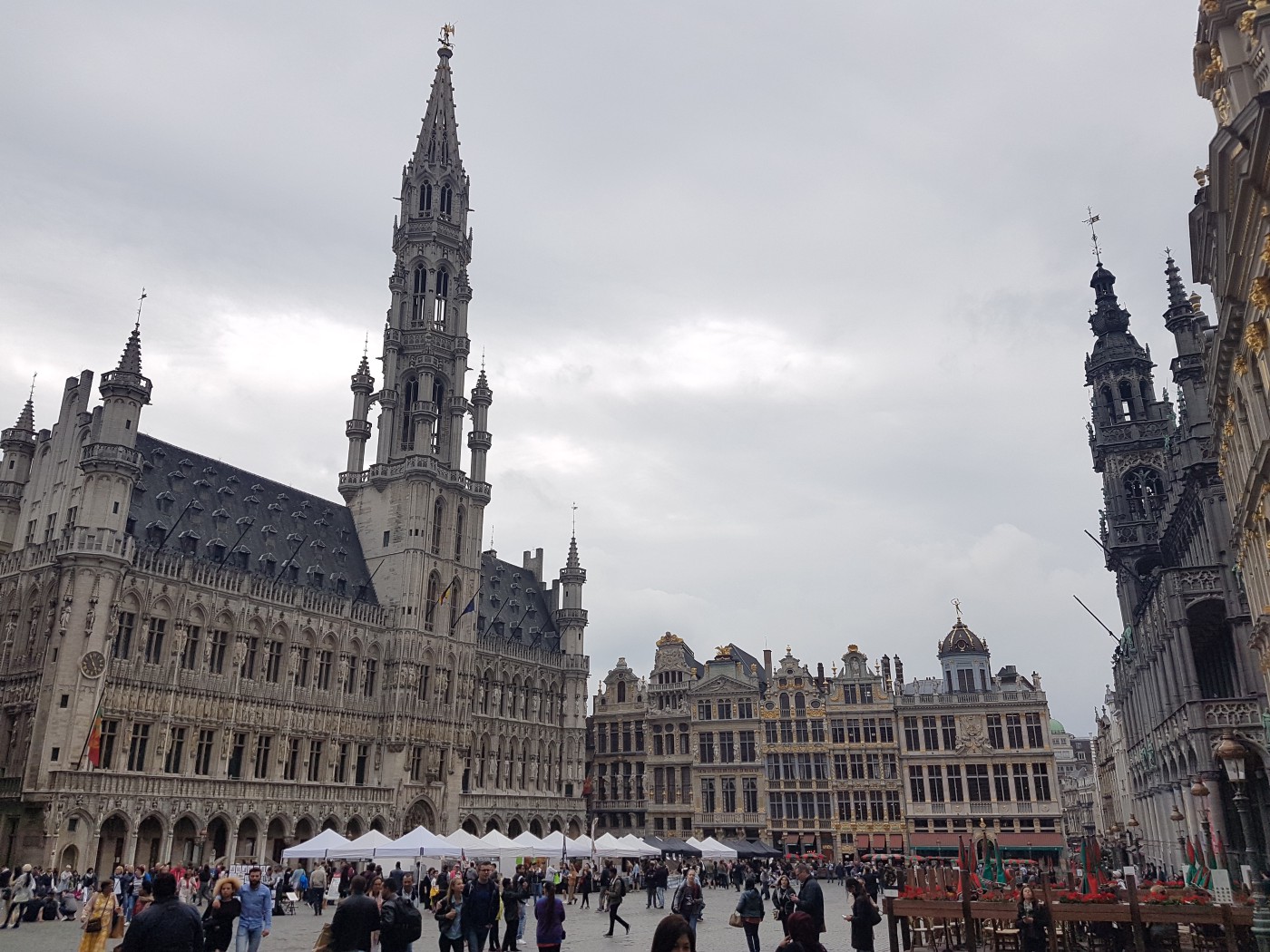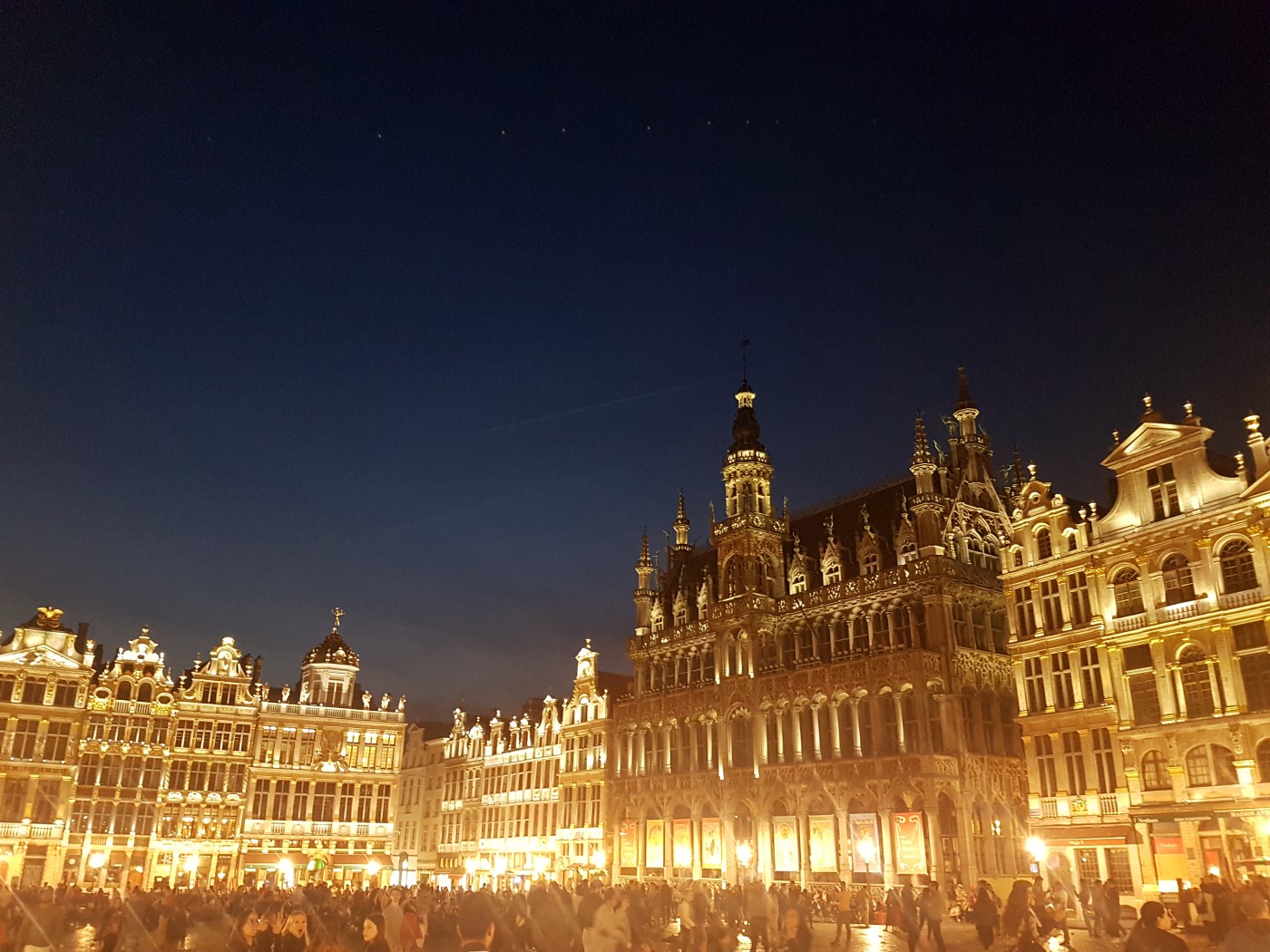 Grand Place at night. It's the perfect place to have a late night picnic. Bring Belgium beers and some snacks.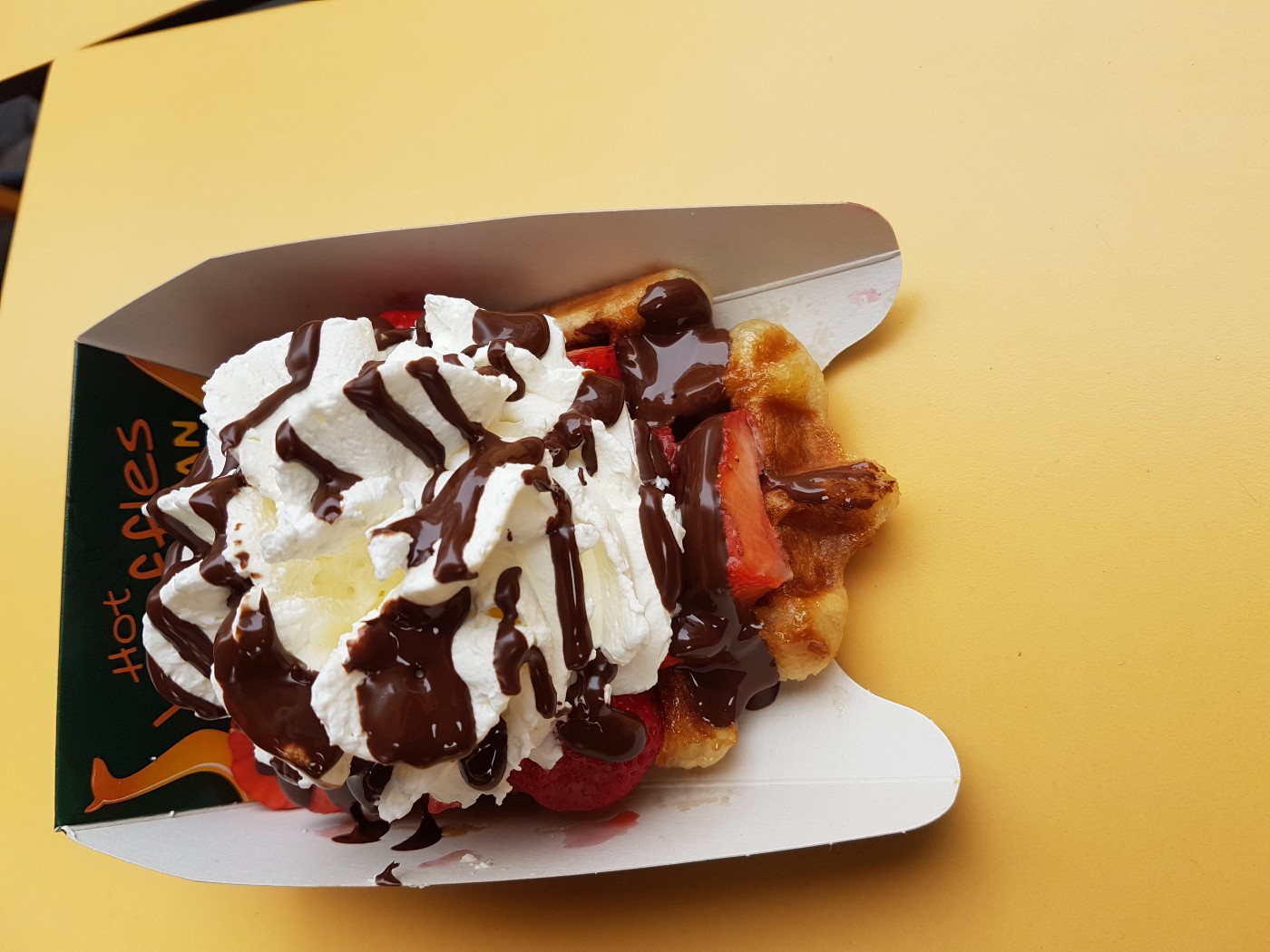 Golden rule, you can never go wrong with waffles. Ever.
Beer tasting
Belgium is famous for it's beer. There's so much variety and choice, it's hard to know which one to get. Beer tasting is the perfect way to learn how Belgium beers are made, and more importantly taste a wide selection of beers. The darker Belgium beers tend to be smoother, and the lighter beers tend to be fruitier.
I booked beer tasting through Viator. The whole experience lasts about 2.5 hours. You hop from one bar to the next. A local guide will explain the differences between each beer. Our guide was great, and helped to point out some local bars. If you are travelling alone, beer tasting is a great way to meet other people.
If you fancy a late night dinner, then try one of these restaurants:
Both serve another famous Belgium delicacy — mussels!
Day 2 — Ghent and Bruge
Ghent and Bruge are two of Belgium's most beautiful cities.
For convenience, I booked a day trip through viator.com. The coach picked us up from Brussels, and took us to Ghent and then Bruge (and then back to Brussels). A tour guide is included, and will talk about the history of both of these cities. If you prefer to do your own thing, then this isn't for you. The tour is quite fast paced, and you don't get much free time in Ghent (you do in Bruge though). The tour starts at 9am and finishes in Brussels around 7.30pm.
Ghent
Ghent is a UNESCO World Heritage-listed city — it has a lot to offer. You spend the morning in Ghent as part of the tour. You don't have much time here, which is a shame.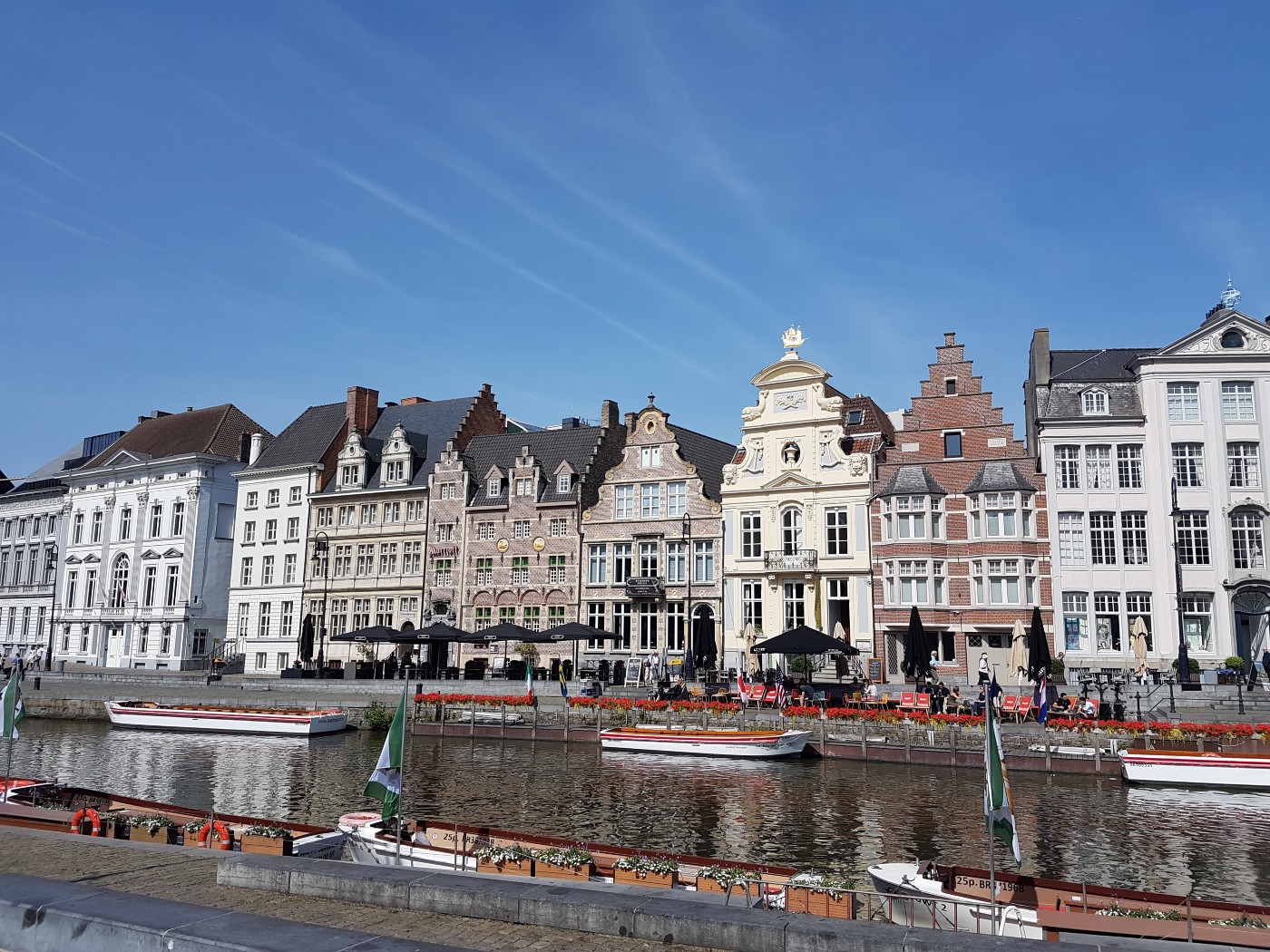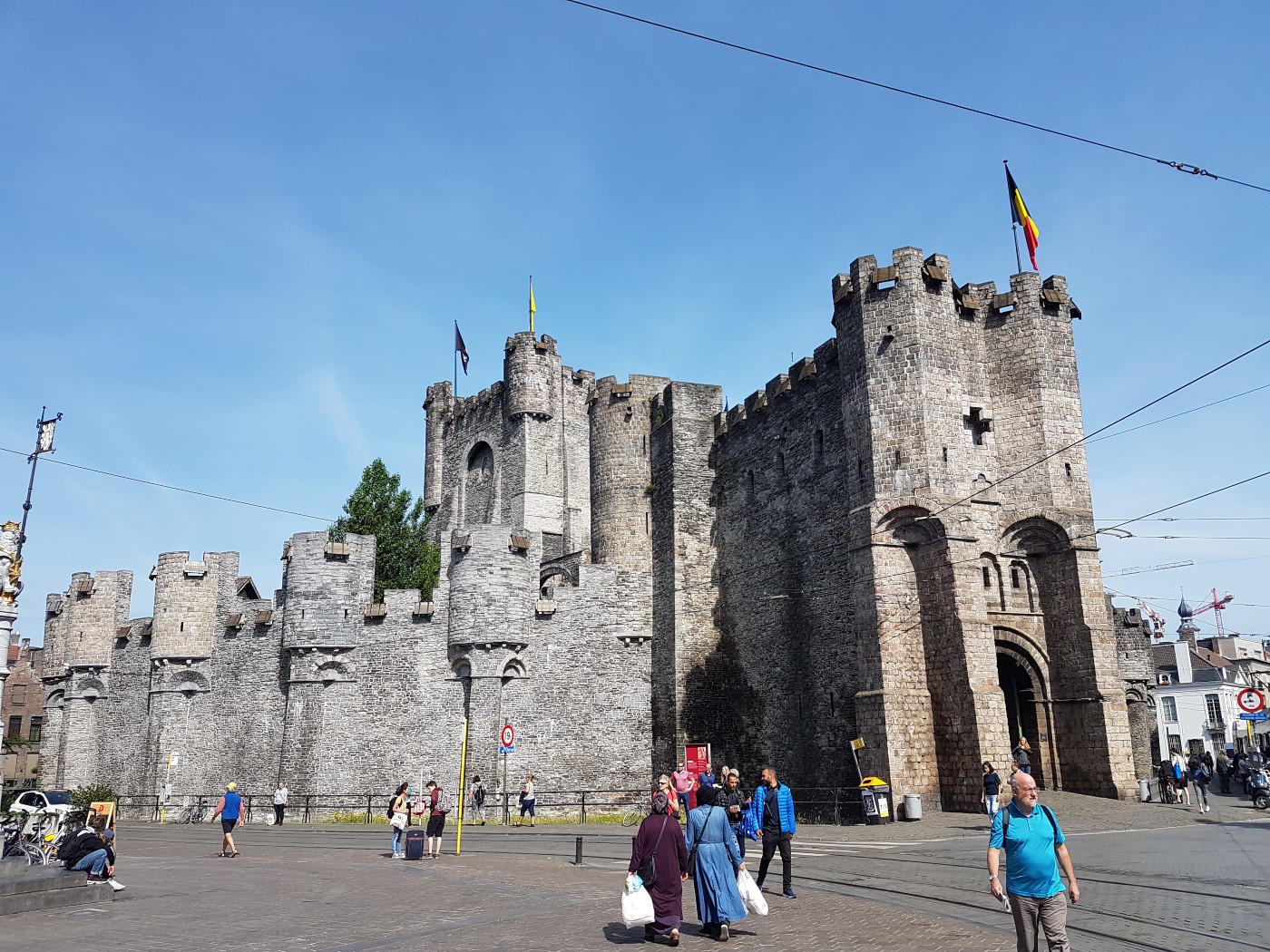 The 2nd photo is of the Castle of the Counts of Flanders (Gravensteen).
Places you visit on the tour:
Top tip: buy some Cuberdon or 'Belgium noses'. These are cone shaped sweets, with a soft centre. Yum.
Bruge
It's time to visit the next UNESCO World Heritage-listed city — Bruge. Something to be aware of, Bruge is visited by a LOT of tourists. It can get very busy. It gets quieter in the evenings so you may want to stay the night.
Places you visit on the tour: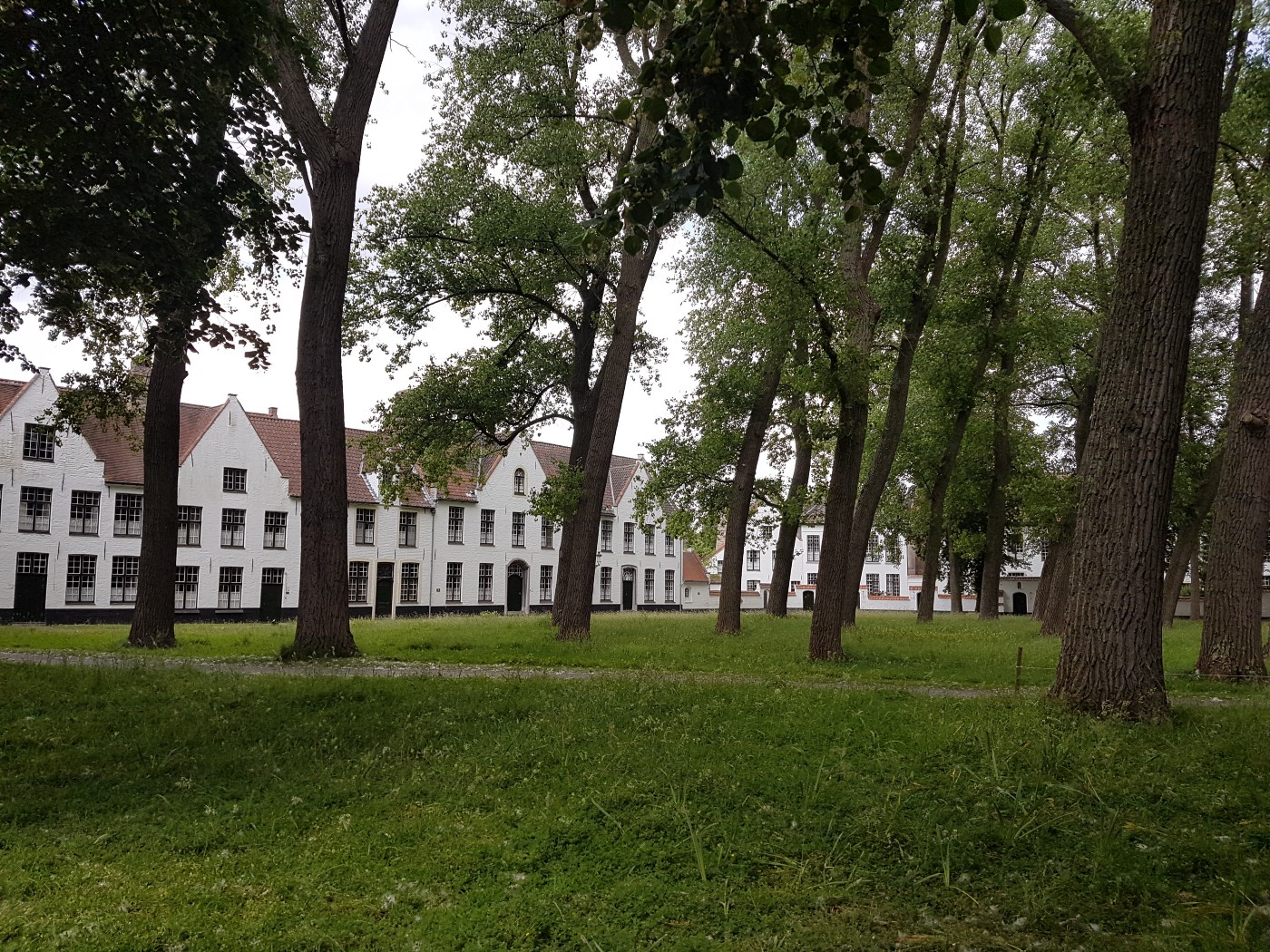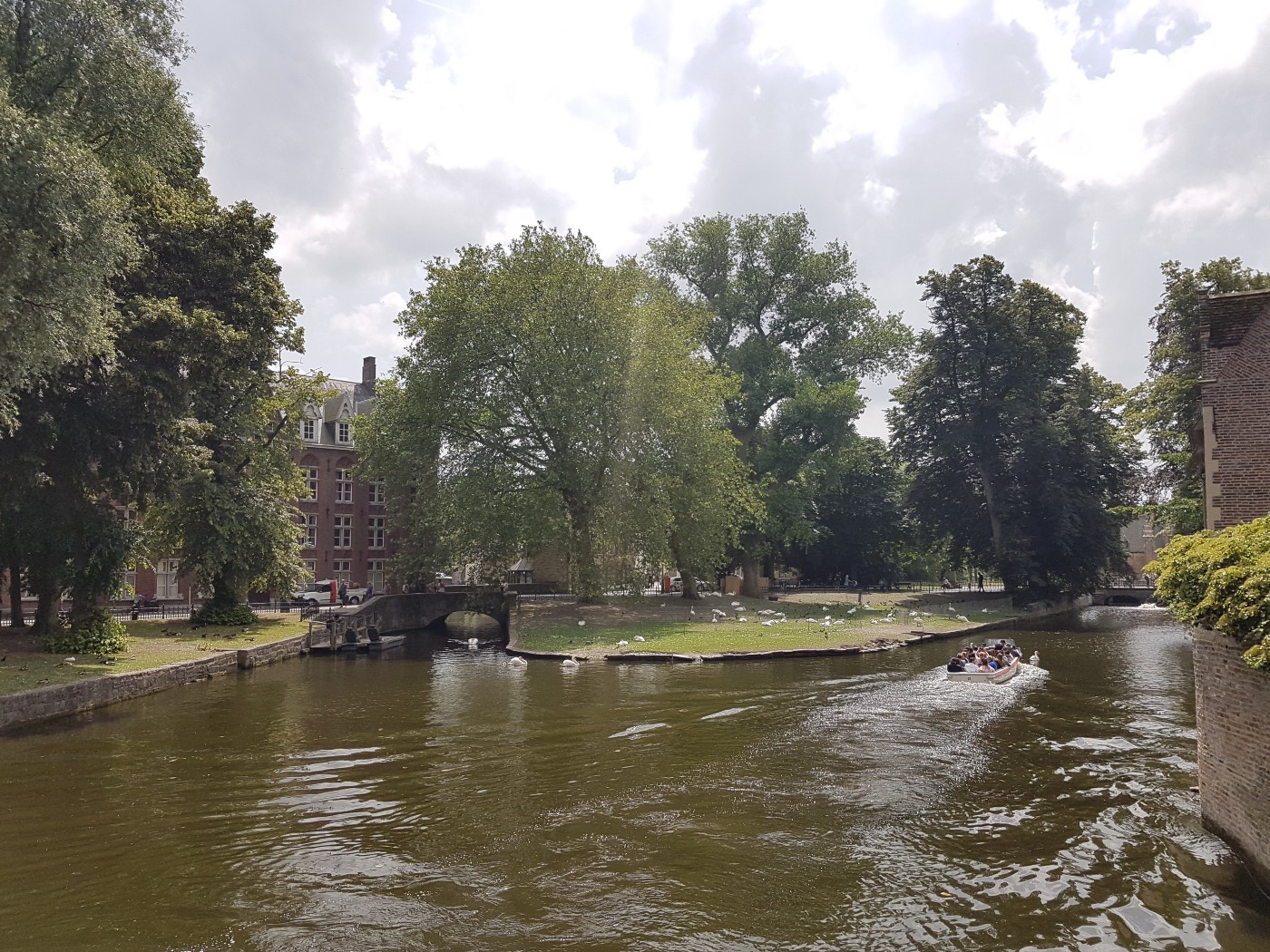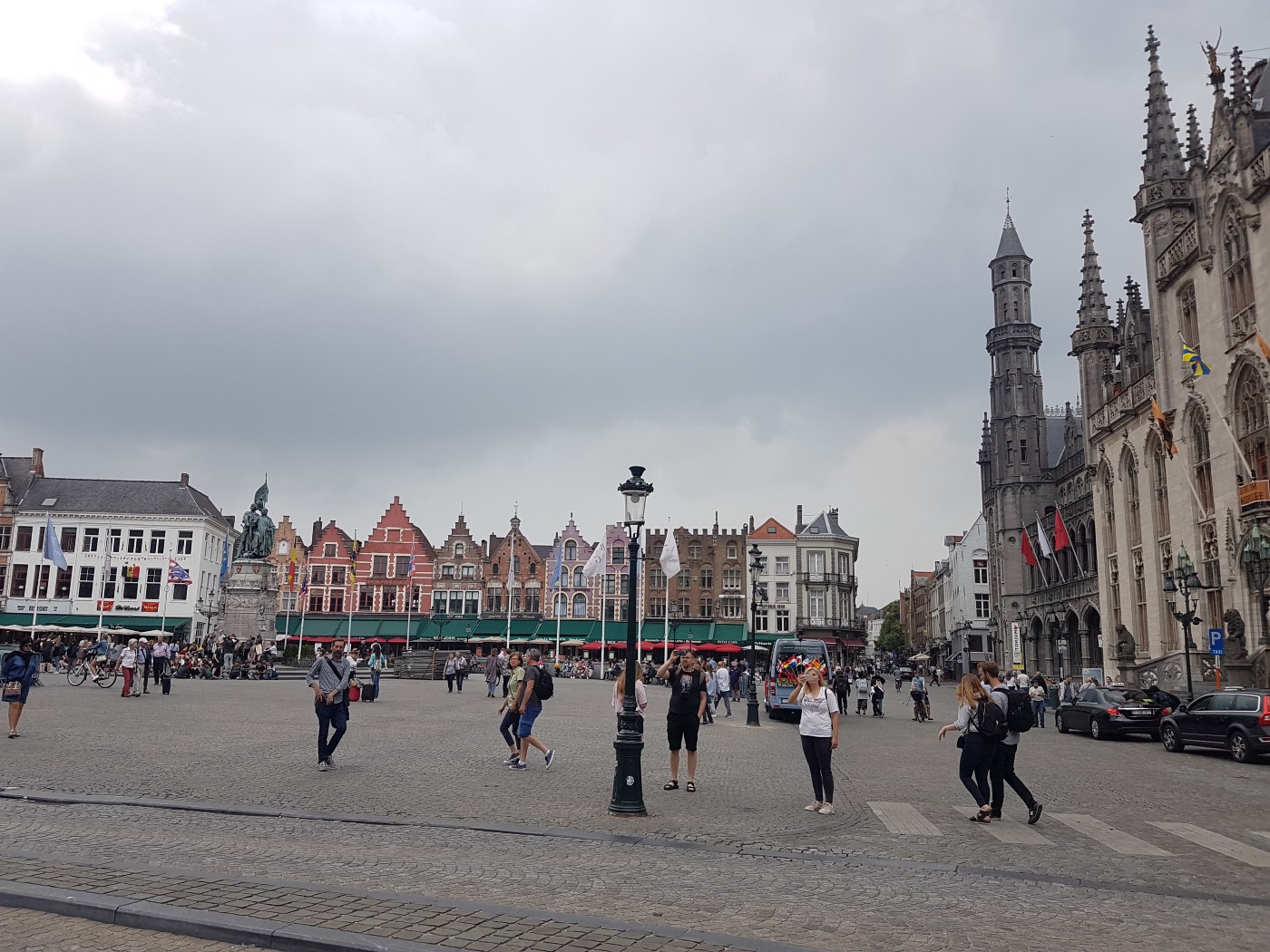 The beguinage, Minnewater and Market Square.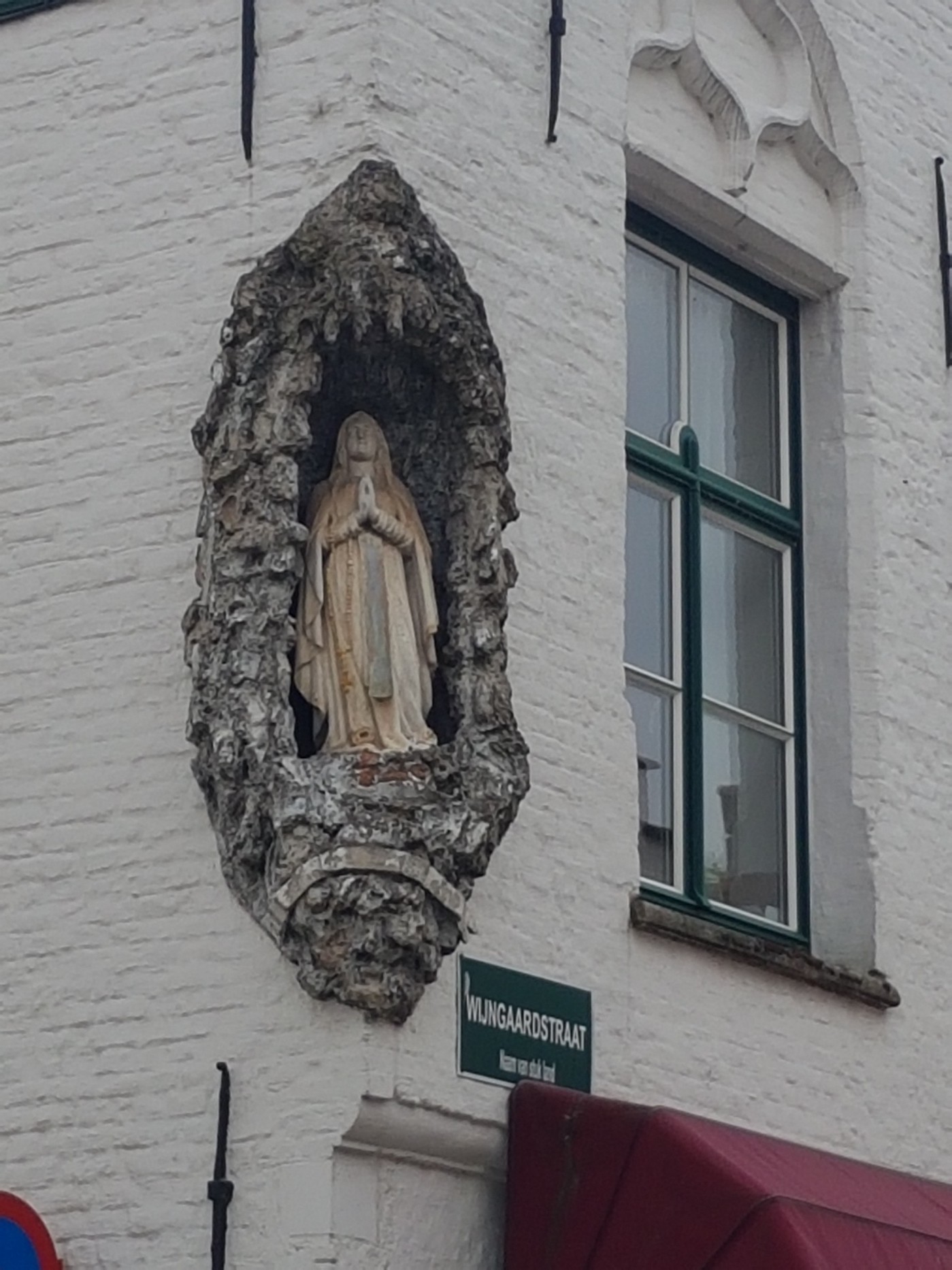 Bruge is full of little delights. Little crevices have the loveliest of surprises.
Top tip: pay the €8 for the boat tour. It lasts 30 minutes. It's worth it.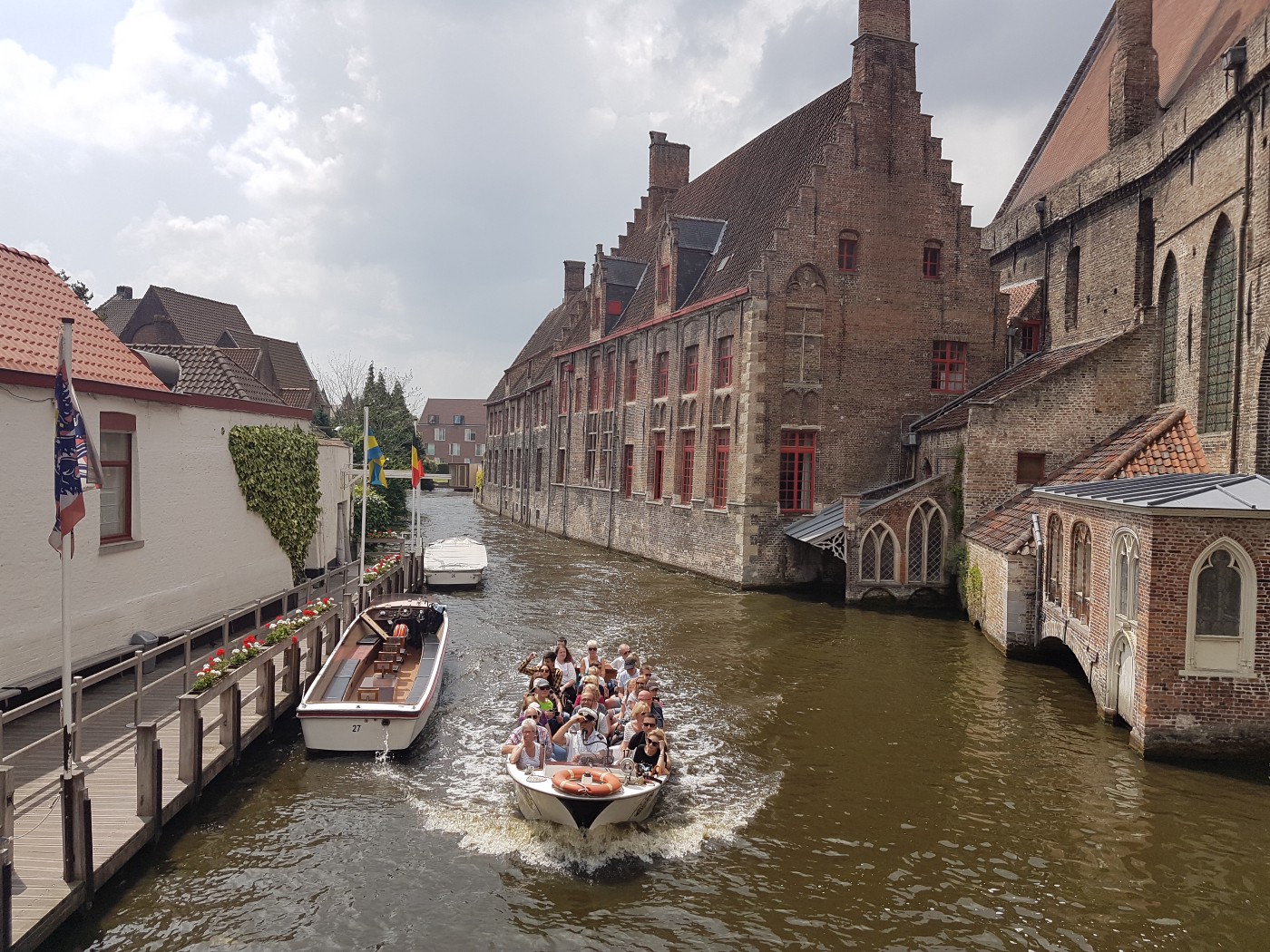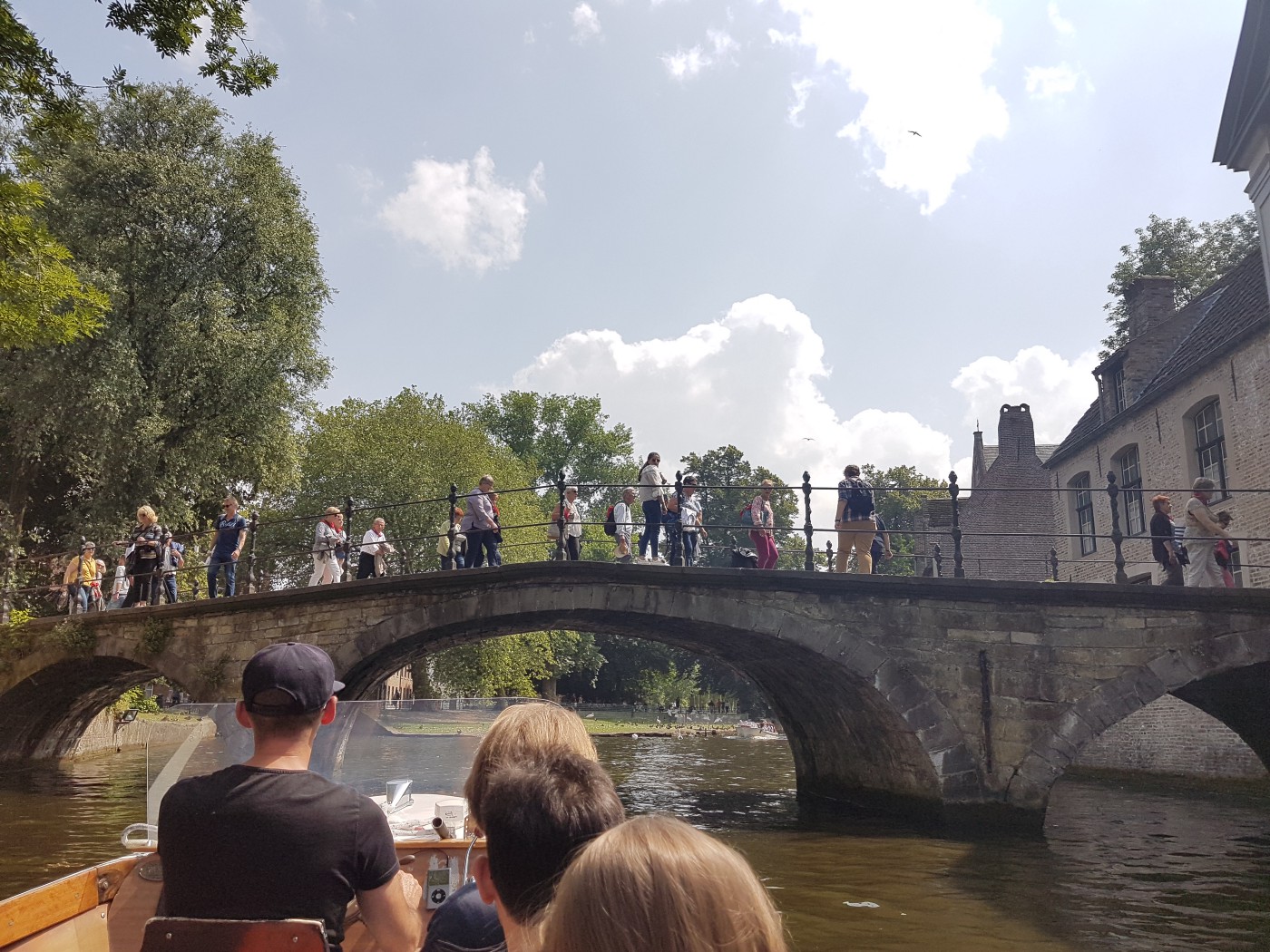 One of the many starting points for the boat tour. And a picture of a view from the boat.
Top tip: if you have free time visit De Halve Maan Brewery. The brewery tour costs €10 and an average meal costs €25–30. Alternatively, grab a beer and relax.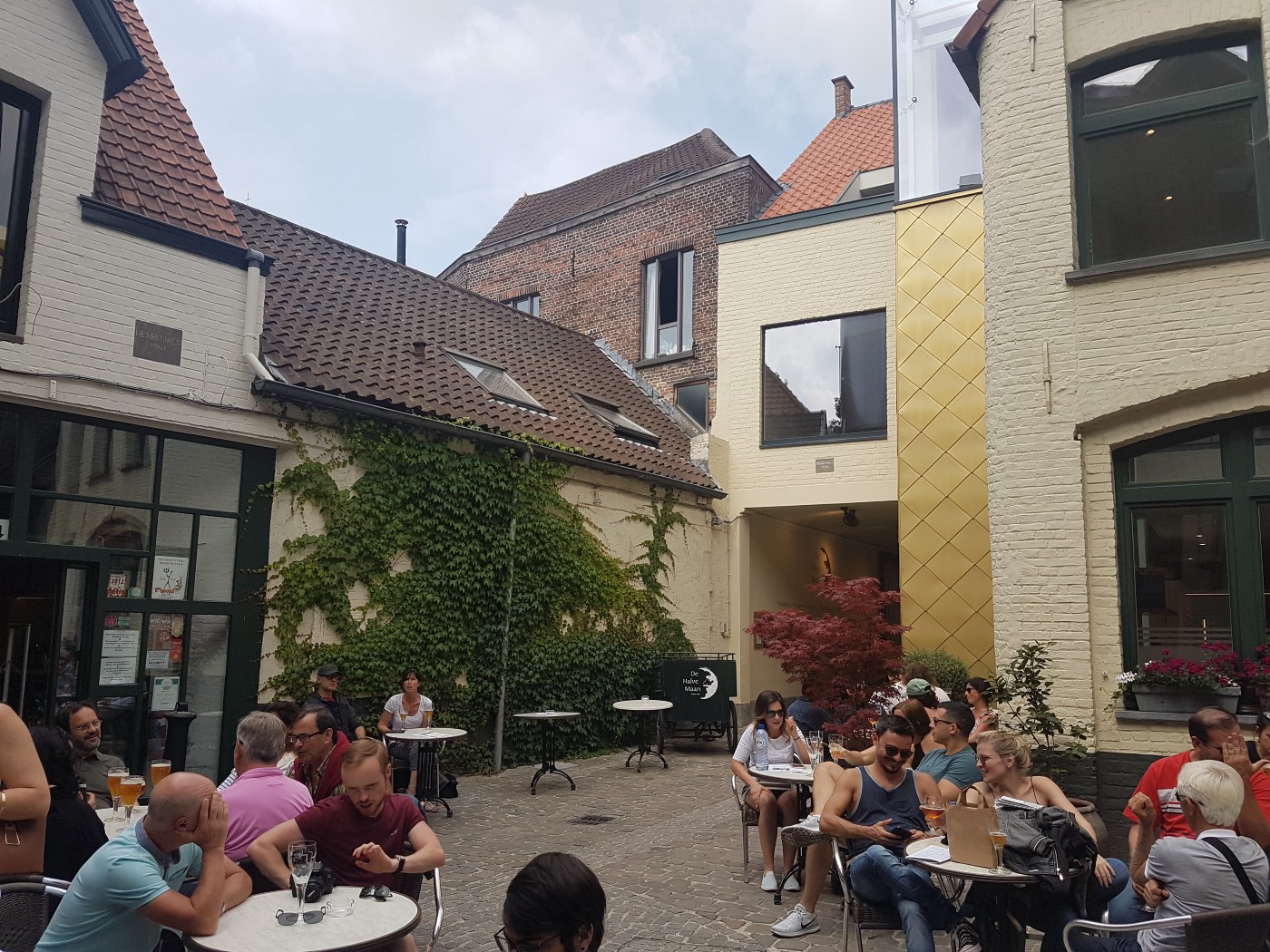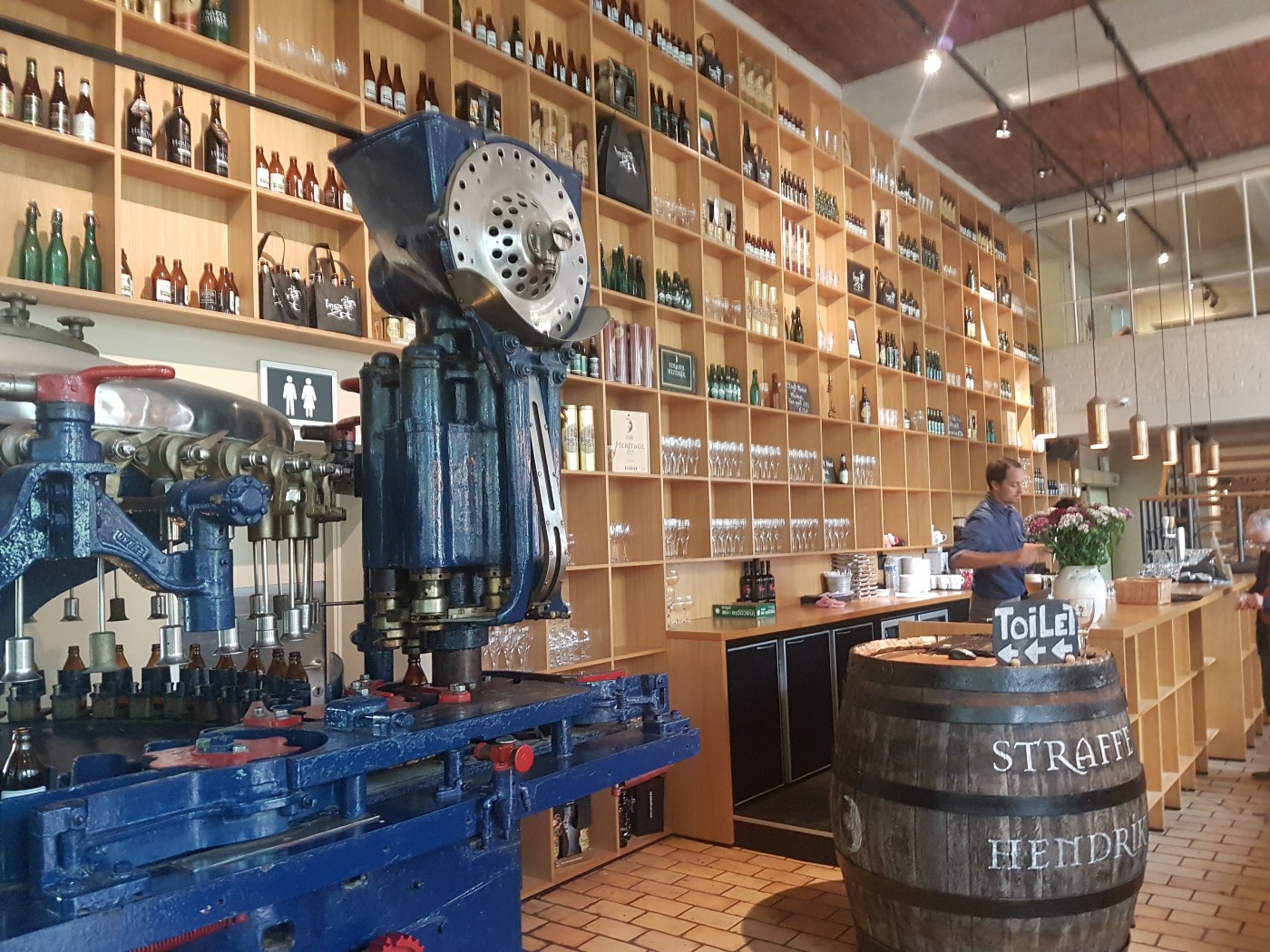 The open courtyard and bar.
If you want to buy chocolates in Bruge, I recommend:
Back to Brussels
You should arrive back in Brussels around 7.30pm.
Top tip: visit Bia Mara. It's one of the best fish and chips restaurants I've ever been too. Go for the special Vietnamese style fish and chips. You won't regret it.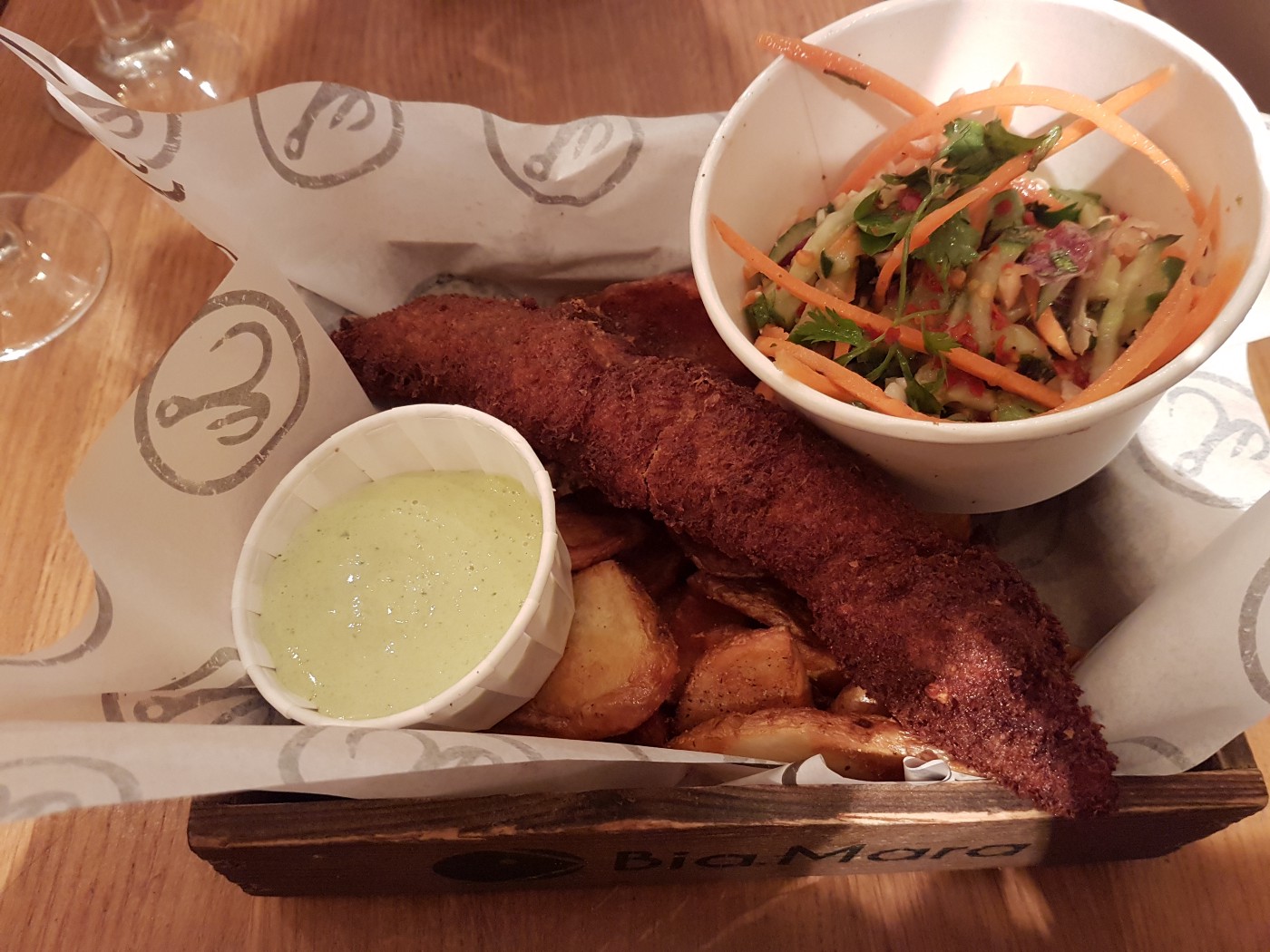 Vietnamese style fish and chips. Gorgeous meal.
To round the evening off, visit Delirium bar. You can buy a selection of beers to taste.
Day 3 — Chocolate making workshop and Place du Grand Sablon
This day is all about the chocolate.
Ease into the day by going for a lazy brunch. I recommend Peck 47 (open at 9am).
Chocolate making workshop
I booked this workshop through viator.com. You make two of the most typical types of Belgian chocolate — pralines and mendiants — with the help of a professional instructor. The highlight is the fresh hot chocolate. It will be the best hot chocolate you've ever had. You get to take home 30 handcrafted dark chocolate treats. Trust me they taste good.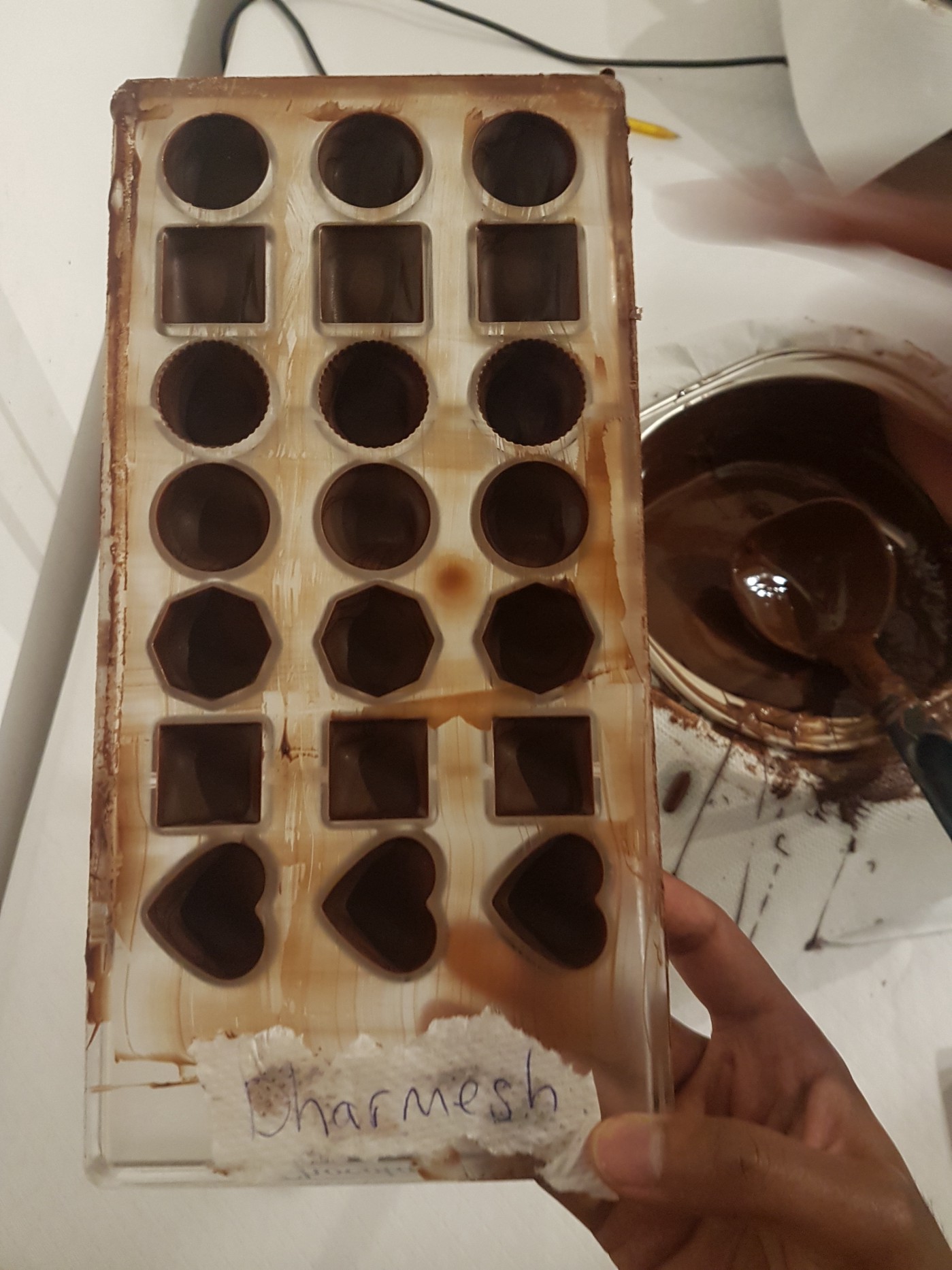 I should quit the day job and make chocolates all day.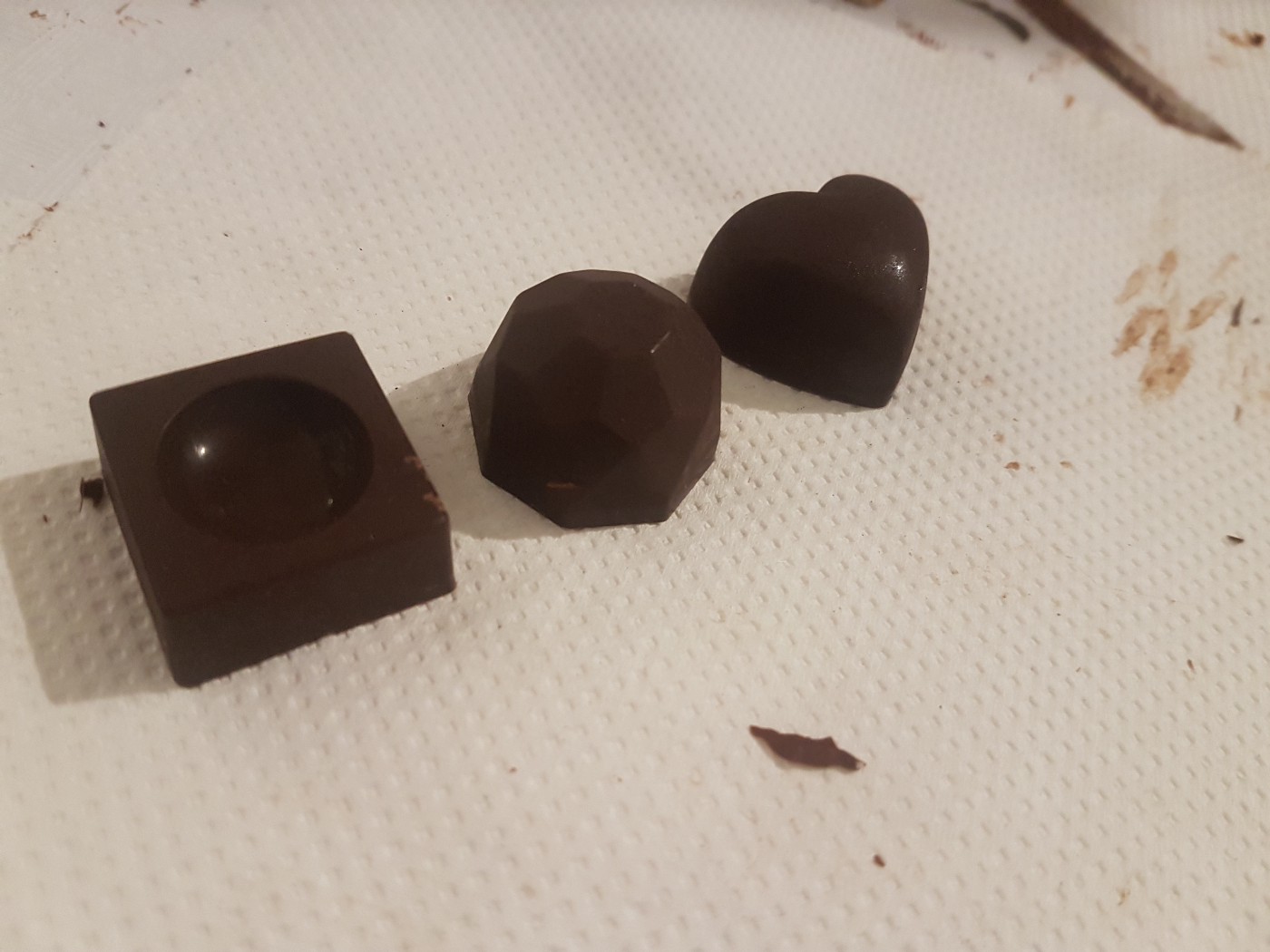 The finished product. I'm now a professional chocolatier.
I promised it would be a day of chocolate. Now make your way to Place du Grand Sablon. This is where the best chocolatiers in the world are located. Source.
Here are the best chocolate places to visit:
1) Wittamer Café: serves excellent hot chocolate.
2) Pierre Marcolini: For the best fancy chocolate. Also the most expensive. His chocolate is the most expensive because he uses cocoa from his own farms!
3) Neuhaus: inventor of Praline.
4) Zaabär: best for alternative chocolate e.g. red pepper chocolate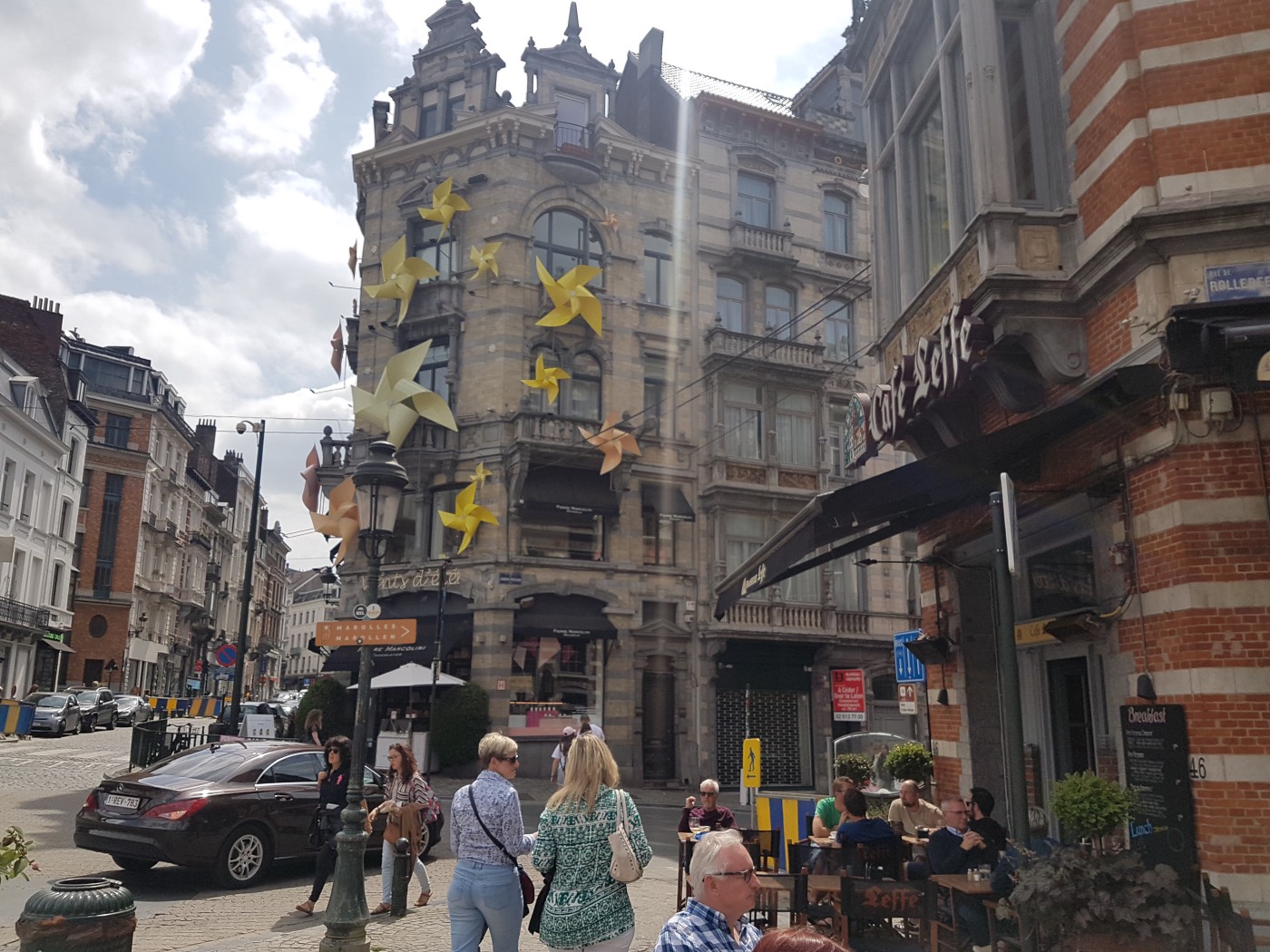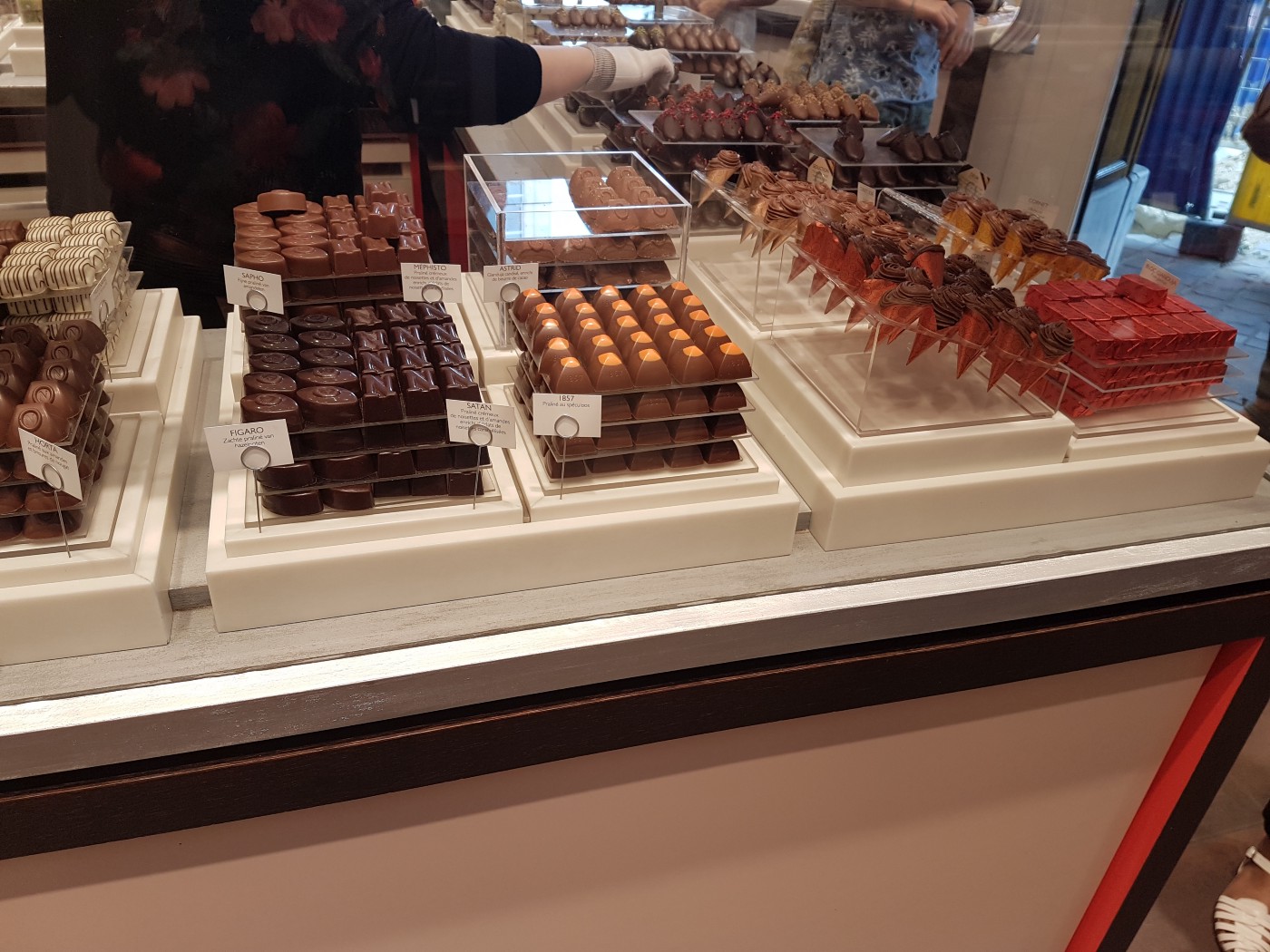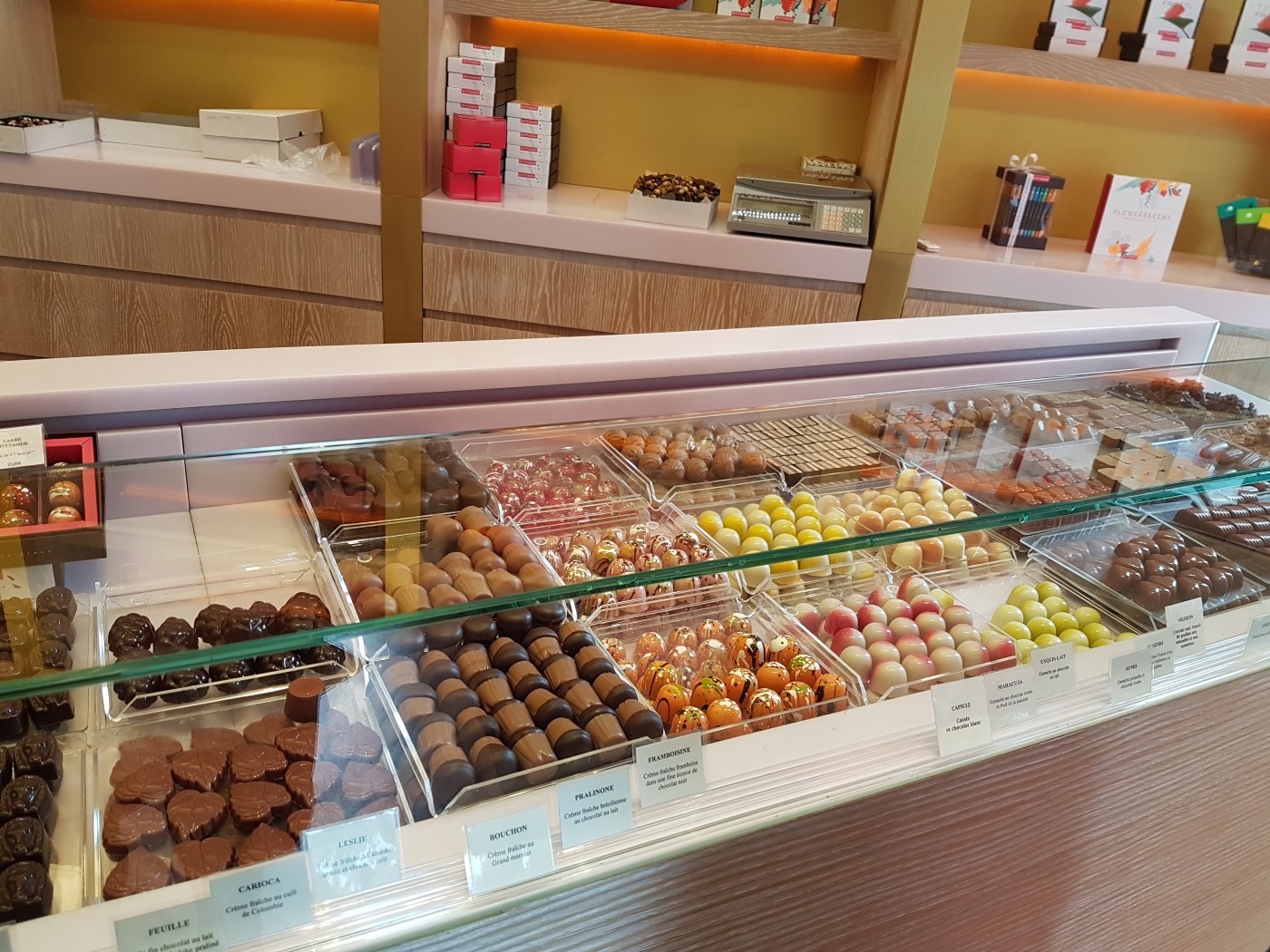 Chocolates galore.
Top tip: go to each of those chocolatier's and ask to try some chocolate before you buy. Sometimes the choice of chocolates can be intimidating — ask staff for their favourite recommendations.
It's time for a break from chocolate (can you ever have enough!?).
Nearby, you'll see an antique market. Open on the weekend.
Further afield is the the lovely Notre Dame du Sablon.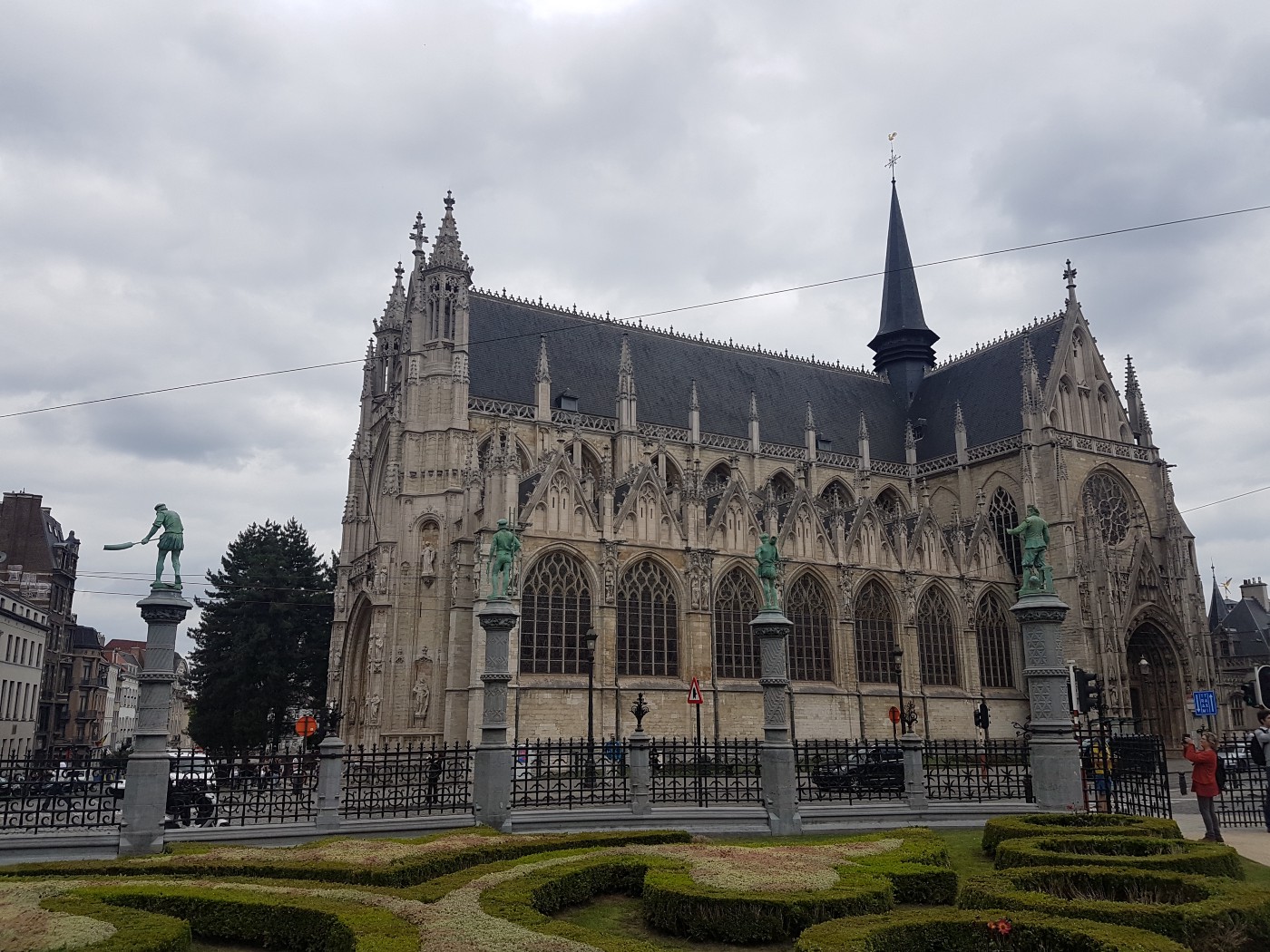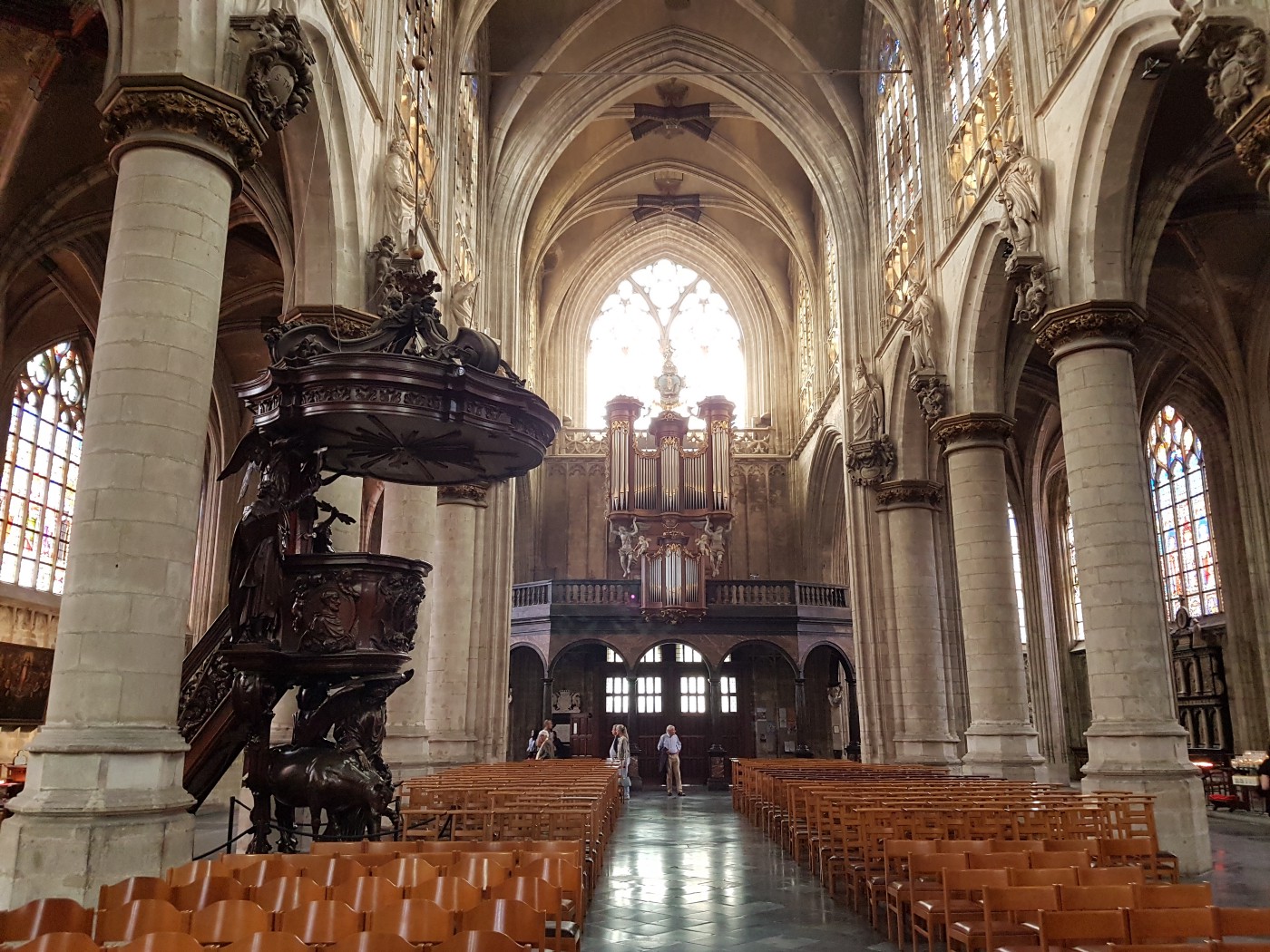 The inside is even more stunning. Pay special attention to the stained glass windows.
Once you've left the church head to the nearby Boulevard de Waterloo (Belgium's Champs Elysées) for high end shopping.
You are probably tired by now so head back to your accommodation and put your feet up. Make sure you stop off at a local beer shop. Buy one of the most famous beers in the world — Trappist Westvleteren. The beer is made by 20 monks from the Saint Sixtus abbey.
Rich caramel-like and malt flavour palette. Average cost is €12 per bottle. An alternative to this beer, is the cheaper (€3–4 per bottle), ST BERNARDUS ABT 12. This beer is made in the classic style of Belgium's Trappist Monks.
If you are hungry, I suggest going to Lotus Vert. An excellent Vietnamese restaurant.
End your time in Brussels by going to a classic Belgium pub — A l'Imaige Nostre-Dame. This pub is a hidden treasure in the centre of Brussels frequented by locals. If you are lucky, you may even hear a live performance (approx. 10pm if it does happen).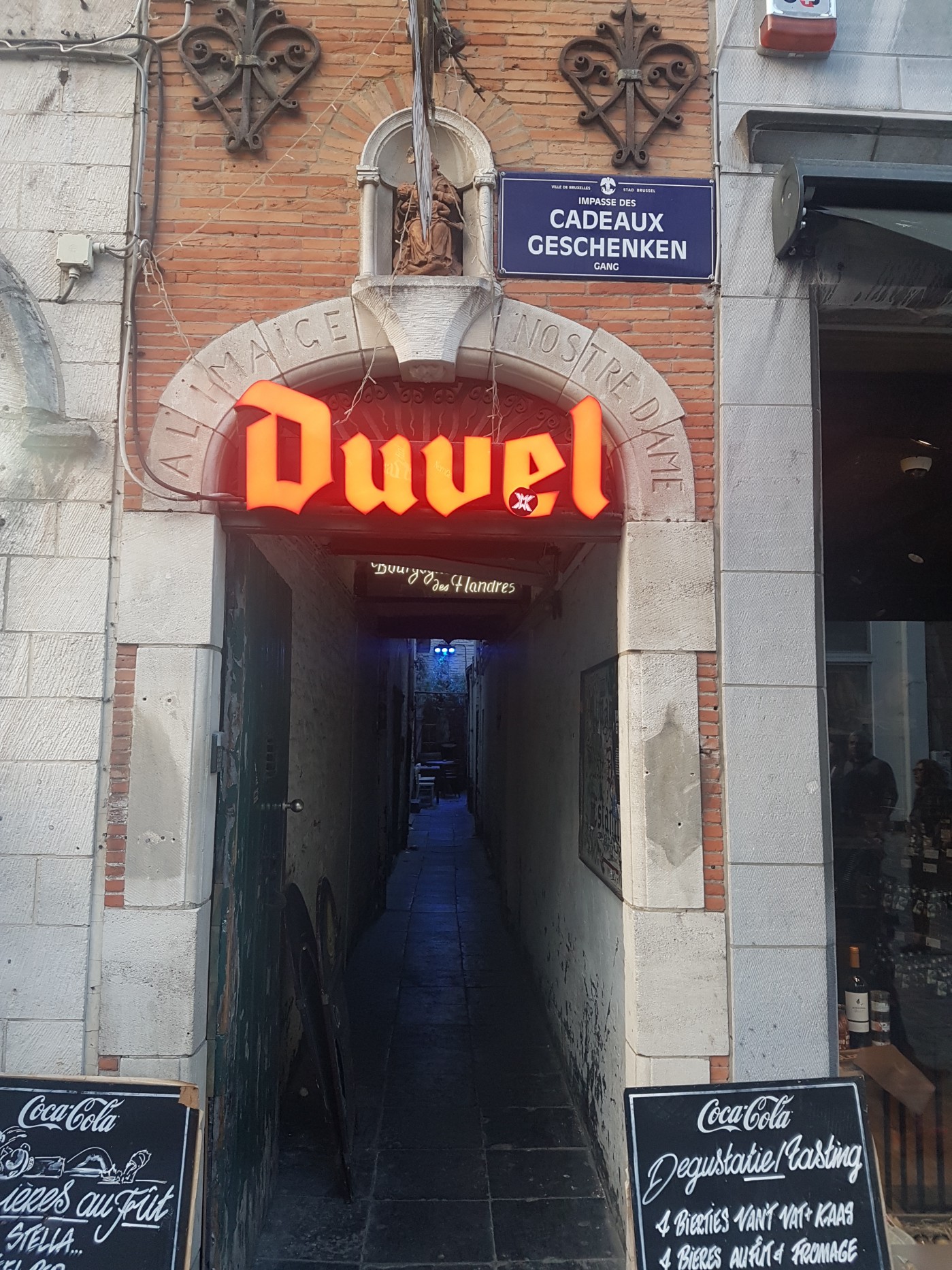 The pub is hidden down an alleyway.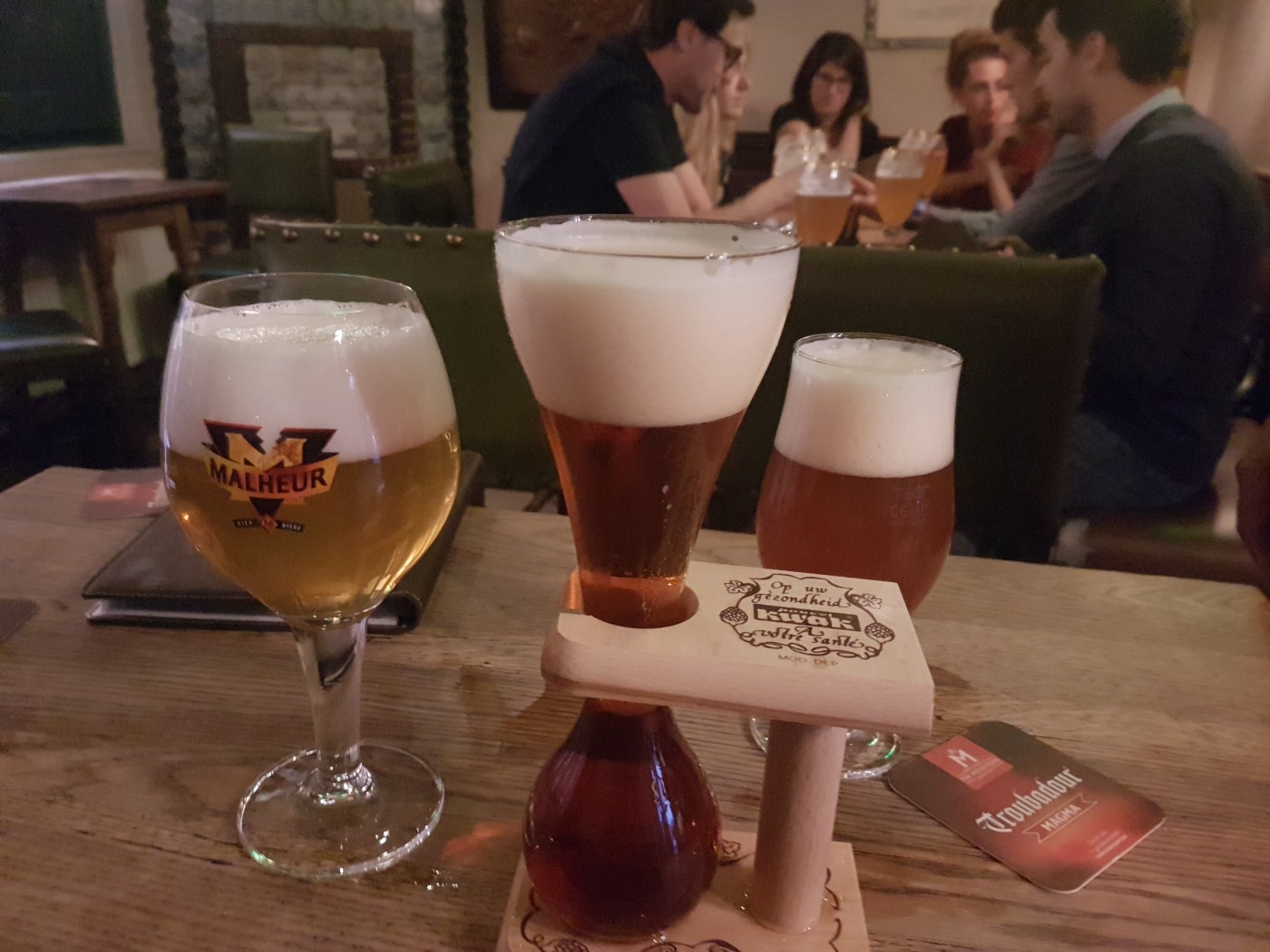 This is how all beer should be served.
Day 4 — heading home
It's time to go home. Head to Brussels Midi station and get the Eurostar back to London. Try and take as much chocolates and beer as possible with you (within restrictions of course)!
If you have time, check out:
I hope you found my itinerary useful in planning your own trip.
Thank you for reading!